Grant-Winning Nonprofit Sees Volunteer Tutors as Key to Closing Math Learning Gap
North Carolina nonprofit Heart Math will use the $250,000 award to expand school-day tutoring to students of color and those in poverty.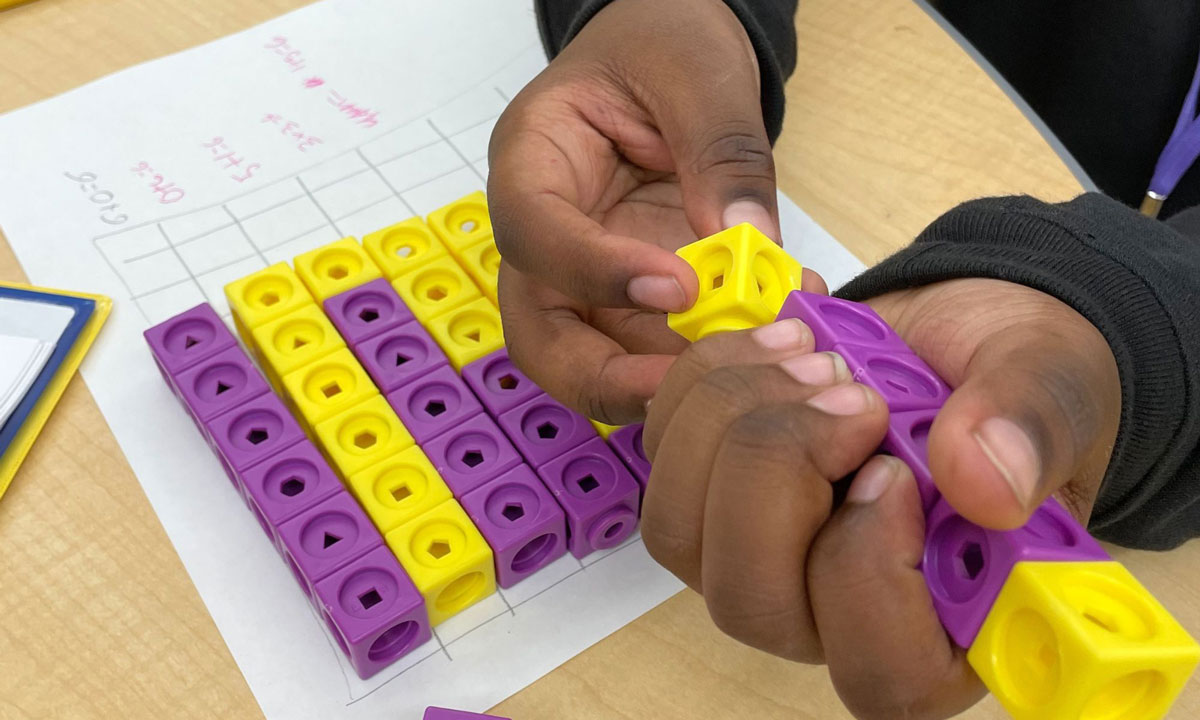 No paywall. No pop-up ads.
Volunteer-based tutoring programs like Heart Math Tutoring could be a promising solution as pandemic relief funds for education soon expire and math and literacy gaps persist for students nationwide.

In May, tutoring nonprofit Accelerate awarded a $250,000 grant to Heart Math, one of 32 organizations that are sharing $6 million in funding to help students through tutoring.
Heart Math stood out to Accelerate for its focus on a high-need area, commitment to learning and improving as a tutoring organization and track record of student success, says Accelerate Chief Program Officer Nakia Towns. She says her team found Heart Math particularly interesting for its reliance on volunteers who are professionals in other industries. This provides an affordable solution for districts that can't sustain paid tutors in the long run.
Towns says it was important for Accelerate to have math providers in its portfolio, as the math gaps caused by the pandemic have been even larger than the literacy gap.
Emily Elliott Gaffney, Heart Math's chief executive officer, says the grant will help the Charlotte-based nonprofit continue to extend its program in North Carolina and the Southeast. It will also fund a pilot randomized controlled trial in partnership with Johns Hopkins ProvenTutoring as the organization tests strategies it hopes to implement on a large scale next year. 
One of Heart Math's goals is to specifically partner with students who can't afford to hire tutors, more than 90% being students of color.
Heart Math was founded in 2013 to help young students succeed with math through one-on-one tutoring. The program uses hands-on activities and games, such as connecting cubes, cards and dice, that Heart Math believes develop a conceptual understanding of math, helping to bolster children's confidence in tackling math problems.
Although Heart Math isn't the only tutoring organization that is volunteer-based, Elliott Gaffney says its age range, from college to retirement, is unique. Over 70% of the organization's 1,300 weekly volunteers work full-time jobs. Others are retirees or empty nesters who no longer have children at home. The majority of the volunteers have never tutored before, and they undergo two one-hour training sessions. The first session is on Zoom, where they learn about the needs of their community and how to foster positive relationships with students. The second session is in person. A small group of volunteers gathers with a Heart Math coordinator to learn about volunteering in an elementary school and practice the math activities with each other. Elliott Gaffney says one of the biggest jobs of the tutors is simply to be a positive influence, encouraging the students to build their math confidence.
"The second thing I think that's unique is the specific math focus that we have," Elliott Gaffney says. "It's on early, foundational math concepts, which include things like counting, comparing numbers, place value, and it is all delivered through activity-based, hands-on learning. That's harder to do in larger groups and in the classroom setting."
Heart Math begins by interviewing students to determine what type of lesson plans and areas of focus they need. Students and tutors are then paired to meet once a week and are supervised by a Heart Math staff member in a one-to-one setting outside the classroom. The staff member gauges students' progress and whether their learning is accelerating or if they need remedial materials.
Heart Math uses goals set by the University of North Carolina-Charlotte and Charlotte Mecklenburg Schools to evaluate children's academic growth. Kids are tested before starting the program and after they complete it to gauge what they have learned. Ninety-seven percent of the more than 5,000 students tutored met their goals for progress in at least two math concepts, such as place value and more versus less. Ninety percent of teachers have also reported an improvement in students' confidence in their math ability.
A 2019 NAEP report showed that 49% of Charlotte fourth graders were proficient in math. As of 2022, that number dropped to 35% due to learning gaps from the pandemic.
To be considered for an Accelerate grant, organizations had to meet six eligibility requirements, including a commitment to creating equitable opportunities for students who lack access to tutoring and a proven track record that shows evidence of success with working with students during the school day.
"We're also excited to contribute to the research related to volunteer-delivered tutoring. We found volunteers to be extremely reliable, effective tutors. And we know that a lot of districts have limited bandwidth to manage all of that. We found volunteers to be really reliable and effective, even more so than some of our tests with hiring paid tutors."

Disclosure: The Bill & Melinda Gates Foundation, Walton Family Foundation and Overdeck Family Foundation provide financial support to Accelerate and The 74.
Get stories like these delivered straight to your inbox. Sign up for The 74 Newsletter