We will be celebrating a graduating high school senior every weekday this month on our Facebook page. (Like us here) A handful of graduates will also be profiled in greater depth right here on the site. Sign up for our newsletter to see all 22!
For 18-year-old Frank Lopez, graduating high school was not a given.
Just a few years ago, it wasn't even on his radar. After the deaths of his grandfather and his father, Lopez, who goes by Frankie, started to slack in school, saying the loss of his two male role models was a "huge hit."
"I became less and less motivated to go to school," he told The 74, "and then I dropped out."
Which is how in the middle of what should have been his sophomore year, Lopez found himself working in a meatpacking plant for pig legs.
"I had to chop pig legs open," he said, "chop them open and take the bone out, and then another leg would come in about five seconds. It was the same thing, over and over, just chopping."
The monotony of the job gave him plenty of time to think about his future.
"I realized I had to make a decision," he recalled. "Should I stay in a job where I would probably get injured, or should I go back to school, get my diploma and get a better job?"
He re-enrolled at Louis E. Dieruff High School in economically distressed Allentown, Pennsylvania with the help of Jon Fenner, program manager for Communities in Schools, a nonprofit that works with schools to keep students in class and on the graduation path.
"If I had called Jon even a week or two later, I wouldn't be graduating," Lopez said. "I made a big decision just in time."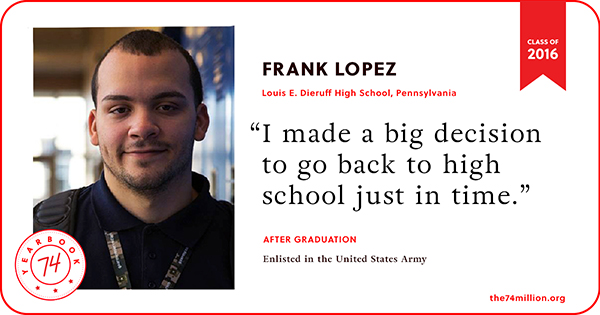 It was the right decision, and one he took seriously.
"The Frankie I was before wasn't that nice," he observed. "Once I got back to school I was like, 'O.K., Frankie needs to ask this question, Frankie needs to pay attention, Frankie needs to graduate.'"
Lopez attributes this change in perspective to his girlfriend, Giselle Cruz, who he says was the one who got him back into the classroom.
"When I was working, she was always telling me to go back to school, pressuring me to. She was a big supporter of me and getting me motivated."
Congrats to Frank Lopez, graduate of the Class of the 2016. Good luck in the Army.
Get stories like these delivered straight to your inbox. Sign up for The 74 Newsletter