Graduate of the Week: A Passion for Community Activism Propels This L.A. Senior to UCLA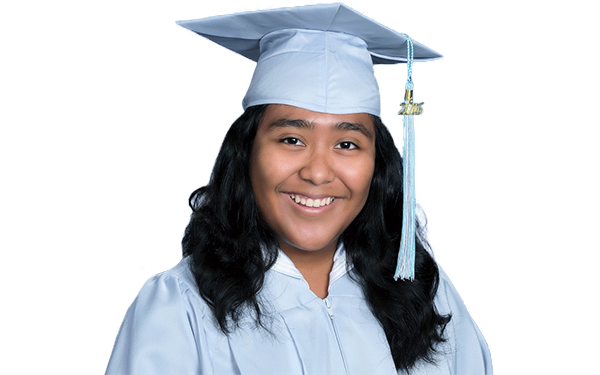 We will be celebrating a graduating high school senior every weekday this month on our Facebook page. (Like us here) A handful of graduates will also be profiled in greater depth right here on the site. Sign up for our newsletter to see all 21!
17-year old Stephanie Martinez is looking to make a difference. Hoping to study either political science or Chicano/Chicana studies when she enters the University of California, Los Angeles this fall, Martinez knows firsthand the importance of political activism.
As president of her school's Junior States of America (JSA) club, the Los Angeles senior wanted to use the club for more than just debates and conventions, and instead help her surrounding communities. Through Martinez's leadership at Alliance Susan and Eric Smidt Technology High School, the JSA club has partnered with city council members Gilbert Cedillo from District 1, Marqueece Harris-Dawson from District 8, and Curren Price from District 9 to help the council members with projects and campaigns around the city.
With Harris-Dawson they launched a 311 MyLA App campaign to promote street cleaning. The club spread out across South Los Angeles to test the app and report different street graffiti and trash that needed attending to.
"Community activism is important because it's where you live and where you came from," Martinez told The 74. "People complain about their communities and say 'oh there aren't enough resources,' or 'oh there's a lot of crime.' But if you don't give back how will you see change?"
Martinez grew up in the city's Lincoln Heights neighborhood and describes her childhood experiences as eye-opening, citing gang activity, police raids, and crime as the norm. Naturally, her mother was extremely protective, and Martinez says she still regularly walks her to the bus stop.
Martinez's parents hail from Guadalajara, Mexico and didn't pursue education beyond elementary school. But they wanted a different path for their daughter.
"I struggled with English when I was younger because it's not my first language," Martinez recalls, "But my mom would sit with me with a dictionary in one hand and my homework in another to try to help me. She knew I was the future."
And when it comes to the future, Martinez says she can see herself maybe becoming a lawyer, thinking often about how Latinos are represented in government.
But until then, she'll continue to give back to her community, while striving for change.
Previous grads of the week:
Get stories like these delivered straight to your inbox. Sign up for The 74 Newsletter