Grading the COVID-19 Semester: Students Like the Extra Sleep and Miss Their Teachers, but When It Comes to Distance Learning, the Verdict Is Mixed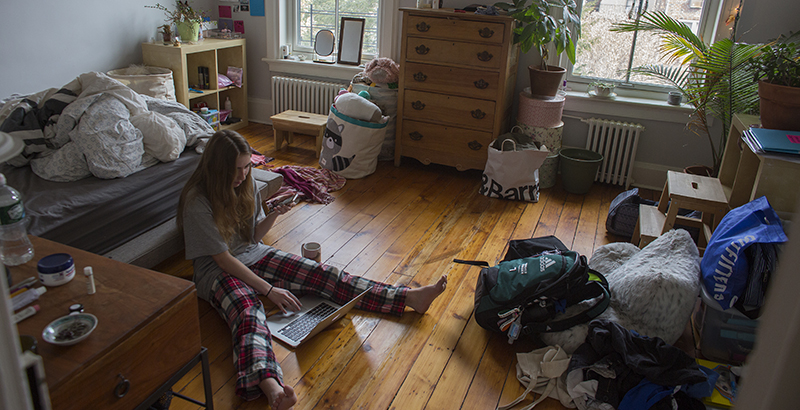 Paige Meier, a 16-year-old junior who attends Farmington High School in Michigan, enjoys the three hours of extra sleep she's getting these days, being able to roll out of bed and start school between 9:00 and 10:00. In the classroom, she sometimes felt unmotivated and groggy due to lack of sleep. "Now I feel more focused," she said.
But her younger sister, Kellan, a 13-year-old seventh-grader attending Power Middle School, misses face time with her teachers. "It's harder because they're not there in front of you," she said.
Both have been distance learning since March 19, when their schools and those across the nation shut down to contain the spread of the coronavirus.
This mass transition represents an unprecedented and unexpected experiment in distance learning. There's been much discussion from parents, teachers, heads of school districts and other education experts about how it's going. But as we near the end of the academic year for most schools, a crucial missing perspective is from those most directly affected: the students. The verdict on distance learning, based on interviews with a variety of students across the country from a range of different types of schools, is as varied as their zip codes.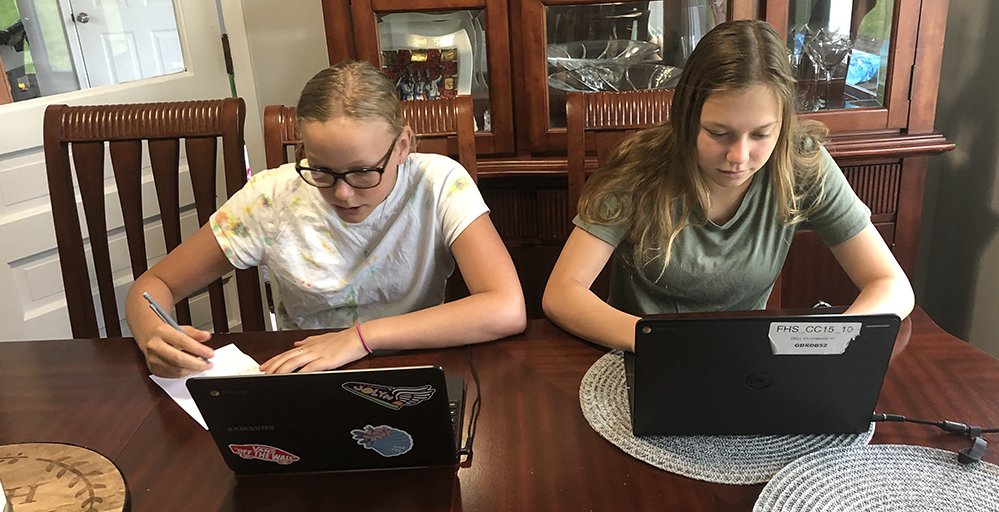 Not surprisingly, many students appreciate the additional downtime created by a significantly shorter school day. The type of instruction and the time it requires differ substantially by school, ranging from sparse lessons posted by teachers that students can complete at their convenience to a few hours of live instruction most school days. But few, if any, schools require the lengthy time commitment that a full day of in-person learning demands. Most students said that the time they spend in live class sessions and completing lesson plans and assignments does not exceed three hours a day, not including homework time.
Adi Solomon, a 15-year-old freshman attending Cary Academy, a private school in Cary, North Carolina, doesn't start his lessons until noon; he used to have to get up by 6:30 a.m. for a 30-minute drive to school. Now he has time to get in three hours of exercise before starting his lessons. "I wake up in the morning refreshed. I'm well rested, I can always do better in school," he said.
The 'speed of learning'
Some students appreciate their teachers' creative approaches to distance learning. Lili Tarnopol, a 16-year-old junior attending Frankel Jewish Academy in West Bloomfield, Michigan, says her principal texts students inspirational quotes and calls them on a regular basis to check in. Her biology teacher sent a packet of seeds in the mail to plant as a way of getting everyone outside and participating in an activity related to class. Lizzie Friedman, an 18-year-old senior at New Trier, a public high school in Winnetka, Illinois, said a science teacher would wear a funny hat to lighten the mood; Isabel Ruiz, a 15-year-old freshman at Spence School, a private school in New York City, said her physics teacher found websites where students could perform their own experiments. "It was as close as possible to being in a real classroom," she said. But the creativity can't entirely compensate for the limitations that teachers face in a distance learning environment. It isn't the quality of learning that's been sacrificed, Ruiz said. "It's the speed of learning; we're learning 60 percent of what we would be learning in the classroom."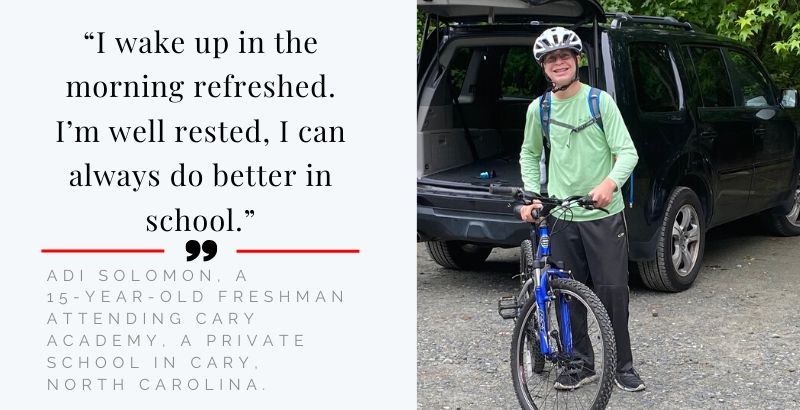 One of the most significant challenges is adjusting to relying entirely on technology for instruction. Ruiz has at least three hour-long live classes four to five days per week. She says it's often difficult to stay focused being in front of a screen that long. She explains that math classes used to involve writing solutions on the board and working together. "It's tough to do that on Zoom." Duncan Keker, a 17-year-old junior who attends Head Royce, a private school in Oakland, California, says his Wi-Fi cuts out often — the combination of so many students on Zoom at once and a weak internet signal. "I do miss a decent amount of class with internet issues," he said.
Paige Meier says what's most helpful is the Google Meets she has with her instructors. Discussing the content in a live setting "helps our understanding of how to do it," she says. In physics, her most challenging class, her teacher relies on posting videos that are often fast-paced and hard to follow; she finds it difficult to learn independently. She said that during this time, it's clear which teachers are trying to make sure students understand the content.
But others appreciate the chance to skip the classroom experience and view the videos on their own. Nick Friedman, Lizzie's younger brother and a 15-year-old sophomore attending New Trier, says the videos are more straightforward and are always on topic, compared to live class sessions that can meander or veer off course. "It generally frustrates me when the teachers choose to use the whole hour of Zoom when it's not even really teaching." He finds that what might work in class doesn't work online, such as games. He said that recently students played a math game in which they were in groups of five and were required to answer as many questions as possible. But it was hard to communicate in Zoom's breakout rooms. "We had to use our own, separate sheets, so we couldn't tell what everyone in our group was thinking," he said. He said some of his teachers deserve an "A" for investing extensive time in providing instruction and being accessible to students. But he's frustrated that some teachers may demand 1.5 hours of work one day, then 15 minutes the next. Those who give a consistent workload, he said, "are the ones I appreciate the most."
Lainey Luper, a 16-year-old sophomore attending Bexley High School, a public school in suburban Columbus, Ohio, works primarily independently, as teachers post daily and weekly assignments instead of holding regular Zoom sessions. She says the assignments are short, and though she believes she would be learning more in school, she's OK with this approach. "I like being able to go at my own pace. It gives me more freedom," she says.
Time management
Some students say distance learning has forced them to learn the crucial skill of time management. Catherine Sancho, an 18-year-old senior at Father Gabriel Richard High School, a Catholic school in Ann Arbor, Michigan, says she has learned how to prioritize and finish her work in the mornings so her afternoons are free. Paige Meier said the experience is preparing her for future college life, "showing us a sense of what we need to do on our own."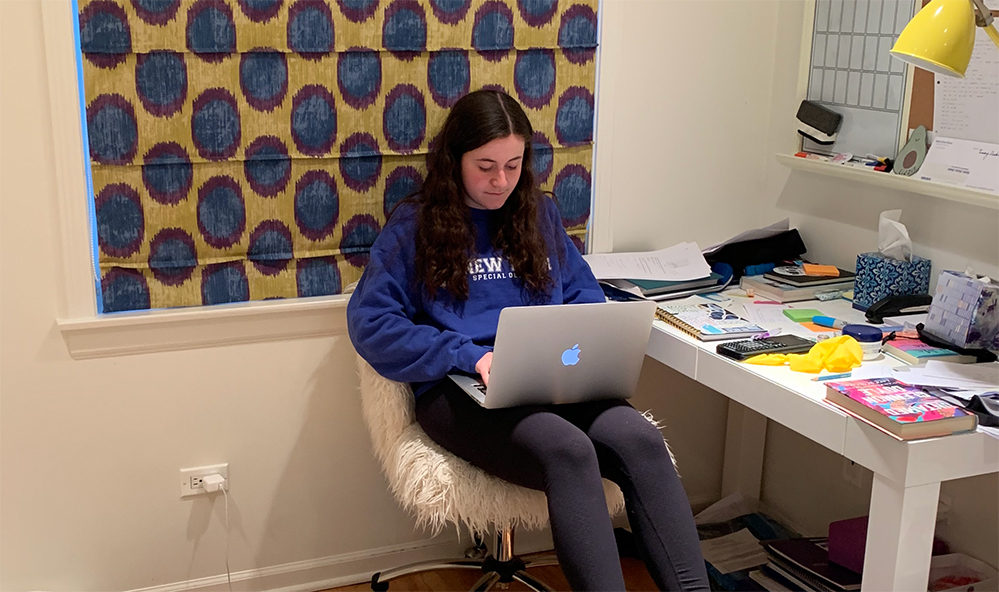 While students are less anxious about grades, due either to a switch to pass/fail or policies that don't allow grades to decline this semester, there is concern about not being ready for upcoming Advanced Placement exams. Paige Meier was initially planning on taking exams in two subjects but decided to take only one. In the classroom setting, "the teachers would prepare us a lot more and have more review and tools to help us recollect information we already learned at the beginning of the year." She said she did feel prepared for the one she took. Abby Luper, Lainey's 18-year-old sister and a senior at Bexley High School, felt ready for her AP exams. Luper, who is attending Ohio State University in the fall, took AP calculus and AP Spanish. She said that "both tests went really well!" She said teachers provided plenty of AP practice and shared tips and information from The College Board. And now that she's learning from home, she's become proficient at finding the information she needs "to fully understand and help myself. It's made me more resourceful." Lizzie Friedman, who is attending Tufts University in the fall, has taken five AP tests. She wasn't concerned. "I think that as a nation, everyone will be underprepared," she said, adding that she thought the tests she took ended up being easier as a result.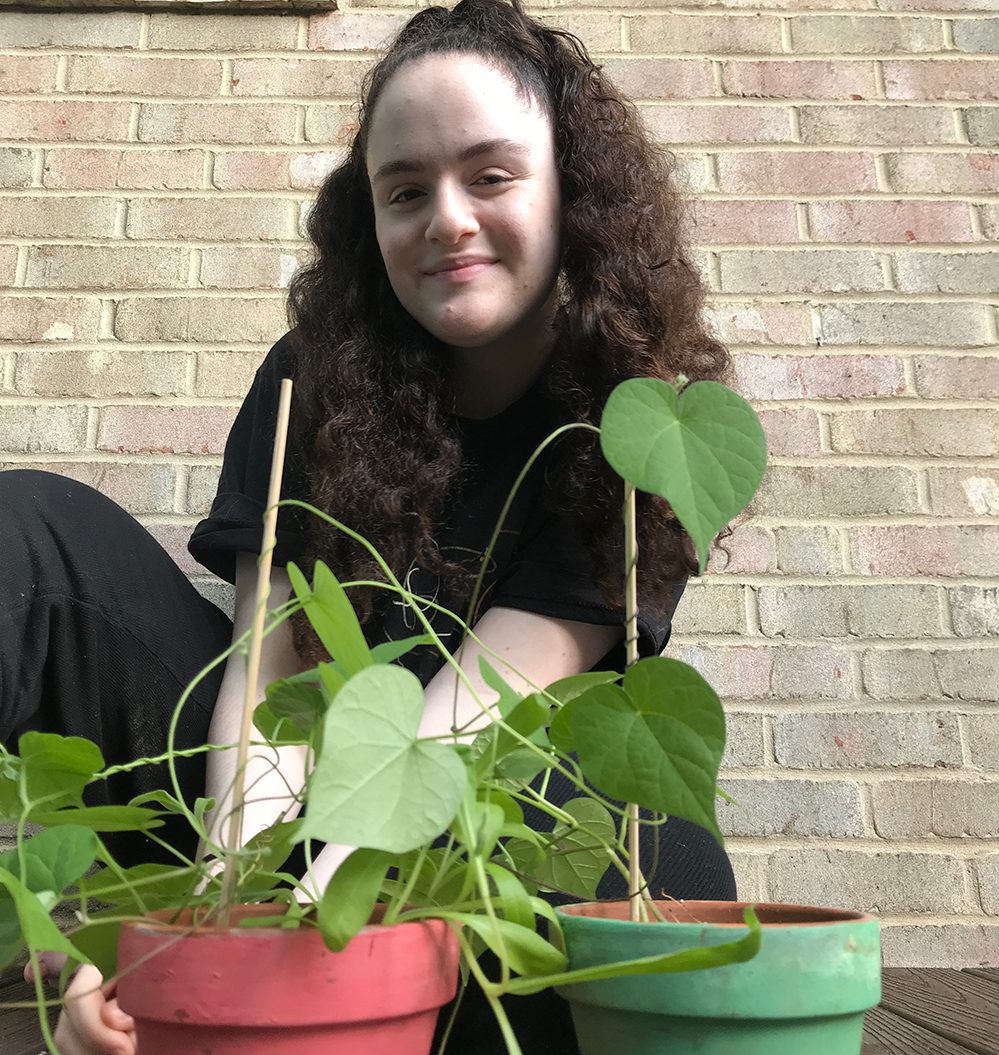 Seniors have regretted being at home during their last semester of high school. Lizzie Friedman is sad to miss events like "ditch day" — a longtime New Trier tradition in which seniors skip school and go to a Chicago Cubs game — signing yearbooks and graduation. Though she considers herself intrinsically motivated and is keeping up with assignments, "we all have checked out as second semester seniors."
Equity
For seniors living in poverty, missing graduation is the least of their worries. Luis Gomez, a 17-year-old senior at Los Altos High School in California, lives in low-income housing. He's increased his time working at a retirement home to 30 hours a week since his father was laid off from his job as a mechanic just as the school migrated to distance learning. He's unable to attend most of the 10 Zoom meetings his teachers hold weekly: "I have to focus on what really matters, like having food on the table," he says. Even when he's around to participate in live instruction, it's challenging, since the Wi-Fi only works well in the bedroom that he shares with three younger siblings. "It's difficult to keep up," he says, emphasizing that his teachers have been understanding. And the academic pressure is off: Gomez will be attending Brown University on a full scholarship in the fall.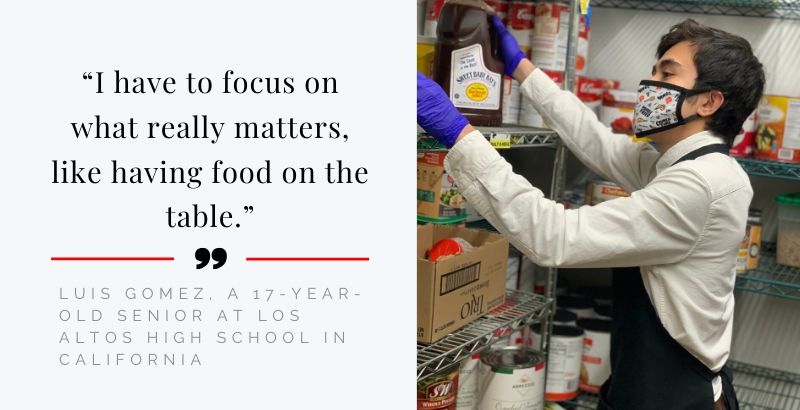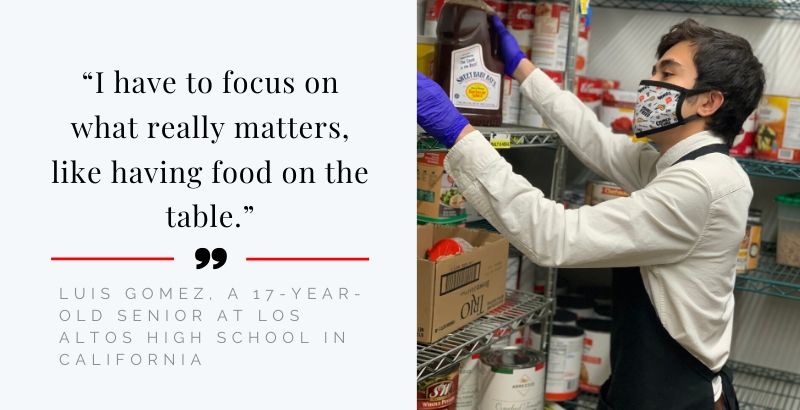 Destin Fernandes, an 18-year-old attending KIPP Academy Lynn Collegiate, a charter school in Lynn, Massachusetts, said distance learning in his low-income district has been subpar and confusing. He hasn't been able to participate much, though, as he's working 40 hours a week at Home Depot. And he's not alone; on the occasions when he does show up for live class meetings, only two or three other students are there, "which doesn't motivate you to go." Despite his absence, he says no teachers have reached out to him, "which is a little weird." As with Gomez, these setbacks don't matter much; he's been accepted to Stanford University on a full ride.
Caleb Dolan, executive director of KIPP: MA, said that Destin's experience runs counter to the feedback he's received from families during the pandemic, most of which has been very positive. He believes that teachers have done an impressive job building distance learning curricula from scratch. Still, he said that while 90 percent of students in grades K-8 are engaged in weekly sessions, he acknowledges that remote learning has been more challenging for high school students. "Destin's situation reflects a real struggle for our older students for how we engage everybody. His experience is real," he said. He said Fernandes is one of many students who are working, and he points to creative ways teachers are accommodating them, including an AP history teacher who is holding 9:00 p.m. sessions. He said that almost 20,000 individual check-ins have been conducted with students, usually weekly. But "it does not surprise me, unfortunately, that there are kids who have been missed in this mix." As the school plans for the next phase of remote learning, "we believe we can do it a lot better," he said.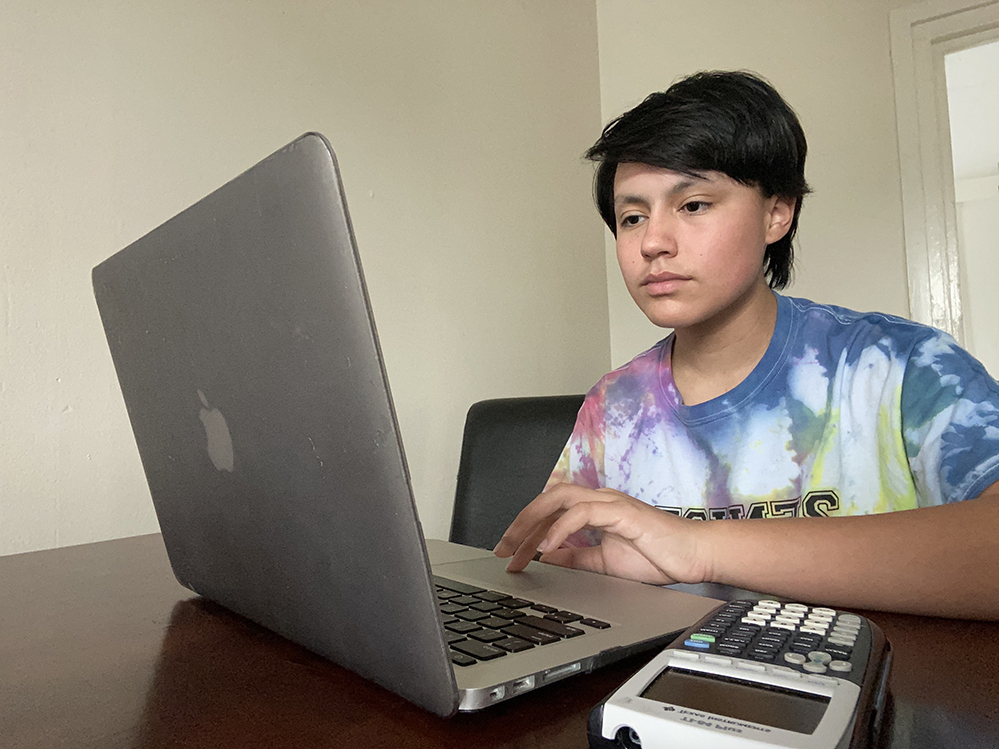 Education experts studying the learning that has taken place virtually since COVID-19 found huge disparities in the way it has been executed. A study by the Center on Reinventing Public Education found examples of low-resourced districts that provided a far lower quality educational experience. The study found that a lack of guidance and clear expectations has led to uneven results. It found that though nearly all school districts reviewed provided some form of instruction, 33 percent of them didn't set out expectations for teachers. Among that percentage, roughly half don't even require teachers to provide feedback on student work. An analysis by the National Association of State Boards of Education indicated that a common theme among all districts was flexibility. But there weren't any other continuous threads. It found that only 17 states recommended specific minimum and maximum times for students to be in remote instruction; only 22 states recommended that teachers hold office hours; and 20 states don't require districts to track or report attendance to the state during this time.
Despite their differing views on distance learning, there's one common refrain: Everyone misses connecting with teachers in person.
Tarnopol longs for the days when she had somewhere to be — and the in-person connections she forged with classmates and teachers in her small high school of 127 students. "The thing that made my school so great is the close relationship with teachers. We're lacking that now," she said.
Keker is eager to put this semester behind him and return to school in the fall. "I'm looking forward to not worrying about viruses and being able to see people and engage with other human beings and get back to the things I love to do."
Get stories like these delivered straight to your inbox. Sign up for The 74 Newsletter