Grad of the Week: Oakland Teen Overcomes Fears of Parents' Deportation to Land a Spot at Yale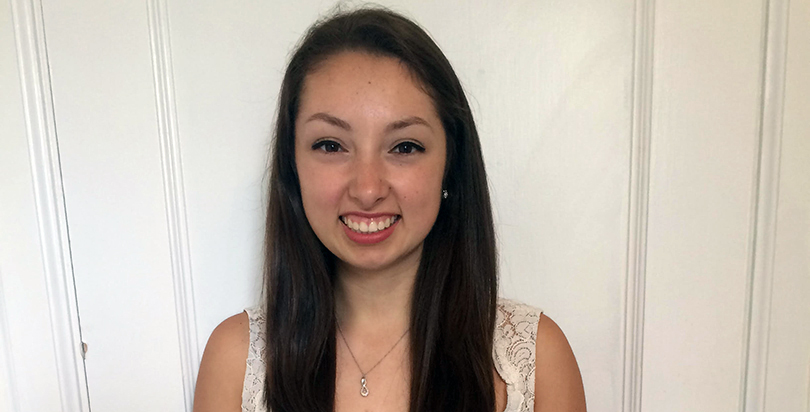 We will be celebrating a graduating high school senior every weekday this month on our Facebook page. (Like us here) A handful of graduates will also be profiled in greater depth right here on the site. Sign up for our newsletter to see all 22!
When Oakland's Lorena Ortega-Guerrero starts Yale University this fall, she is looking forward to breaking out of her comfort zone. "I grew up in the Bay Area and I've spent the majority of my life with other Latinos," she tells The 74, "so I'm excited to push my comfort zone and get perspectives from people who have lived very different lives from myself."
While Yale is quickly approaching, just two years ago, the 18-year-old graduate of Holy Names High School wasn't sure she'd be able to attend college. Ortega-Guerrero's parents, who were in the country illegally at the time, were facing deportation.
Ortega-Guerrero knew that if they left, she'd go with them to be able to stay with her family.
Luckily, an immigration lawyer was able to stop the deportation and keep her parents in the U.S., now legally.
Growing up in Oakland, education was always a priority for Ortega-Guerrero's family. "I've lived behind Oakland High School my entire life and I knew it wasn't the life I wanted" Ortega-Guerrero says. "We always pushed and strived to get whatever help we could to go to private school."
With the help of the Children's Scholarship Fund, Ortega-Guerrero was connected to the BASIC Fund, a privately funded organization that allocates partial tuition funds to allow students to go to the private school of their choice.
Ortega-Guerrero's parents enrolled her and her younger sister in a number of extracurriculars, including karate for self-defense, music lessons, and swimming.
"[My extracurriculars] were expensive, and people always asked my parents, why they were wasting their money on these classes," she says, but the loaded schedule taught her discipline which she could then apply to her studies. "I'm so grateful to my parents because discipline and time management has been something I've known since I was a kid."
Ortega-Guerrero says she pushes herself academically to show appreciation to her parents, for all they have sacrificed on her behalf. Her father is a handyman and her mother a house cleaner, so for Ortega-Guerrero, presenting her parents with a flawless transcript is her way "to pay them back. To show them their sacrifices are worth it."
The sacrifices paid off.
Now, despite her family's previous legal struggles, college isn't just an option, it's a reality. And after college? Giving back and helping others is on the agenda. "I want to do something I'm passionate about," she says, noting that it might include a career as a civil rights lawyer, inspired by the immigration attorney who kept her family together and in the United States years ago, and kept her dream of higher education alive.
Previous graduates of the week:
Like our Facebook page to see a new notable graduate every day this month
Support The 74's year-end campaign. Make a tax-exempt donation now.