Grad of the Week: A Bronx Immigrant Graduates to Fordham — Eyes Fixed on a Career in Social Justice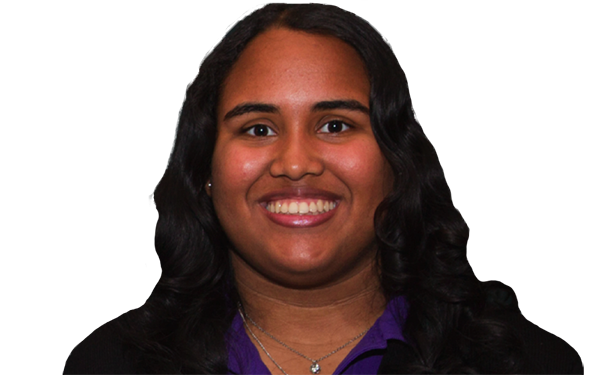 We will be celebrating a graduating high school senior every weekday this month on our Facebook page. (Like us here) A handful of graduates will also be profiled in greater depth right here on the site. Sign up for our newsletter to see all 21!
Growing up in Santa Domingo in the Dominican Republic, 18-year-old Emely Cuello quickly learned that the surest way to get access to even the most basic services (health care, etc.) was to have connections.
She did, and she knows she was lucky. "My parents had friends who worked at the hospital so when we were sick we could get the help we needed," she told The 74. Others, though, were not so lucky: "One time I saw a kid choking on something stuck in his throat, and nobody at the hospital was doing anything. It wasn't fair."
The injustice of this system made a lasting impression on her, and she's been determined to become a "voice for the voiceless" ever since.
Cuello arrived in New York City in 2009, committed to her schooling and is now graduating from St. Raymond Academy in the Bronx, which she attended through Student Sponsor Partners, a New York City based high school scholarship and mentoring program.
This fall she will attend nearby Fordham University where she hopes to initially study social work as an undergraduate, and then ultimately go on to law school and become a lawyer to achieve her dream of helping others find justice.
She says she'll be the first in her family to attend college. Her parents didn't have the opportunity to go to college, and she was raised learning that for her to do well in life, she needed to focus on her education.
"That is something I have known since I can remember," she recalls, "so my graduating and going to college is amazing for my family."
Cuello has always been seen as a leader in her family — and a protector to those less able than she. "I'm both the youngest and the oldest sibling," she says. Her brother is older than she is, but has Down Syndrome, and Cuello sees herself as his advocate and protector.
"My mom would tell me that he may be older but I'm his big sister and have to protect him," she says "I took care of him while my parents worked, and it's helped me develop a sense of responsibility for the people around me."
Previous grads of the week:
Support The 74's year-end campaign. Make a tax-exempt donation now.