Governor's Pick for New Hampshire Schools Chief Divides State, Echoes DeVos Controversy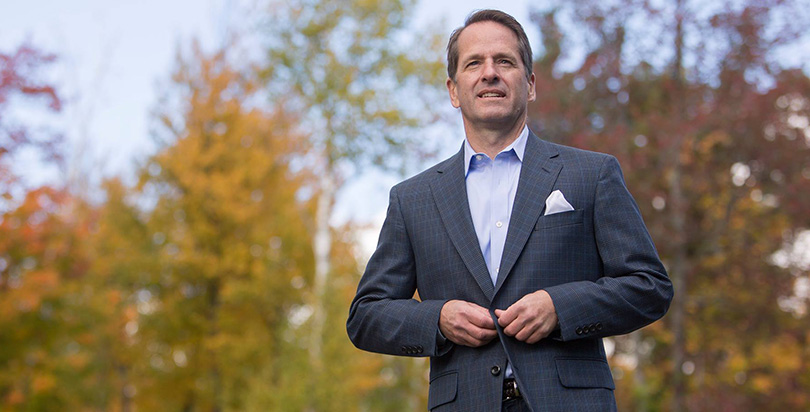 Updated Feb. 15
New Hampshire has a new education commissioner whose views signal a sharp turn in the Granite State — reflecting the flip last fall from a Democrat to a Republican in the governor's office.
Frank Edelblut, a businessman and one-term GOP state representative, was confirmed Wednesday morning in a 3–2 party-line vote by the state's Executive Council following a month of contentious debate about his views and qualifications — specifically his lack of experience with public schools.
Edelblut ran as a relative unknown for governor and lost a primary battle against Chris Sununu — scion of a New Hampshire political dynasty that includes a former governor (his father John H.) and a U.S. senator (his brother John E.) — and then was tapped for education commissioner by the victorious Sununu.
Sununu chose Edelblut over the commissioner he inherited,
Virginia Barry
, a teacher and former university administrator who'd held the job since 2009. The fervor that ensued has paralleled the stormy nomination of newly confirmed U.S. Secretary of Education Betsy DeVos.
Like DeVos, Edelblut never served on a school board or otherwise worked in the public school system. Also like DeVos, he eschewed public schools for his own family, choosing instead to homeschool his seven children.
An accountant and auditor, Edelblut favors a decentralized system in which local school districts are responsible for important policy decisions. He's a proponent of charter schools and supports allowing public tax dollars to follow students to private or religious schools. He also opposes the Common Core standards and the Smarter Balanced state tests in place in New Hampshire.
Edelblut has also said he
isn't "persuaded" that full-day kindergarten is the best option for children,
the Concord Monitor
reported, but backs personalized learning, including online courses.
As he said in an interview during his gubernatorial campaign,
according to New Hampshire Public Radio
: "I think what we have to recognize is that our education system is at a perfect-storm moment, that it needs to shift gears and move into the 21st century."
Sununu praised Edelblut this week before the state Board of Education; in response to concerns that Edelblut lacks credibility among educators, labor unions and other public school supporters, Sununu said one of Edelblut's first steps would be to visit schools across the state.
"I don't think it will take too much time for people to quickly realize the depth of his knowledge base, his understanding of the system and his openness to new ideas," Sununu said.
Edelblut did not respond to requests for comment for this story.
The vote Wednesday morning by the three Republicans and two Democrats who sit on the Executive Council — which is unrelated to the state board — seemed to hinge, earlier in the process, on Councilor Russell Prescott, one of the three Republicans, who said he had been undecided but was swayed by Edelblut's performance at a hearing two weeks ago.
That February 1 hearing was unprecedented in its length — more than seven hours — and its heatedness as educators, parents and advocates argued mostly against the nomination. Officials said they received hundreds of phone calls and emails from constituents who were largely opposed to the nominee.
Prescott, the councilor, said Edelblut's lack of experience in the system could be an asset — he'd be less prone to "bad habits" others in the education establishment might harbor.
"I was impressed with how he handled himself [at the hearing] and his vision for the job," he said, adding that Edelblut "can't legislate" from the commissioner's seat and promised in the hearing to respect state education statute. "He showed his integrity and his willingness to serve others. His countenance was that of a servant," Prescott said.
Council member Andru Volinsky, a Democrat, grilled Edelblut during the hearing about his previous statements
railing against federal guidance
on transgender individuals' right to use the bathroom matching their identity. In an interview with The 74, Volinsky said he remains concerned that Edelblut's service as
a board member
of the foundation that supports
Patrick Henry College
— an evangelical Christian college in Virginia that adheres to strict social mores — will influence his decision-making on identity and sexual orientation issues that affect the state's 180,000 public school students.
"I am worried that he will ham-handedly dismantle all the good things going on in our state's education system," Volinsky said.
Doug Ley, president of the state chapter of the American Federation of Teachers, is among those who have decried the businessman's lack of track record in the education system, calling him unqualified.
"If he is the commissioner, we hope that he would be receptive to alternative ideas and alternative perspectives from those that he apparently currently holds," Ley said, adding the union would work with him in whatever capacity is needed.
State Board of Education chairman Tom Raffio, who was appointed in 2007 and is seeking an extension of his term, was more measured in his assessment. In an interview, he said he is hopeful that the new commissioner will acknowledge the state's achievements, including the board's adoption in November of the Next Generation Science Standards.
"New Hampshire is viewed as very much of an innovator in terms of competency-based education and a lot of other things, and I think once the new commissioner sees all this, maybe we just stay the course and move forward with what we have now and not try to change statute or constitutional stuff."
Get stories like these delivered straight to your inbox. Sign up for The 74 Newsletter