Gov. Polis, State Lawmakers Unveil Colorado Workforce Development Legislation as Part of COVID-19 Recovery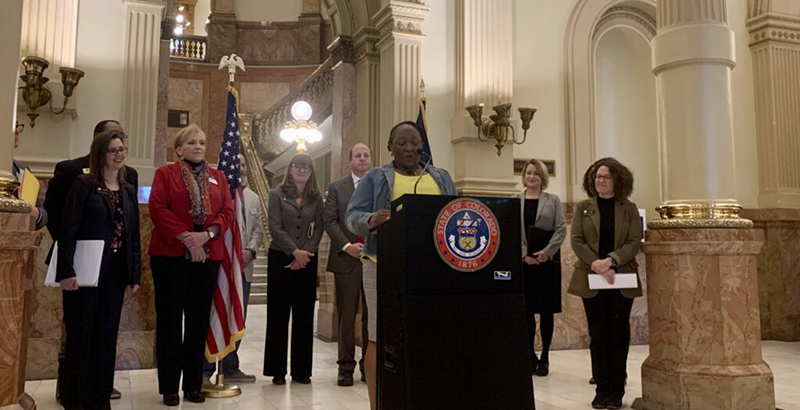 Support The 74's year-end campaign. Make a tax-exempt donation now.
Colorado lawmakers unveiled legislation Tuesday aimed at strengthening the school-to-career pipeline as industries across the state continue to face workforce shortages as they recover from the pandemic's negative economic effects.
The $95 million package will use some money from a cash fund with American Rescue Plan Act money created last year for workforce-oriented programs.
"We know that the old, conventional way of doing things doesn't serve us anymore. Which is why we are taking a bold new approach to workforce development in our state to meet Coloradans where they're at in their lives, and that's exactly what this legislation does," Gov. Jared Polis said at a press conference at the Colorado Capitol on Tuesday.
Polis said that during last year's virtual listening tour to gather ideas on how to best spend the state's $850 million in ARPA money, it was clear that there is a need for a well-educated workforce with opportunities to re-skill and up-skill. These bills aim to align workforce development to the growing industries that are in need of employees.
In January, the number of people employed in Colorado grew by 17,500 to approximately 3.2 million people, according to the Colorado Department of Labor and Employment. That represents about two-thirds of the state's population age 16 and older.
The bulk of the legislative package is House Bill 22-1350, a $91 million investment in a regional talent development initiative grant program. That bill is sponsored by Rep. Julie McCluskie, a Dillon Democrat, and Sens. Jeff Bridges, a Greenwood Village Democrat, and Paul Lundeen, a Monument Republican.
"This is our chance to do something different, to transform how we've been approaching that workforce pipeline. I am particularly proud of the fact that we are taking a regional, grassroots, local approach to inspiring collaborators to come together, groups to come together and figure out how they can best meet the needs of workforce shortages," McCluskie said.
"We see people who took a break during the pandemic to rethink their own career path," McCluskie said. "Now is their chance to get back on track."
House Bill 22-1349 aims to create a data collection system to monitor how different postsecondary pathways impact a student's career success. The bill would require $3 million for the creation of that system and is sponsored by Bridges, Sen. Kevin Priola, a Henderson Republican, and Reps. Monica Duran, a Wheat Ridge Democrat, and Perry Will, a New Castle Republican.
It would include data measurements like employment outcomes for students, earnings, and how long it takes for students to recoup the cost of their education.
"We have a plan to get that data from our institutions of higher education to see what is the great connection between what we are doing and where are some places we can improve to make sure we are delivering Colorado the workforce it needs to continue moving our economy forward," Bridges, one of the bill's prime sponsors, said.
Senate Bill 22-192 would bolster students' ability to earn stackable credentials, which are part of a sequence of credentials that people can accumulate over time in their pursuit of a degree. They can give flexibility to students who may not have the time or money to commit to a long-term program.
"Individuals that could have been possibly laid off with the pandemic, we wanted to give them opportunities to come back and finish what they started. If they had to drop out of school because they had financial difficulties because of the pandemic, we want them back and we want them in the most efficient pathway that we can possibly create for them to get a degree," prime sponsor Sen. Rachel Zenzinger, an Arvada Democrat, said.
The bill would help incentivize and encourage institutions to create stackable credentials in high-demand industries. It would facilitate stackable credential pathways for at least five growing industries by 2025.
Zenzinger wants the system to work for people on both ends of the employment spectrum, from a high school student taking a concurrent enrollment course to a mid-career adult earning a new degree and also working.
The bill is also sponsored by House Majority Leader Rep. Daneya Esgar, a Pueblo Democrat, Rep. Marc Catlin, a Montrose Republican, and Sen. Cleave Simpson, an Alamosa Republican.
"Preparing our workforce and our students to succeed we said at the beginning of session was one of our top priorities," Esgar said. "We are here to tell you that we are going to pass these innovative strategies to boost our workforce to ensure that every student has the tools they need to enter a career and thrive."
Colorado Newsline is part of States Newsroom, a network of news bureaus supported by grants and a coalition of donors as a 501c(3) public charity. Colorado Newsline maintains editorial independence. Contact Editor Quentin Young for questions: info@coloradonewsline.com. Follow Colorado Newsline on Facebook and Twitter.
Support The 74's year-end campaign. Make a tax-exempt donation now.