Gov. McKee Seeks $10.4M to Fund Free Tuition Program for Rhode Island College
Advocates say proposed Hope Scholarship is "long overdue" answer to enrollment woes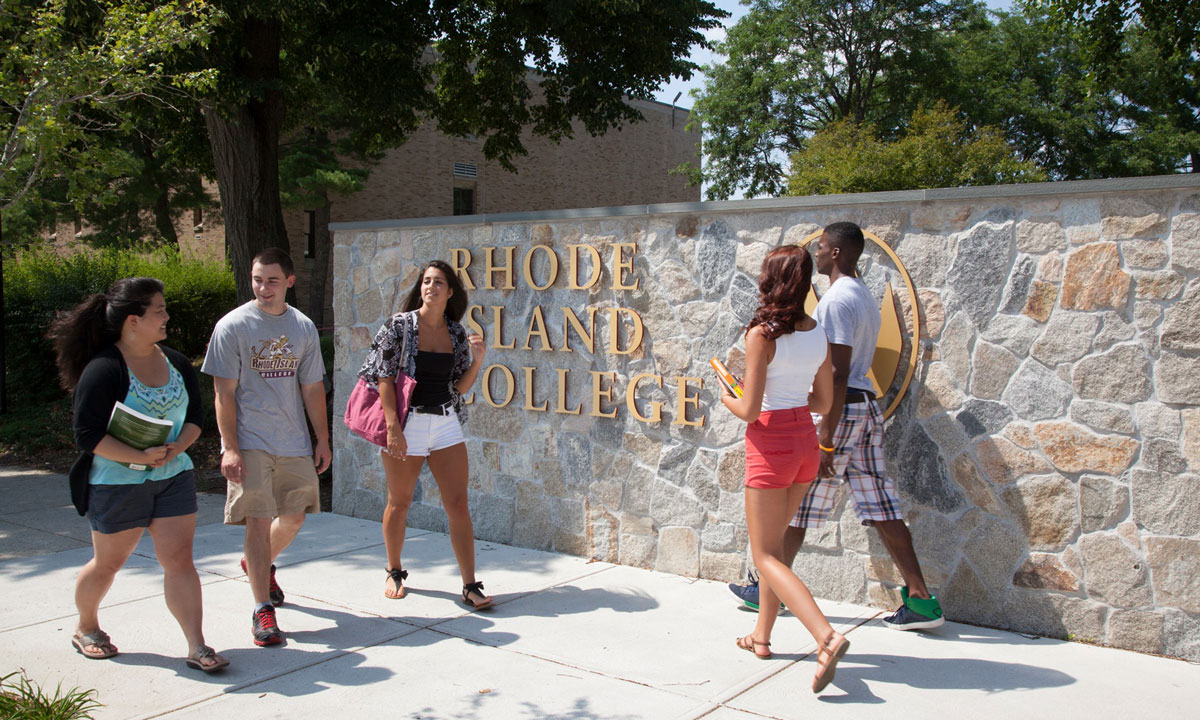 Support The 74's year-end campaign. Make a tax-exempt donation now.
Six years after state lawmakers removed Rhode Island College from a state college tuition program, they are set to reconsider.
Gov. Dan McKee on Friday introduced an amendment to his fiscal 2024 budget that would offer free tuition to in-state, full-time RIC students for their third and fourth years. The proposed Hope Scholarship aims to revive interest in, and enrollment at, the four-year college by offering a last-dollar scholarship similar to what is already available at the Community College of Rhode Island (CCRI).
"The Hope Scholarship will be a critical tool used to ensure affordability isn't the reason our students don't finish their four year degrees," McKee said in a statement.
Rhode Island College leaders also welcomed McKee's $10.4 million budget proposal, which some see as an overdue measure to rectify the imbalance between state schools created by the Rhode Island Promise program.
"It should have happened years ago," said Vince Bohlinger, a film studies professor and chairman of RIC's faculty union political action committee.
A broken promise
When then-Gov. Gina Raimondo proposed the Rhode Island Promise program in 2017, the scholarship program was supposed to cover two years of tuition for full-time, in-state residents at all three state higher education institutions: CCRI, RIC and the University of Rhode Island. But lawmakers were concerned about the estimated $30 million cost, and scaled back the program to just CCRI.
Since then, a steady drumbeat of RIC officials and advocates have blamed Rhode Island Promise for promoting CCRI at RIC's expense, and contributing to RIC's enrollment woes.
They're not wrong. Since the Rhode Island Promise program began offering free tuition at the Community College of Rhode Island in 2017, RIC's enrollment has plummeted.
Full-time freshmen enrollment at RIC fell 19% between the fall of 2017 and 2018, according to college enrollment data. Meanwhile, applications from students transferring to RIC fell by 17.3% that year.
The pandemic further worsened enrollment woes, with undergraduate enrollment down 10.2% compared with a year ago, to 4,719 students at the start of the 2022-23 school year. Over the last decade, RIC has lost 37.1% of its undergraduates, from a 7,505 peak in the 2013-14 school year. Graduate enrollment has been flat, at about 1,100 students.
The University of Rhode Island also saw enrollment tick down in the years since Rhode Island Promise began, but not by nearly as much; the number of full-time, undergraduate students fell 4.1% from 2017 to 2022, according to university data.
URI's strong applicant and retention pool was why the flagship university was not included in the Hope Scholarship proposal, according to Olivia DaRocha, a spokesperson for McKee. DaRocha also noted that McKee's fiscal 2024 budget includes a "major increase" in funding for URI: an extra $22.4 million in its unrestricted annual appropriation, plus $57 million in capital projects funding.
At RIC, fewer students means fewer tuition dollars, adding strain on the college coffers. A $10 million budget deficit in fiscal 2021 forced layoffs and pay cuts. Federal stimulus dollars have provided a temporary cushion but RIC President Jack Warner estimated the deficit will swell to $10.6 million in fiscal 2025 if nothing is done.
'A really great start'
Bohlinger praised the Hope Scholarship for helping to boost enrollment, which will in turn help RIC's bottom line. However, he also said the tuition program isn't a perfect solution.
For one thing, students wouldn't get the tuition waiver until their third and fourth years, but RIC data shows that 25% or more of RIC freshmen don't return for their second year. Another 10% drop out between their second and third year.
Even among those who stay, a majority – 80% – don't graduate in four years. Which means even those who get the scholarship still have a year or more's tuition money left to pay to get their degree.
"A lot of students are on six-year plans, so how it helps them is not immediately clear," Bohlinger said.
Still, he added, "it's a really great start."
A start that still requires lawmakers approval – the very thing that stopped RIC from getting a piece of the Rhode Island Promise pie in the first place. Legislative leaders remained noncommittal in emailed responses on Monday.
"I am keeping an open mind and will review the testimony and discuss the proposal with my House colleagues during the course of this transparent process," said House Speaker K. Joseph Shekarchi, a Warwick Democrat.
Greg Pare, a spokesman for the Senate, said Senate President Dominick Ruggerio, a North Providence Democrat, would not want to "prejudge" the committee hearing process.
McKee's $10.4 million budget amendment might be more palatable to lawmakers than Raimondo's version, though, because it relies primarily on the windfall of federal stimulus dollars. As proposed $9.4 million of the three-year pilot program would come from the state's American Rescue Plan Act dollars, with another $1 million in state aid.
"It's not that much money in the grand scheme of things," said Erik Christiansen, a history professor and president of RIC's faculty union. Noting that stimulus funds were also available to the state in fiscal 2023, Christiansen said, "it should have been done last year."
Grading success
How many students that funding can support is hard to say. As a last-dollar scholarship, the proposal would cover what's left for in-state tuition after other federal aid and grants are applied. The more funding each applicant needs, the fewer students the tuition money can help.
The $7.7 million for the Rhode Island Promise scholarship included the state's fiscal 2023 budget was intended to cover 1,760 CCRI students, according to a 2022 budget report to lawmakers. McKee's fiscal 2024 budget proposal includes $8.6 million for Rhode Island Promise based on projected enrollment increases.
McKee's office estimates the Hope Scholarship could help 1,200 students over the course of the three-year program, according to information shared with Rhode Island Current.
CCRI students who get community college tuition covered through the Promise program and then transfer to RIC would not be eligible to receive the Hope Scholarship.
If approved, the pilot program would begin offering funding to eligible juniors and seniors at RIC in the fall of 2023, with funding for a final class in 2026.
As for how the state will measure success from the pilot program, DaRocha said the governor, Warner, and Postsecondary Commissioner Shannon Gilkey were still finalizing those metrics.
Warner could not be reached for comment on Monday.
Amy Kempe, a spokesperson for CCRI, said in a statement the college was still reviewing the proposal to understand how it might affect their own enrollment,
"As an institution that places access, affordability and equity at the center of its work, the college applauds the efforts by the Governor and our state leaders to ensure an affordable, high-quality postsecondary education is within reach for all Rhode Island students, especially for our low income and minoritized populations," Kempe said.
The University of Rhode Island did not provide a comment.
Rhode Island Current is part of States Newsroom, a network of news bureaus supported by grants and a coalition of donors as a 501c(3) public charity. Rhode Island Current maintains editorial independence. Contact Editor Janine L. Weisman for questions: info@rhodeislandcurrent.com. Follow Rhode Island Current on Facebook and Twitter.
Support The 74's year-end campaign. Make a tax-exempt donation now.