Gov. Greg Abbott Organizes 'School Choice' Rally at Texas Capitol
Lt. Gov. Dan Patrick has embraced Senate Bill 8, but House Speaker Dade Phelan hasn't made school choice legislation a priority.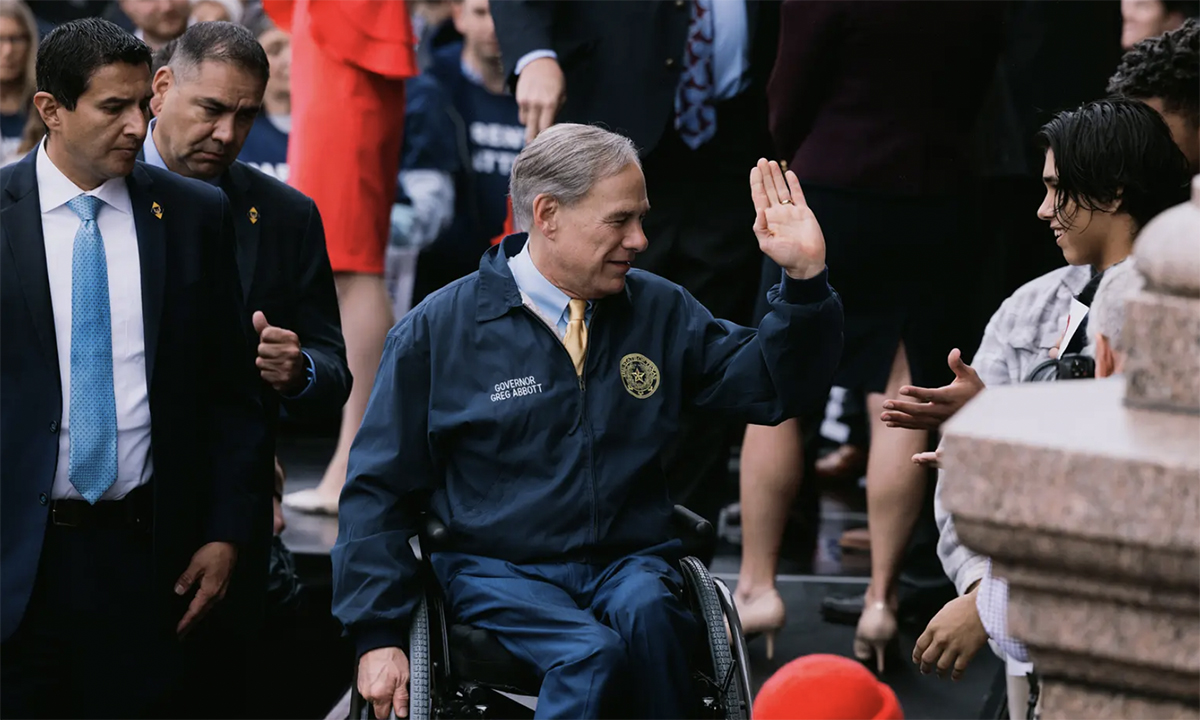 Support The 74's year-end campaign. Make a tax-exempt donation now.
Parents, teachers and advocates traveled from across Texas on Tuesday to hear from Gov. Greg Abbott and make their case to lawmakers for expanding support for private schools.
Abbott is all in this session on passing Senate Bill 8, which if passed would give families up to $8,000 in taxpayer money, per student, to pay for private schooling through an education savings account, called an ESA.
Lt. Gov. Dan Patrick and many Senate Republicans have embraced the bill, which is set to be considered for the first time this session in a Senate committee hearing Wednesday. However, House Speaker Dade Phelan hasn't made "school choice" legislation a priority in the House, and there are questions whether the measure could pass his chamber.
Speaking in the rain, Abbott rallied a crowd of around 200 supporters on the north Capitol steps to say "parents matter."
"We're going to show up, we're going to show out and we're going to show the Legislature exactly why it is so important that we empower parents to choose the education that is best for their child," Abbott said.
Students who leave public schools will perform better under his plan, as would the schools they leave, Abbott said.
That rang true for Larry Romine, a principal at River City Christian School in San Antonio. The K-12 school specializes in teaching students with learning challenges such as ADHD, dyslexia and autism. He called them "educational crack babies," meaning children who fall through the cracks of the education system and get overlooked. Parents and students end up trapped in a public school that doesn't work for them, he said.
"It's one of those situations where they're like that little mouse on the wheel, running and running and running and they can't ever get ahead," Romine said. "They can't get out, they can't change it and it breeds a sense of hopelessness."
Abbott has spent recent months traveling the state to advocate for school choice, monitoring school curricula and other so-called parental rights issues at "parent empowerment" nights.
School choice is an umbrella term that includes a variety of policies, including education savings accounts and vouchers, that give parents the option of enrolling children in schools other than their assigned district public school. It can also include online schools; charter schools, which are public schools run outside the traditional school district system; and magnet schools that are run by school districts but offer targeted programs.
"Our children are being taught a radical woke agenda," Abbott said at the event. "There's no reason why any students should have a woke agenda pushed on them. Our schools are for education, not indoctrination."
The governor's office and the Texas Public Policy Foundation, a conservative think tank, helped organize the event at the Capitol on Tuesday. TPPF hosted information sessions in the morning and afternoon for attendees and arranged buses for those like Romine and his students who traveled from out of town.
Danny Strassman, a parent who traveled to Austin from Dallas with members of the Jewish community, said it's important for religious Jews to provide religious instruction to their children, which isn't allowed in public schools.
"It's expensive to run schools. We're a small community. We pay property taxes and I'm happy to support all the schools, but we'd like some of that to help us as well," Strassman said.
Strassman is supportive of Abbott's approach, but he would like to see the program expanded to include children who are already in private schools.
Andrew and Jessica Brummett of Pflugerville are educators and parents of five children. Their children attend Austin Classical School, a private Christian school where Andrew is head of the upper school.
Andrew Brummett said he wants to see teachers be able to open their own schools, as an accountant might open their own practice.
"Part of being a professional is being able to own your own shop. It's not working in a union shop," he said. "I value the associations and the unions and people taking care of teachers because I am a teacher and we're all part of the same team. But at the same time, I want to help teachers to be true professionals and be able to start their own small schools, start their own new program, and a universal ESA would be the kind of thing that can really empower all of us to do our jobs better, to see better results for the whole state."
A family of seven like the Brummetts would need a household income of less than $159,000 to qualify for ACE scholarships, Texas' program that provides scholarships for private schools. Andrew Brummett said their situation is emblematic of the middle class and the struggle of having a large family, and having education savings accounts would help address that.
"We'd be able to send our kids to where we want to. I don't have to work at a school to be able to send them to a great school. I could choose whatever school works best for them," he said. "We've made sacrifices to get them in good schools and to do the best that we were able to do, but it sure would be nice to have some more options."
Although Republicans control the Legislature, SB 8 faces an uncertain future in the House. There, rural Republicans like state Rep. Ken King, R-Canadian, oppose the measure. If enough House Republicans oppose private school vouchers, proponents may have to snag support from House Democrats.
Abbott said opponents of school choice argue such measures would defund public schools and kill "Friday night lights" and high school football games. He pointed to the increases in public school funding made under his first two terms as governor.
In a statement to The Texas Tribune, state Rep. Trey Martinez Fischer, chair of the House Democratic Caucus, disputed Abbott's characterization that the governor has been a champion of public schools. In particular, the San Antonio Democrat highlighted the state takeover of Houston Independent School District.
"As he's on his statewide road show about parental rights, the governor should visit parents in Houston ISD and look them in the eye to say that he did everything in his power to support their children and their schools," Martinez Fischer said.
Disclosure: Texas Public Policy Foundation has been a financial supporter of The Texas Tribune, a nonprofit, nonpartisan news organization that is funded in part by donations from members, foundations and corporate sponsors. Financial supporters play no role in the Tribune's journalism. Find a complete list of them here.
This article originally appeared in The Texas Tribune, a member-supported, nonpartisan newsroom informing and engaging Texans on state politics and policy. Learn more at texastribune.org.
Support The 74's year-end campaign. Make a tax-exempt donation now.