WATCH: Meet the Visionary Chicago School Leader Who Just Won a MacArthur 'Genius' Grant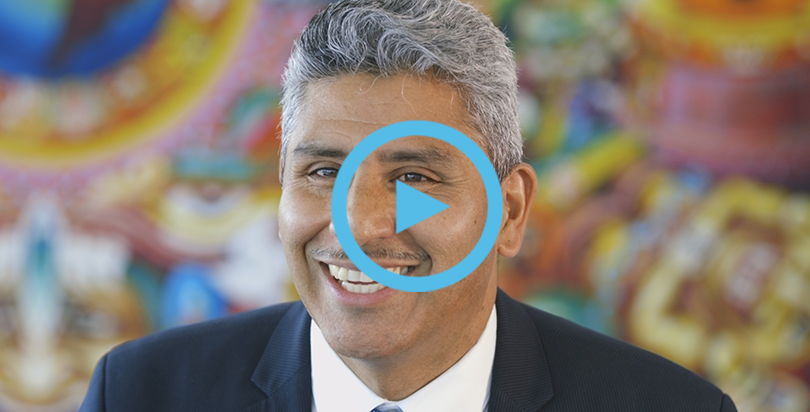 This is one article in a series that examines gifted education, classroom creativity and geniuses in society. (See our full genius archive) The 74 is a proud media partner of the 92nd Street Y's "7 Days of Genius," a global series of events orchestrated to explore "the power of genius to make a positive impact on the world" running March 5-12. See events: 92y.org/Genius.
(Chicago, Illinois)
— It's 5 p.m. on a Tuesday afternoon, and final preparations are underway for a mural unveiling at Chicago's Instituto Health Sciences Career Academy. As the room quickly fills with students curious to see the final artwork, the charter high school's CEO, Juan Salgado, makes his rounds, shaking hands and sparking small with talk with youngsters he deems "the people that matter the most." He eyes a girl wearing a Cubs t-shirt in the front row: "Let's hope for a win! I'm mostly a Sox fan…but I'm a Chicago fan."
---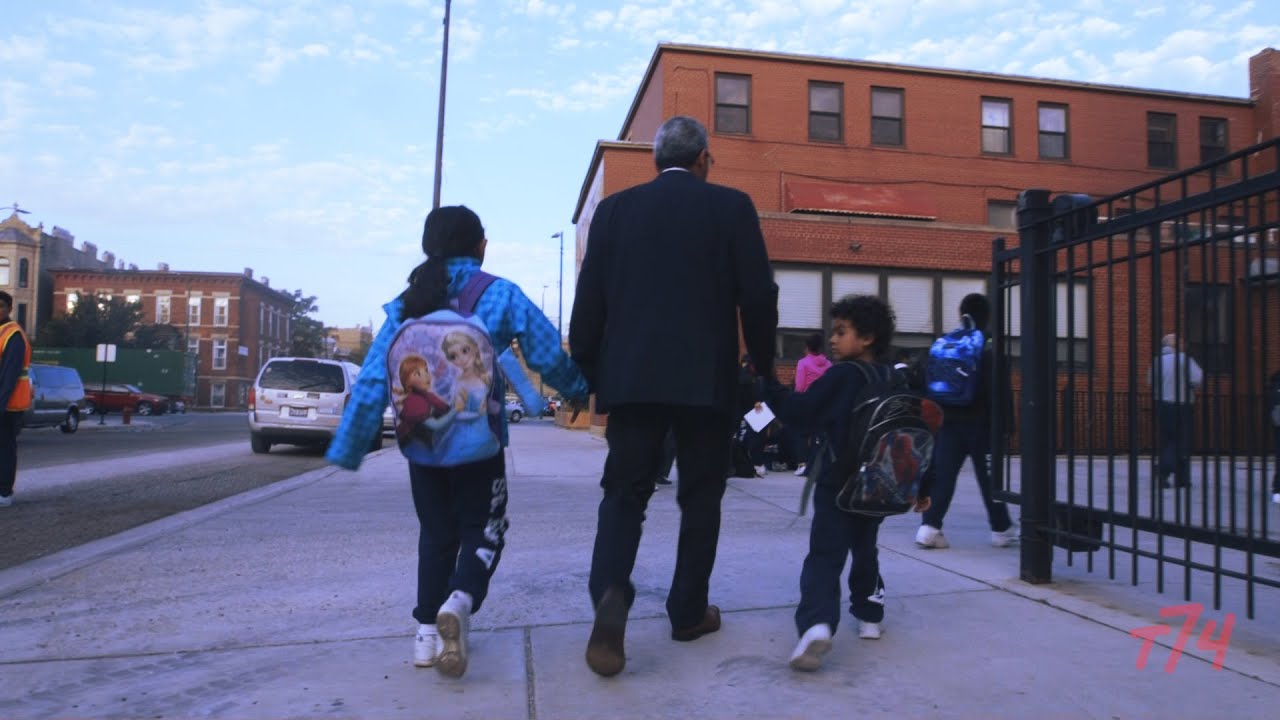 ---
The sentiment is a familiar one on this mid-October afternoon, as the city braces for game three of the National League Championship Series: Cubs vs. Mets, hosted at Wrigley Field. The stadium's just 10 miles away from Instituto Health Sciences Career Academy (IHSCA), but the revelry and euphoria of America's pastime couldn't be further from the fear and violence that Salgado's students face every day — or his relentless quest to alter their daily reality.
Salgado has devoted his life's work to brightening the present and future of Chicago's Latino community. And as years of success stories have piled up — as word has spread across the city, and been passed down through families — he has become an admired fixture of his city. He's a force for meaningful change in a city that's struggled with more than its fair share of negative headlines.
Which is perhaps why no one but Salgado was surprised by the sudden, shocking news release that made national headlines in September: He had been singled out as one of 24 recipients of the elite and mysterious 2015 MacArthur Fellowship — more commonly known as the "Genius Grant." Unbeknownst to Salgado, a committee working in secret had nominated and vetted Salgado's work, and chosen him to be the recipient of the five-year, $625,000 fellowship. Salgado learned of his nomination, his victory and his prize when his phone rang. In an instant, a life-long cause became a focal point of national inspiration. Overnight, his name appeared in many of America's top publications.
"I think the recognition of the work that we're doing as a whole is in so many ways even more rewarding than the resources," Salgado says, pointing to the honor over the money. "It's the ecosystem screaming to us saying: 'You're on the right track!'"
Since 2001, Salgado has led Instituto Del Progreso Latino, the nonprofit organization that operates IHSCA. Instituto's mission is to educate and empower Latino immigrants through adult programming that drives and facilitates upward mobility within the community. This includes pathways to citizenship, literacy classes, childcare and employment assistance.
"Instituto has always had a vision for ensuring that we work with the entire family," says Salgado, now the president and CEO. In 2010, that vision inspired the organization to plan and launch IHSCA, the first of Instituto's two charter high schools in Chicago.
IHSCA is unique in that students take twice as many math and science credits as required at traditional public schools, and commit to both an extended school day and summer classes which facilitate a 32-credit curriculum. Behind most of the structure here is a deliberate strategy: Keep the kids off the streets, while actively encouraging them to explore careers in healthcare, "a growing industry where there are a lot of job opportunities," Salgado says, and "very few Latinos going into those occupations."
Since opening its doors in August 2010, IHSCA has served 760 students, with 96.7 percent of them coming from low income families,
according to official Chicago Public Schools data
. 95 percent of the student body identifies as Hispanic, and the inaugural Class of 2014 saw a 95 percent college acceptance rate, with 132 first-generation college students and $4.5 million awarded in scholarships.
By contrast, over 40 percent of residents in the Lower West Side neighborhood where IHSCA is situated reported having no high school diploma. That number is more than twice the Chicago average,
according to the Chicago Tribune's crime report
.
Those grim statistics prompted Salgado to open a second charter high school with a separate mission: Re-engage students who previously dropped out of school.
"More children should be able to benefit from our approach," he explains, an insight as to how he might spend the "Genius Grant" fellowship money.
"Imagine a world where just a few blocks away from us, Cook County jail is not necessary"
The Instituto Justice and Leadership Academy, or IJLA, is an alternative school for 16 to 21 year old youth. Many of its students no longer live with their parents, and over 50 percent of them are parents themselves. The school, which shares a space with IHSCA, also houses several students who are from rival gangs.
"When you come here it's not just about getting the right academic preparedness," Salgado says. "You also have to demonstrate social emotional skills that are critical to your functioning in society." Those skills are something that Salgado embodies as he walks the halls throughout the day, stopping to shake hands and talk to every student and parent he passes.
"It's not good enough just to run a school," he says, "you have to be present."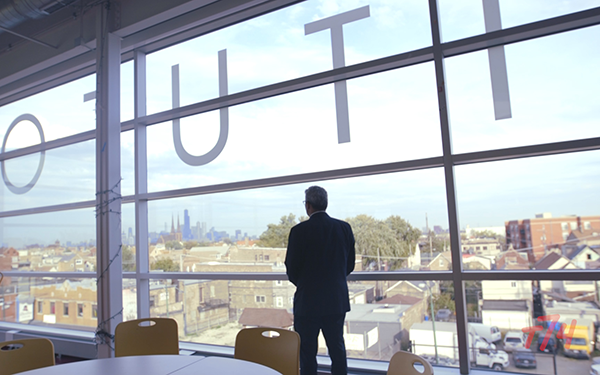 Which brings us back to the mural celebration, and Salgado's persistent outreach, from shaking hands to answering questions and constantly tying school events to the unique challenges of his community. On this Tuesday evening, the mural is part of a broader commemoration of the "Year of Peace," an initiative set in motion by Mayor Rahm Emanuel's office as a response to the city's overwhelming violence among youth. It's an ideal that hits particularly close to home for students at Instituto's two charter high schools on Chicago's southwest side.
"We lost two youth in the last two years ourselves," Salgado tells me later. He's referring to Michael Orozco, 14, and Angel Cano, 16, both of whom were killed by gang violence, and whose stories reverberate off the brightly painted murals adorning the halls of Instituto.
Michael, a freshman at IHSCA, was a known member of the gang Satan's Disciples. He was walking with friends to get ice cream when he was fatally wounded by a rival gang during a drive-by shooting. "He was a fearful young man," Salgado tells me while recounting the story of how Michael became affiliated when he was only in the seventh grade.
"He just wasn't given enough time to find the right escape route," he says.
Angel, on the other hand, had been trying to cut ties with his former gang, and even dropped out of school in an apparent effort to go undetected. He worked construction with his father for two years before deciding to re-enroll at ILJA. Salgado tells me that Angel didn't even make it past the first 35 days of school before he was identified and killed.
"You can almost say that he would have been better off had he stayed out of school," Salgado says, but Angel "wanted schooling for himself, and it ended up costing his life."
Both Michael and Angel fell fate to the same tragic deaths; their casualties a byproduct of Chicago's rampant gang violence.
Sadly, they are not alone.
Over the last two years (2013-2015), there have been 1,378 homicides in Chicago, with 310 of those deaths among children and teens,
according to the Chicago Sun-Times
. And 2015 proved to be the deadliest in recent years, with 497 confirmed murders, as compared to 445 and 436 in 2013 and 2014, respectively.
That's precisely why, Salgado tells me, the Year of Peace has such a deep and profound meaning for Instituto's students. "They live the same situation on a day-to-day basis," he says, "and so that's why having a safe environment like ours is so critical."
At the mural unveiling, the festivities begin with a performance by the school's dance team. Their choreographed movements are accentuated by glittery skirts, as the all-girl team salsas their way through the song "Day 1" by singer Leslie Grace. The American-born vocalist with Dominican roots weaves together a melody of Spanish and English lyrics to describe love at first sight in this new genre of Spanglish Bachata Urbana.
Watching them perform is a reminder of the concentrated effort to not only incorporate, but also celebrate, the influences of Latino heritage and culture at Instituto. They are a community that learned Spanish before English, and part of Instituto's mission speaks to that cultural dignity and identity.
At ISHCA, students are required to take four years of Spanish and English classes, and many participate in after school activities that celebrate indigenous rituals.
"You have to appreciate who you are," Salgado tells me, "in order to really have a deep appreciation for other cultures and other beings."
Like many of his students, Salgado is a first generation Mexican-American living in Chicago. He likes to tell the story of how his mother held Spanish classes at home, but registered him for kindergarten using the English version of his name – John – so that he'd have an easier time assimilating. It wasn't until he was about to graduate from college at Illinois Wesleyan University that he decided it was time to start going by his real name – opting to have "Juan" put on his formal degree.
"It was kind of that point in life where I knew that I was going to be doing something in community," he says.
Salgado recalls being truly alone for the first time in his life during his college years, and how that solitude enlightened his perspective of what his mother had gone through when she came to America. "Being an immigrant is incredibly hard – you're leaving everything," he tells me. "It's a huge sacrifice and people do it because they want something better for their children."
After earning a bachelor's degree in economics from Wesleyan, Salgado went on to obtain his Masters degree in Urban Planning from the University of Illinois at Urbana-Champaign. He later received an Honorary Doctorate in Humane Letters from Illinois Wesleyan University, and was recognized by the White House in 2011 as one of 13 people nationally serving as Champions of Change for social innovation in their communities.
Despite the many accolades and awards for his work, Salgado says the news of his MacArthur fellowship landed like a shock to the system. He says he received the phone call on September 8, 2015, shortly after he dropped his three children off at school. A representative from the MacArthur Foundation asked if he was alone, and if he could find his way to a quiet space.
"It was just a complete, complete shock," Salgado recalls wide-eyed, "because this was happening without me knowing." The MacArthur process is shrouded in secrecy, including the foundation's backgrounding of Salgado's work, as they interviewed people who had worked with him. "It's the kind of thing that you don't even dream of," he says, " because our dreams are even limited."
When Salgado broke the news of the exclusive award to his wife, Leticia, she was happy — but also worried that this new role would make her already overworked husband even crazier. "Just don't forget," she told him, "that your family is what grounds you."
"Absolutely," he said. "I'll never forget."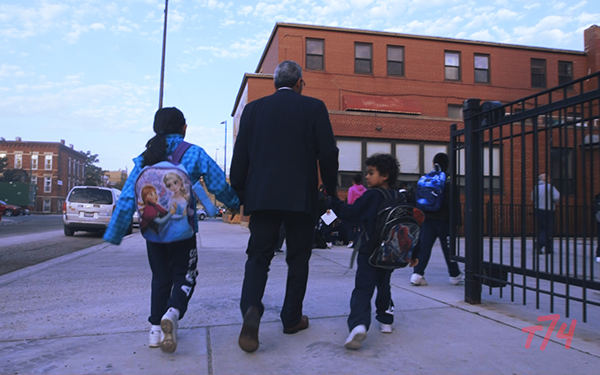 Salgado tells me that his children are always around his work. His eldest son, Angel, does homework in Salgado's office as the ceremony continues with student speakers and remarks from a representative of the Mayor's office. The mural, a visual representation of the Year of Peace, was commissioned as part of the Mayor's challenge to students to combat school violence.
Finally, it's time to unveil the mural. The paper is unrolled, and the image of a Phoenix – the school's mascot – emerges surrounded by colorful flames. As the Greek legend goes, the Phoenix obtains new life by arising from the ashes of its predecessor.
"This is just a painting for some of you guys, but it's supposed to transcend the subconscious," explains the artist, Miguel Del Real.
"We all have our inner struggles, our inner challenges," he says, but "it's finding that place to grow or prevail."
Salgado studies the mural, preparing to say a few words next. The teacher introducing him mentions the news of the MacArthur Genius Grant, and the audience erupts in applause.
As Salgado takes the microphone, he asks them to close their eyes and imagine a world where no child is lost to gun violence. "Imagine a world where just a few blocks away from us, Cook County jail is not necessary," he says.
He goes on to ask young people what they can do to solve the problem of violence and take leadership roles in their community. He challenges them to be like the Phoenix, and "rise from the ashes no matter what their circumstances, no matter what their past, no matter what their crimes on society might be."
Finally, he asks them to imagine a world where "we let the voices of young people drive the solutions that are necessary to save their own lives in our city."
"Imagine that world, because it's not a dream," he tells them. "It can be a reality."
Get stories like these delivered straight to your inbox. Sign up for The 74 Newsletter