'Got to Go' List Shines a Light on Evolving Debate Over How to Discipline Students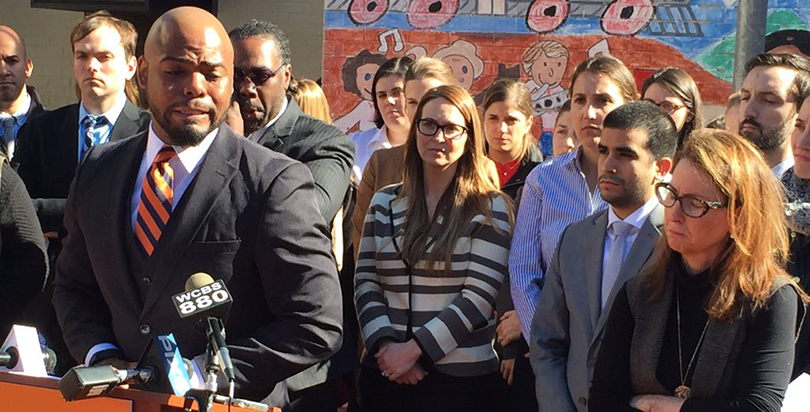 New York City
In a year-and-a-half, Candido Brown was the third principal to lead the Success Academy charter school in the city's Fort Greene neighborhood. Despite frequent suspensions to address misbehavior, Brown described a school where kids were out of control, preventing other children from learning.
So he called for the creation of a list of students who have "got to go."
Created last December, the 16-student list became publicly known last week through a scathing
New York Times article
alleging school officials used punitive disciplinary policies to push out problem students.
"I was not advised by my organization to put children on the list, I was not advised by my organization to push children out of my school," Brown said on Friday during a press conference where he failed to hold back tears. "I was doing what I thought I needed to do to fix a school where I would not send my own child."
Admitting Brown was in the wrong for creating the list, Success Academy Founder and CEO Eva Moskowitz said Friday his actions were inconsistent with the organization's policies and he was punished within days after the list was created. But she argued the Times mischaracterized the charter network's intentions behind school discipline and failed to explain how quickly officials punished Brown.
"Our goal in suspending children, or issuing any consequences, is not to get rid of children or to have them leave our school. It is to have them have high standards of conduct," Moskowitz said, adding that Success Academy "may not be the absolute best setting for every child."
Critics of Moskowitz's schools have long alleged the network uses punitive discipline to push out lower-performing students. With 11,000 students, 76 percent of whom are from low-income households, Success Academy schools far outpace other public schools in the city on standardized tests.
At a time when local and national conversations about student discipline are beginning to shift away from suspensions and expulsions, Moskowitz stands behind her strict discipline policies. She said the network's suspension policy is foundational to its schools' learning environment and academic results.
"We believe in that policy, we are transparent with parents about that policy, we go to considerable lengths to educate our parents so they can make an informed choice about whether they want to be a Success Academy parent," she said.
(Disclosure: The Seventy Four's Editor-in-Chief Campbell Brown serves on Success Academy's board of directors. She was not involved in the writing or editing of this story.)
"Zero tolerance" school discipline policies, which limit discretion in individual cases and rely heavily on suspensions, expulsions, and even arrests, began in the 1980s. They quickly gained traction in the '90s, accelerated in part by the federal Gun-Free Schools Act in 1994 and a climate where young people were increasingly seen as dangerous, according to a
research analysis
by the Vera Institute of Justice Center on Youth Justice. In response to these policies, student suspension rates increased across the board.
In
a blog post
on the Bellwether Education Partners website following the Success Academy controversy, Andrew Rotherham cited former American Federation of Teachers President Albert Shanker praising zero tolerance policies in a series of New York Times columns published in the mid-90s. Rotherham is on The Seventy Four's Board of Directors.
"We talk a lot about improving the educational performance of all our students," Shanker wrote in one column. "Many states are busy setting academic standards, and some are even talking about tying assessments to these standards. But the truth of the matter is none of these changes will achieve what we want unless schools are safe and orderly places where teachers can teach and students can learn."
In recent years, however, the tides have started to turn away from the use of suspensions, expulsions, and arrests to punish students as research highlights the negative outcomes punitive discipline can have on student learning.
While school leaders have cited the need for strict school discipline policies to minimize disruption in the classroom by removing problem student, "no studies show that an increase in out-of-school suspension and expulsion reduces disruption in the classroom and some evidence suggests the opposite effect," according to the Vera analysis. In fact, research shows a single suspension or expulsion doubles the odds a student will be required to repeat a grade, and being held back a grade is among the strongest predictors of dropping out.
In 2011, the U.S. Departments of Education and Justice launched the Supportive School Discipline Initiative to address the "school-to-prison pipeline," in which disciplinary policies and practices push students out of schools and into the criminal justice system. The initiative called for school discipline practices that rely on inclusive and positive learning environments. As a result, the federal agencies released a series of school discipline
recommendations
in 2014 that called for school districts to reduce the frequency of suspensions for minor infractions.
Outgoing U.S. Education Secretary Arne Duncan reiterated the department's commitment to school discipline reform at a press conference Friday in Memphis, Tennessee. His statements followed national outrage over a South Carolina
school resource officer's violent arrest
of a black high school girl, prompting cries of police brutality.
"These aren't just somehow numbers, or statistics, they're our children," Duncan said. "And it should come as no surprise that these children being suspended and arrested are disproportionately students of color and students with disabilities."
Responding to critics that argued New York City's public schools too frequently relied on suspensions, the city's education department announced changes to its
school discipline code
in February, including limits on suspensions for minor infractions. On Friday, department provided the City Council with its annual report on suspensions citywide. It showed a 17 percent decrease in the number of suspensions in the 2014-15 school year from the previous year — a reduction of nearly 9,000 suspensions.
Speaking to reporters on Friday, Success Academy principals argued parents appreciated the charter schools' strict disciplinary policies. After all, sending their children to a Success Academy school, instead of a district school, was their choice.
"It is illogical and insulting to suggest that our community of families and educators are complacent in some unethical enterprise," said Andrew Malone, the principal at Success Academy Harlem Central. "It is also illogical and even more insulting to imply that our community's achievements are due to anything but the hard work of our teachers, and our parents, and most of all, our kids."
Get stories like these delivered straight to your inbox. Sign up for The 74 Newsletter