GOP Sets the Stage for Cleveland Convention: Here's Where 18 RNC Elites Stand on Education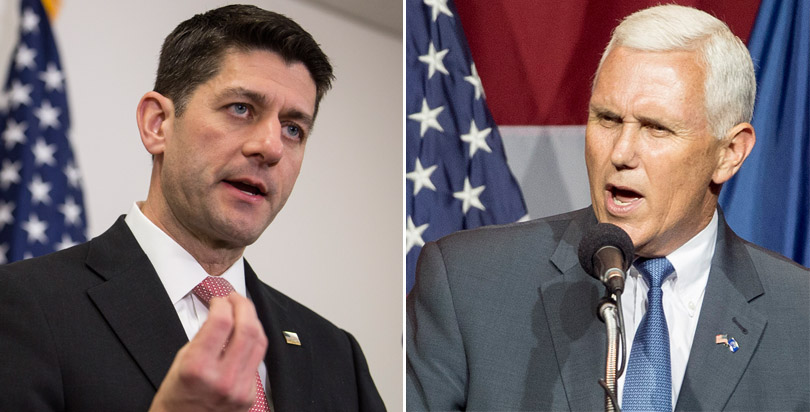 It's no secret that Donald Trump's views on education (and, to be fair, many other policy areas) remain a mystery.
But he won't be the only one on display at next week's convention proceedings in Cleveland. (Bookmark our coverage of the RNC over at our #EDlection2016 live blog)
Along with reported vice-presidential pick Mike Pence, several of the announced speakers have extensive records on the subject, some stretching over decades. Their ideas range from curriculum quality to school choice, preschool to janitorial qualifications.
What follows is a review of the positions of Indiana Gov. Pence and former House Speaker Newt Gingrich, who was also considered a finalist for vice president, followed by thumbnail summaries of other Republicans, big names and up-and-comers both, who have been given speaking slots.
(Check back Monday morning for a roundup of the education views of Dr. Ben Carson, Wisconsin Gov. Scott Walker, who will play a prominent role at the convention, and New Jersey Gov. Chris Christie, who was also discussed as a VP finalist.)
GOV. MIKE PENCE
The Indiana governor has left a conservative imprint on Hoosier education policy in his first term (he is reportedly withdrawing from the race for a second term to join Trump on the presidential ticket).
Under Pence, Indiana first left the PARCC (Partnership for Assessment of Readiness for College and Careers) testing coalition and then dropped the Common Core State Standards altogether. It was the first state to abandon the standards. The changes left state leaders in a bind when it came to testing, and the replacement ISTEP test was plagued with problems.
Pence's 2012 election coincided with the surprise defeat of reformer state schools chief Tony Bennett. Pence has feuded Glenda Ritz, who defeated Bennett, throughout much of the last four years, including over the state's new tests.
He's also been an outspoken proponent of school choice.
Indiana has one of the most robust voucher programs in the country — about 60 percent of children statewide are eligible, and more than 32,000 children used them in 2015-2016, according to the Friedman Foundation, which supports vouchers and other choice programs. At Pence's urging, state lawmakers in 2015 removed a $4,800 cap on the maximum tuition benefits for elementary and middle school voucher users.
He also pushed for more supports for charter schools. Although legislators didn't agree to Pence's proposed funding increase to charters of $1,500 per pupil for out-of-classroom costs, they did set aside a smaller amount, $500 per pupil — but only for top-rated charters.
Pence has also advocated for public preschool — sort of. He urged state leaders to create a small state pre-K program in 2014 but chose not to apply for federal grants designed to encourage the expansion of state pre-K plans.
"It is important not to allow the lure of federal grant dollars to define our state's mission and programs," he wrote in an op-ed explaining his decision to forego the federal grants. "More federal dollars do not necessarily equal success, especially when those dollars come with requirements and conditions that will not help — and may even hinder — running a successful program of our own making." (Earlier this summer he switched positions and is now seeking federal funds.)
During a decade in Congress prior to becoming governor, Pence didn't focus on education, though he did co-sponsor the A-PLUS Act, a proposal that would allow states to take federal dollars with fewer conditions on spending. He also signed onto a "homeschool non-discrimination act" and supported reauthorizing a program that funds vouchers for students in Washington, D.C.
Notably, he voted against No Child Left Behind in 2001.
NEWT GINGRICH
The 2012 presidential candidate offered mostly mainline conservative education ideas during his failed White House bid. He backed what he called "Pell Grants for K-12" — money that parents could direct toward public or private schools. He also said he would "dramatically shrink the federal Department of Education, get rid of virtually all of its regulations."
Gingrich's technocratic streak landed him in hot water during the last campaign when he argued that the U.S. should relax its child labor laws and allow children as young as nine to work as janitors in their schools.
"Most of these schools ought to get rid of the unionized janitors, have one master janitor and pay local students to take care of the school. The kids would actually do work, they would have cash, they would have pride in the schools, they'd begin the process of rising," he said, according to The New York Times. The proposal was quickly derided as "absurd" and "Dickensian."
(That wasn't the first time Gingrich argued for paying students. He twice introduced bills, in 1990 and 1991, that would allow schools to use Title I funds "to provide monetary compensation to children for reading and reporting on books.")
Before he charged back into partisan politics with visions of pre-teen janitorial staffs, Gingrich's approach was more bipartisan.
He promoted President Obama's education reform proposals during something of an odd-couple trio tour in 2009 with the Rev. Al Sharpton, the liberal civil rights advocate, and then-Education Secretary Arne Duncan.
"Our children deserve a chance to see us come together, to put their future above partisanship and to find a way to take on the establishment in both parties and try to get this solved," Gingrich said during an appearance on "Meet the Press" with Sharpton and Duncan.
---
---
The group made stops in Philadelphia, Baltimore, and New Orleans, arguing for higher expectations and more accountability.
While in Baltimore, the group visited KIPP Ujima Village Academy, which had been unable to come to an agreement with the local union over paying teachers more to work longer schools days — one of KIPP's core practices. Gingrich called the Maryland law that requires charters to comply with existing collective bargaining contracts "destructive" and said "it ought to be changed," the Washington Post reported.
Other convention speakers include:
REP. MARSHA BLACKBURN:
Blackburn, who represents the 7th district in Tennessee, introduced a bill this spring to tighten requirements on background checks for teachers and other school employees. She voted against the Every Student Succeeds Act, but for the Student Success Act, the more-conservative version passed in the House in July 2015. (Blackburn is the only current member of Congress speaking at the convention who did not vote for the law.)
PAM BONDI
Bondi is the attorney general of Florida; her office is charged with defending the state's tax-credit scholarship programs against legal challenges. She has not joined the multi-state lawsuit against the Obama administration's directive that transgender students be allowed to use the bathroom that best fits their gender identity.
SEN. SHELLEY MOORE CAPITO
Elected to the Senate in 2014, Capito previously represented West Virginia in the House for more than a decade. She hasn't sponsored any substantive education legislation, but has signed onto bills aimed at reforming the way colleges deal with sexual assault, two career and technical education bills, and legislation aimed at uncovering differences in participation in sports between boys and girls.
REP. CHRIS COLLINS
Collins is in his second term representing New York's 27th district. His education initiatives have largely focused on blocking the Obama administration from allowing people in prison to use Pell Grants for higher education.
SEN. TOM COTTON
The freshman, who represents Arkansas, has focused on international issues in his two years in Congress's upper chamber. He has co-sponsored bills prohibiting federal meddling in curriculum (aimed at the Common Core), requiring more thorough background checks of educators, and rolling back regulations in higher education.
REP. SEAN DUFFY
Duffy, who represents Wisconsin, introduced a bill that would ban colleges from participating in the federal student loan program if they prohibit the display of the American flag on campus. He is married to Rachel Campos Duffy, a national school choice advocate.
SEN. JONI ERNST
Ernst, a former lieutenant colonel in the Army National Guard, has mostly focused on military issues since being elected to represent Iowa in 2014. She did co-sponsor a bill that would end federal interference in curriculum, however, and one that would revamp how colleges and universities deal with sexual assault on campus.
GOV. MARY FALLIN
The Oklahoma governor, who previously served in the U.S. House, has been in office during several rounds of school funding cuts. She also signed a bill ending Common Core in her state despite having backed it in her 2014 election and as chair of the National Governors Association. Fallin said in her 2016 state of the state address that she's "a hundred percent supportive" of education savings accounts (a school choice vehicle that lets parents use state funds for private school tuition, homeschool expenses, tutoring, or other education options.)
RUDY GIULIANI
Giuliani was mayor of New York City from 1994 to 2001. He opposed a congressional task force's recommendations in 1995 that would, among other things, require city schools to identify and report undocumented students. He pushed for mayoral control of schools, which wasn't granted until after he left office. Giuliani backed Mayor Bill de Blasio's bid to renew mayoral control last year.
HOUSE MAJORITY LEADER KEVIN MCCARTHY
Number two in the House Republican leadership, McCarthy supports school choice and once wrote an op-ed comparing poorly performing schools to spoiled milk.
REP. MIKE MCCAUL
McCaul, who represents Texas, is the chairman of the Homeland Security Committee. He sponsored a bill in 2009 that would allow the National Science Foundation to fund graduate-level curriculum in engineering energy-efficient buildings. McCaul has co-sponsored a bill reauthorizing the Washington, D.C., voucher program and resolutions "supporting the contributions of Catholic schools."
SENATE MAJORITY LEADER MITCH MCCONNELL
The leader of Senate Republicans has consistently backed resolutions celebrating charter schools and generally supports school choice. His 30-year tenure in Congress is light on education initiatives, though he did twice sponsor a bill that would give "education excellence" grants to schools in every congressional district on the basis of academic outcomes and attendance. He proposed $67.5 million for the grants — in 1989.
SPEAKER PAUL RYAN
Ryan, elected House speaker eight months ago, released a broad set of policy proposals, "A Better Way," on everything from taxes to health care. Its section on poverty argues for revamping federal early childhood education programs, improving career and technical education, and supporting state and local school choice efforts. Ryan also hosted a forum for six GOP presidential candidates to discuss education and poverty issues. Trump did not attend.
SEN. JEFF SESSIONS
The Alabama senator, like many others close to Trump, doesn't have a particularly extensive education record. In 2007, he proposed a bill to authorize the Striving Readers Program, a federal literacy grant initiative that had been funded under spending bills in previous years.
PETER THIEL
The founder of PayPal and early investor in Facebook is skeptical of the push to send every student to college. His Thiel Fellowship gives $100,000 to "young people who want to build new things instead of sitting in a classroom."
REP. RYAN ZINKE
Zinke, a former Navy Seal, is Montana's representative in the House. Denise Juneau, Montana's superintendent of public instruction, is running against Zinke this fall.
Support The 74's year-end campaign. Make a tax-exempt donation now.