Goodwill Excel Center, D.C.'s Newest High School Experiment, Designed to Help Adults Earn Diplomas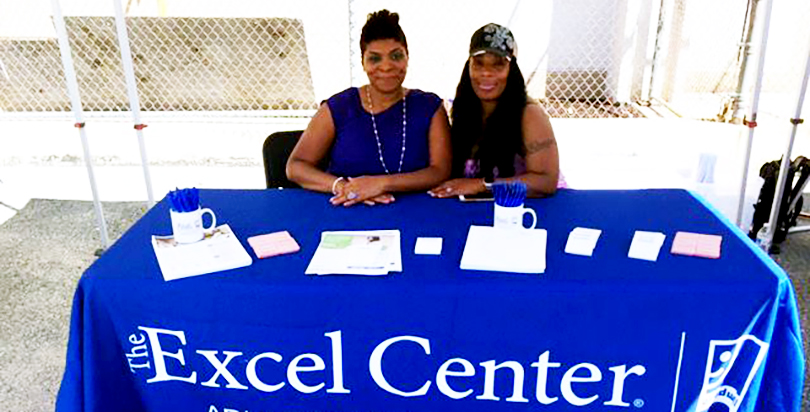 This article is one in a series at The 74 that profiles the heroes, victories, success stories and random acts of kindness to be found at schools all across America. Read more of our recent inspiring profiles at The74million.org/series/inspiring.
School is back in session in the nation's capital, but the students at one Washington, D.C., charter high school look a bit older than your typical freshmen. That's because Goodwill Industries has opened a campus specifically designed for adults to earn their high school diplomas.
---
---
The Goodwill Excel Center opened in the District's Foggy Bottom neighborhood last month, with an inaugural class of more than 300 students. The school offers an accelerated, two-year program to students ranging from teenagers to 60-year-olds.
It is the first adult-oriented charter school in D.C. to offer high school diplomas.
---
Inspired by the @dcgoodwill's Excel Center, helping adults get HS diplomas. Story by @PerryStein @washingtonpost https://t.co/W1dwoqwluM

— kim zimmer (@kimtzimmer) July 13, 2016
---
"Different students want to graduate high school in different ways," Scott Pearson, executive director of the D.C. Public Charter School Board, told The Washington Post. "This program will meet the needs of some of those students and will allow them to gain a high school diploma when they otherwise would have dropped out."
The inspiration to bring this type of charter school to D.C. came after 2,000 people applied for jobs at the Marriott Marquis in 2013. Many applicants were disqualified for lack of a high school diploma. Others couldn't pass the job's required reading and math tests.
"That skills gap became very real for us," Colleen Paletta, vice president of workforce development for Goodwill of Greater Washington, told the Post.
"We started thinking: What can and should we be doing to better help our community?"
Seventy percent of Goodwill Excel Center's students reside in Wards 7 and 8, two of the poorest in the city. Seventy-five percent will be women. A YMCA-run child care will operate at the campus while school is in session daily from 9 a.m. to 4 p.m.
Based on its success with similar schools in Austin, Indianapolis and Memphis, Goodwill is predicting that 75 percent of the new school attendees will either graduate with jobs lined up or head to college.
"Sometimes people need a second chance, but the reality is that sometimes people need a third, fourth and 10th chance," Amina Brown, the director at the Goodwill Excel Center, told the Post. "We want to be that for our students."
---
Get stories like these delivered straight to your inbox. Sign up for The 74 Newsletter