Goldson: In Prince George's County, Maryland, a Workforce Development Model for Our 21st Century Students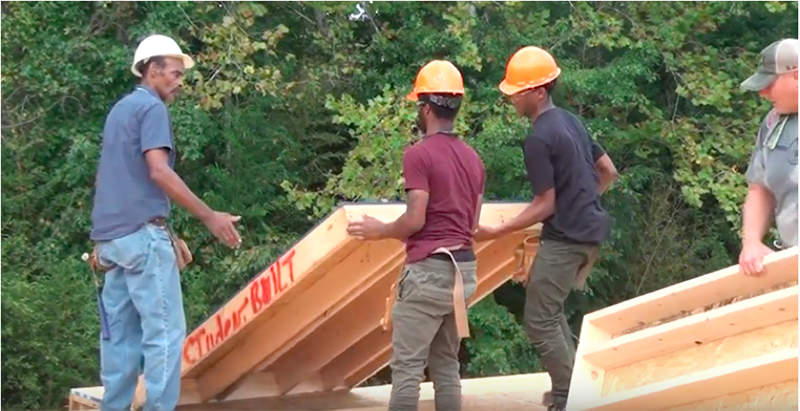 Each year, high school students in my district build a house, brick by brick. One group pours the concrete, constructs the wood frame, selects the furniture, hangs the drapes and installs the security system. Meanwhile, another team captures video footage of each stage for YouTube. This project is a throwback to the vo-tech of yesteryear, but with a modern touch.
Although much has changed since classes like home economics and wood shop were mandatory parts of the high school experience, teaching real-life skills remains a top priority for any school district. It's why we have adapted our career and technical education program to fit today's world.
Over the past few decades my local community, once a partially rural suburb outside Washington, D.C., has developed into an economic powerhouse with an influx of new residents — over 100,000 more in the past decade in our county alone and millions more throughout the region. But the workforce has not always kept up with the increased demand for services. As baby boomers have retired, our public schools have lagged in producing the next generation of plumbers, electricians, carpenters and health care workers.
With more than 136,000 students in our schools, we knew that high-quality career and technical education training could impact multiple generations, offering a means for more families to enter the middle class while paving a sustainable path for others. We decided to approach CTE differently, starting with eliminating the mindset that college-bound students need not apply.
In Prince George's County, CTE is an option for every student — for those seeking traditional construction, electrical, plumbing and health care careers as well as new, fast-evolving opportunities in STEM, health, biosciences and information technology. For students headed to four-year colleges and universities, CTE is an opportunity to gain a competitive edge. And we are working to refine and expand the scope of programs to equip students with more diverse and marketable skills, such as enhancing our cosmetology curriculum to prepare graduates for specialized careers in theater or entertainment.
In recent years, we have built partnerships with industry experts to offer students the knowledge and hands-on training that can help them land jobs in a competitive market. Associated Builders and Contractors, a national construction industry trade association, trains students to become journeyman electricians and future housing developers; JP Morgan Chase helps power our Information Technology Academy, where students earn certifications for technology jobs. Amazon selected our region for its second headquarters and chose our schools to be among the first for Future Engineers, a school-to-career program for those pursuing computer science professions.
These partnerships and projects also serve to reinvest in our CTE programs and students. The most recent student-built house — there are 44 in all — sold for $470,000, the proceeds going toward scholarships, classroom materials and student activities associated with the program. Last summer, we hired Karina Lebron, a high school senior, to complete HVAC repairs in schools and administrative buildings as part of our registered apprenticeship program — the first of its kind in Maryland. As one of more than 20 students working alongside veteran maintenance staff, Karina put her HVAC experience to work — and got paid for it. After graduation, she will be able to get a job anywhere.
As a graduate of this school district, I feel this mission is personal. I was hired by my former high school principal right after college, and I've built a rewarding career here, pursuing my own version of the American Dream while raising my family, sending one son to college, with another on the way. Other students should have the same opportunities.
For thousands of students, gaining real-life career exposure and experience before graduating from high school has set them up to succeed and thrive. As communities across the nation look to prepare their children for the global economy, they should consider teaching a technical skill along with reading, writing and arithmetic. Equipping graduates with the skills needed to start their careers gives them the tools to achieve their own dreams — brick by brick, step by step.
Dr. Monica Goldson is CEO of Prince George's County Public Schools in Maryland. Follow her on Twitter @drmonicaceo
Support The 74's year-end campaign. Make a tax-exempt donation now.