Goble: How Schools Can Change Their Culture of Assessment to Make Scary Tests Into a Road Map for Learning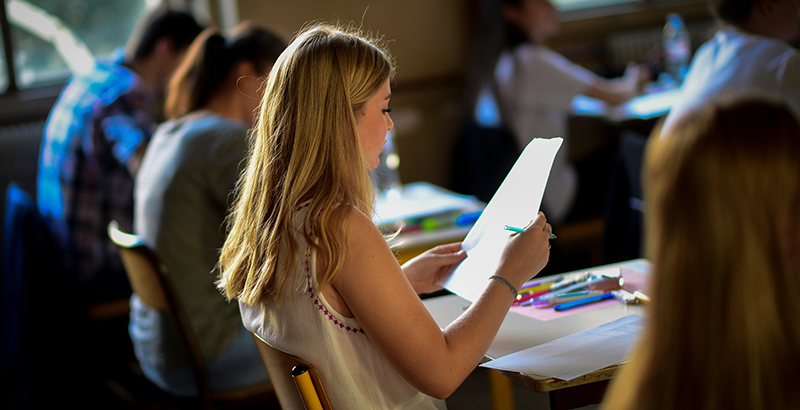 Changing a school's perspective on assessments can transform them from a time-consuming necessity to a useful resource that provides pathways to a better future for students. In a school atmosphere where assessments are seen as road maps for successful learning, scary evaluations become a thing of the past — and teachers and students both win.
Building a positive culture of assessment is the key. With the right knowledge and strong leadership, schools and districts can transform their cultures around data and assessment. The most successful possess these five common traits:
A broad definition of assessment
The word "assessment" should not be a mere substitute for the words "test" or "grade." When teachers, schools and districts broaden their overall definition of what an assessment can be, teachers can get a more complete sense of what a student has learned and where there is room for improvement. Assessments don't need to be limited to benchmarking, checkpoints or end-of-level tests, and not all assessments factor into a student's gradebook. They could be performance-based evaluations, rubrics or even one-on-one conversations about a student's frustrations and successes — anything that allows students to demonstrate what they know and don't know.
Teachers and students don't fear assessments
When the results come back and the data doesn't show perfect scores or off-the-charts comprehension, many instinctively assume the data is bad and shy away from digging into it more deeply. In truth, all data is good data — even numbers that reflect a less-than-ideal outcome offer an opportunity to improve and address specific student needs. Students often fall into the trap of seeing every evaluation as a grade that tells them how well prepared or smart they are. Instead of seeing low scores or numbers and thinking "I can't do that," students should view them as opportunities for growth and challenge. Teachers can help students reframe the way they see assessments as a chance to say, "I can't do that yet, but I will learn."

Teachers should understand that no matter where students are in their learning process, the assessment results are tools for guiding further instruction and evaluating the efficacy of their own teaching. The ultimate goal is to refine instructional practices and curriculum content to best meet students where they are. When students see assessments as ways to show off what they know rather than exposing where they fall short, they'll be more likely to approach them with a positive outlook toward learning.
Student data is evaluated by teams of educators
Working in collaborative groups, such as professional learning communities or data teams, can empower teachers to share experiences and exchange resources to improve their own efficacy. In a judgment-free, safe space, teachers evaluate their data alongside that of their peers so they are better able to uncover trends in student performance, collaborate on instructional strategies and conduct meaningful data-related conversations. For example, if a teacher finds that her class is struggling to master a specific skill or concept and another class is excelling at the same skill, she may ask which activities her colleague used, in order to try them in her own classroom. A team may also identify an individual student who's struggling in multiple classes, and together create a personalized education plan. To make these teams most efficient, delivering common assessments on a schoolwide or districtwide scale provides a solid foundation of consistent data.

Data is leveraged in real time to address student needs
Evaluations should be a tool for constructive feedback to address students' needs on all levels. Many successful teachers use the ITS model: Identify student levels of understanding; Target students for intervention; Self-evaluate their instruction and efficacy. Breaking down assessment data allows teachers to see the full picture of each student's understanding of the subject matter; it can identify students who need improvement, target their weak spots for extra attention and highlight for teachers how they can improve their own classroom practice.
Data is used to tailor learning and instruction to each student
Educators are experts at collecting assessment data; however, all too often, that data is not used to immediately personalize the learning of individual students. Periodic districtwide assessments are meant to set benchmarks for how the students are collectively progressing toward end-of-level tests. But if we solicit data from student evaluations, we have a moral obligation to use that data to benefit those students. Therefore, benchmark data should be delivered to classroom teachers in real time so they can integrate the information into the learning cycle on a student-by-student basis and address learning gaps early and often.
Schools and districts have the power to revolutionize the way they use assessment data to quickly identify learning gaps and improve teaching practices, but it all begins by building a solid foundation and positive culture. Students and teachers must view assessment as a means to improvement, and all stakeholders must be open and willing to collaborate in order to make learning personal for students. Assessment should never be a measurement of learning, but rather opportunity for learning — and in the end, everyone finds room to grow.
Trenton Goble is a co-founder of MasteryConnect and now serves as VP of K-12 Learning at Instructure. During his 19-year career as an educator, he has been a teacher, assistant principal and elementary school principal, and he holds a master's degree in instructional technology.
Get stories like these delivered straight to your inbox. Sign up for The 74 Newsletter