'Give Us Safer Schools': 11 NYC Parents Decry City's 'Indifference' to School Violence, File Federal Suit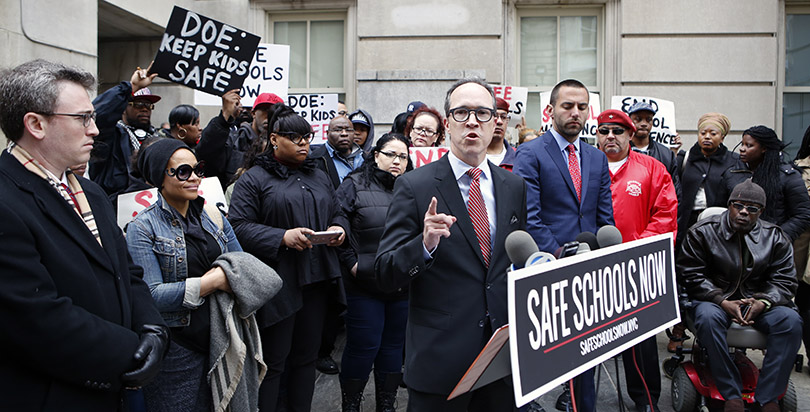 New York City
Erica Medina was furious when her 7-year-old son came home from school with bruises on his back — marks she said developed after the teacher yanked the first-grader by his ear down a flight of stairs because he wasn't walking fast enough.
School officials disputed the incident, Medina said, and a few months later Medina was escorted from the Manhattan school, Harlem's P.S. 194, and her son was transferred to another school in the neighborhood.
That incident occurred in 2013, but it resurfaced two months ago when the accused teacher, Osman Couey, was arrested for allegedly throwing another 7-year-old boy across a hallway — an arrest that brought to light Couey's history of physically punishing students, dating back almost a decade.
Standing in front of the New York City Department of Education headquarters Thursday morning, Medina announced she is suing the education department for its failure to respond to incidents of violence.
"I'm just kind of hoping that they take better action on situations like this," Medina said in an interview after the press conference. "It's not right that a child has to fear going to school instead of being excited about going to school."
Medina is among 11 parent plaintiffs that joined forces to file a lawsuit Wednesday in New York's Eastern District, alleging the New York City Department of Education's "deliberate indifference" toward student victims of violence and bullying in public schools has "robbed" them of the chance to learn and succeed. The plaintiffs, which are seeking class-action status, named the Department of Education and Schools Chancellor Carmen Farina as defendants.
The plaintiffs represent 11 students, ages 7 to 14, who attend public schools in neighborhoods throughout the city, from Chelsea to Staten Island to East Harlem and the Bronx. With the exception of Medina, the plaintiffs have not been identified in order to avoid retaliation, according to the complaint.
"In the history of New York State, this is the first time that parents have come together to address school safety," said Jim Walden, the attorney representing the plaintiffs. "And this suit seeks injunctive relief to force the Department of Education to comply with its legal obligations to keep students safe."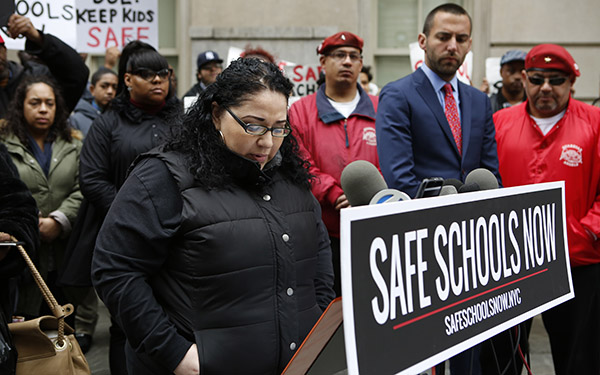 Pro-charter school advocacy group Families for Excellent Schools, a frequent critic of Mayor Bill de Blasio's education policies, is backing the suit. School violence has recently become a recurring talking point for the organization, but highlighting deficiencies in the city's traditional public schools has long been one of its foci. CEO Jeremiah Kittredge said the advocacy group is "concerned about violence where we see it," though all of the plaintiffs' children attend district schools.
Speaking Thursday in front of parents holding picket signs that read "SAFE SCHOOLS NOW" and "DOE: END SCHOOL VIOLENCE," another plaintiff, who was unidentified, said her 9-year-old son has been jumped, kicked, and punched by two boys in his East Harlem school. He was also "verbally attacked" by his teacher, the woman alleged, when the educator told the student "you are not the angel that your mother thinks you are, and when you get older you will not have a job."
"Over the last two months, we have been out here every week, demanding justice for our children," she said. "But at every turn, our cries for help have fallen on deaf ears. No matter what we do, the chancellor and the mayor seem to continue to ignore us."
The families allege their children are being deprived of their right to a free public education and equal protection under the 14th Amendment as a result of the department's selective enforcement — or failure to enforce — its own policies governing school violence and harassment.
"The common thread in almost all of these stories is this: the systems that are supposed to be in place to keep children safe are failing," Kittredge said. "The Department of Education is systematically failing at a staggering level to follow procedures mandated by state law to protect New York City's children, keep them safe, and keep them loved."
The city's Law Department was reviewing the complaint Thursday, a spokesman said. The Department of Education and the mayor declined to comment directly on the matter.
The 96-page complaint cites a 2015 state Comptroller's audit that found the city underreported school violence; according to the complaint, nearly one third of the violent incidents at the 10 schools audited went unreported.
Furthermore, the complaint notes that in-school violence, bullying and harassment disproportionately affects black and Hispanic students, lesbian, gay, bisexual and transgender students, and those with learning disabilities.
The city's education policies, known as Chancellor's Regulations, "have proven ineffective and inadequate to stem system-wide violence within New York City's public schools," the complaint states.
The suit comes amid a flurry of recent weapons incidents at city schools, including four separate episodes over the last three weeks in which students were caught with guns across the five boroughs. Parents in District 28 in Queens, where two weapons were confiscated from two students, responded by demanding that the city and community leaders work harder to address student-on-student and teacher-on-student bullying and harassment. Homelessness and poverty only add to victims' emotional trauma, parents said, and could make them more likely to resort to violence.
(The 74 sits down with NYC parents: It Takes a Village to Combat Violence in Public Schools, and Our Village is Failing)
---
---
The plaintiffs are asking the court to provide permanent injunctive relief that would require the Department of Education to take several steps:
Enforce its existing regulations related to student protection from violence and bullying;
investigate prior acts of violence that plaintiffs allege were not properly resolved;
develop an action plan to resolve bullying and other violence in schools and regularly report progress to the court.
The plaintiffs also want the court to appoint an independent monitor to guarantee that the Department of Education complies with the law. They are not seeking monetary damages but have demanded a jury trial, according to the complaint.
Families for Excellent Schools announced in a statement Thursday that it plans to add more plaintiffs to the suit. "Quite frankly, New York City is facing a crisis of school violence, and the statistics are shocking," Kittredge said. "The shocking statistics and the stories we've heard from parents day in and day out as we organize made us feel compelled to take action in partnership with families to seek an end to this crisis."
The city's version of the story is very different.
In a statement released Thursday, Mayor De Blasio defended the efforts of the New York Police Department's School Safety Division, citing NYPD data that shows crime in schools has decreased.
"I was a public school parent as recently as last June, and we never want to see a weapon in schools. I view each incidence as obviously troubling," de Blasio said. "However, when we look at the facts, (the School Safety Division) is doing a very good job continuing a trend that started in the last administration and continues — this year to date, the major crime in our schools is down 14.29 percent and other crimes down 6.77 percent."
"Each time there is a report on a weapon it's because they have been confiscated and the student will receive consequences," he added. "We absolutely have more work to do, but school safety is showing us consistently that they can and will continue to drive down crime in the schools, and keep all students and staff safe."
According to the de Blasio administration, crime in schools has decreased 29 percent and suspensions decreased 36 percent since the 2011-2012 school year. But differences in how school violence is reported in the city and state systems have contributed to the disparate narratives advanced by the de Blasio administration and Families for Excellent Schools.
For example, state data shows that in the 2014-15 school year, New York City's district and charter schools reported more than 15,000 violent and disruptive incidents, an increase of almost 23 percent from the 12,978 violent incidents reported to the state during the previous school year, according to a recent WNYC data analysis. The incidents included assault, robbery, arson, sex offenses and weapons possession, WNYC reported.
For Medina, whose son was yanked down the stairs, justice for him and students who've endured similar treatment matters more than a debate over data or classifications.
The lawsuit, she said, gives her fresh hope.
"Give us safer schools," she said. "Aside from the bullying of student-on-student, everyone is missing the bullying against teacher-on-student as well. It's something that has to be fixed."
Support The 74's year-end campaign. Make a tax-exempt donation now.