Georgia Students Team Up and Help Build Colorful Little Libraries to Bring Free Books to Young Readers in Low-Income Neighborhoods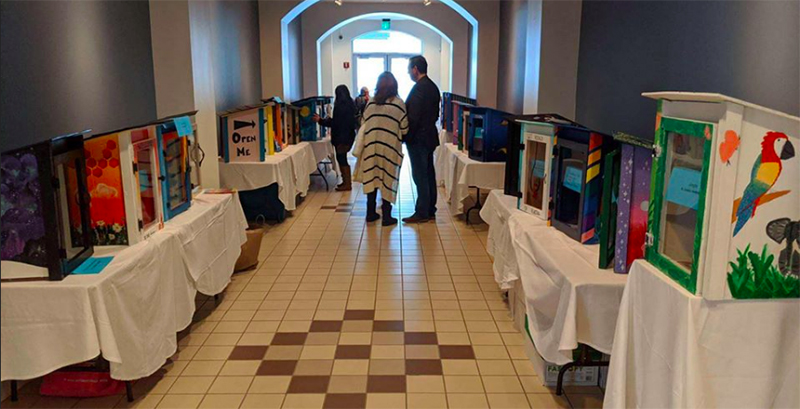 This article is one in a series at The 74 that profiles the heroes, victories, success stories and random acts of kindness found at schools all across America. Read more of our recent inspiring profiles at The74Million.org/series/inspiring.
It's not often that high school trade students and high school tech whizzes work together toward one goal, but that's what happened in Georgia's Gwinnett County School District when those two student groups, and more, combined forces to encourage local kids to read.
It was part of the Gwinnett Reading Exchange & Art Transforms Little Minds, or G.R.E.A.T. Little Minds, program, the Atlanta Journal-Constitution reported. The nonprofit Gwinnett Coalition for Health and Human Services recruited students of all ages to make and decorate little library boxes to be installed in low-income neighborhoods across the county, containing books good for readers up to 8 years old.
The little libraries, which will work as a take-one, leave-one exchange, will be placed in stores, with community organizations or on streets in areas where children might not otherwise have access to a rotating supply of books.
Georgia: Gwinnett's Little Library Project Aims For Big Impact on Early Learning (via @ajc) https://t.co/rvTmGwPfMz pic.twitter.com/hjXYR1QVOZ

— Library Journal (@LibraryJournal) February 10, 2020
First, the woodworking students from the Maxwell High School of Technology construction trades program built 200 component parts for the little libraries.
Then, the students from Paul Duke STEM High School stepped in. They spent months designing digital devices that can record how often a particular little library is being used. This will help the coalition track how well the book exchange is doing it and whether there is a better location for it.
"One of the things we do in our classrooms is we try to have our kids come up with projects that will have an impact in the Paul Duke community," engineering teacher Stephen Cochran told the Gwinnett County Daily Post. "This one obviously went large, and we're able to positively impact Gwinnett through literacy."
Along the way, local artists who work with The Hudgens Center for Art & Learning helped paint the boxes and transform them into welcoming book nooks.
Gwinnett County middle school students joined in on the decorating, too.
"I had three groups work on a library each," Stephanie Birmingham, an art teacher at Five Forks Middle School, told the Journal-Constitution. "They were so excited to be a part of this. They worked on it in class, before school, after school — every chance they got."
Employees at the Goodwill of North Georgia helped pack up stacks of books to donate to the effort, as did a group of incarcerated veterans, the Gwinnett County Daily Post reported.
"I think by us giving back, this is going to help out to the community, to the kids," Air Force veteran Martez English, an inmate at the county jail, told the Gwinnett County Daily Post.
Businesses and local organizations have volunteered to be host locations for the little libraries.
"We haven't identified all of the sites yet," Ellen Gerstein, the coalition's executive director, told the Atlanta Journal-Constitution. "But there are 42 Title I schools in Gwinnett County, and we want to make sure most of the libraries are in proximity to those schools."
Kim Holland, Gwinnett County Public Schools director of early learning and school readiness, is helping the coalition identify communities where the books would be most needed.
"I think this is the true example of a community effort around an issue," Holland told the Daily Post. "The need was seen that we need to get books in the hands of families and kids. … It will take community members to also steward the books. That's one of the pieces about this G.R.E.A.T. Little Minds Project that's truly bringing the community together."
Support The 74's year-end campaign. Make a tax-exempt donation now.