Georgia Recess Requirement Bill Awaits Kemp's Signature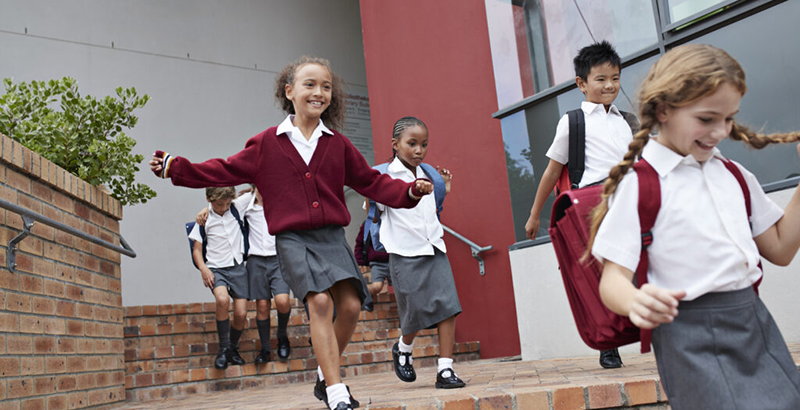 Get stories like these delivered straight to your inbox. Sign up for The 74 Newsletter
Georgia's more than 740,000 public elementary school students could be spending more time climbing on jungle gyms and racing down slides thanks to a bill passed by the Legislature.
House Bill 1283 requires schools to schedule 30 minutes of recess per day for children in kindergarten through 5th grade.
The bill's sponsor, Stockbridge Democratic Rep. Demetrius Douglas, said the bill will improve kids' physical and mental health and help them burn excess energy, especially in urban parts of the state where they cannot easily play outside.
"Most of these kids are from environments where, when they get home, they can't get out," he said. "And they only have P.E. once a week. And so this will allow them some extra time to cut down on some disciplinary problems and get them back in order."
The bill passed the Senate unanimously Friday after sailing through the House last month 155-12, and it received a final vote in the House Monday and now awaits the governor.
It was sponsored in the Senate by powerful Rules Committee Chairman Jeff Mullis, a Chickamauga Republican.
Mullis called the measure a bipartisan effort that will pay dividends for years to come.
"To have a better Georgia, a Georgia that has physically fit children that learn better, that achieve more, not just athletics, but a peace of mind and quality of life, this bill is essential to pass to make sure that happens," he said.
The bipartisan acceptance of the bill belies the controversy similar measures have faced in the past. Douglas said he has been working on a mandatory recess bill for six or seven years.
One such measure, House Bill 83, passed both chambers in 2019 but was vetoed by Gov. Brian Kemp, who said it stepped on the toes of local boards of education who have the authority to establish recess policies for students.
Kemp has come under fire for backing bills this session that opponents say violate school districts' local control, including one banning the districts from imposing mask mandates.
Mullis said he is confident the newly passed bill will sit better with the governor.
"Ladies and gentlemen, I've been here before with this bill, and we have it perfected, so the governor will sign it," he told senators.
An earlier version incorrectly stated when the bill received final passage. 
Georgia Recorder is part of States Newsroom, a network of news bureaus supported by grants and a coalition of donors as a 501c(3) public charity. Georgia Recorder maintains editorial independence. Contact Editor John McCosh for questions: info@georgiarecorder.com. Follow Georgia Recorder on Facebook and Twitter.
Get stories like these delivered straight to your inbox. Sign up for The 74 Newsletter