Georgia Lawmakers Close In On Ban To Prevent Schools From Requiring Masks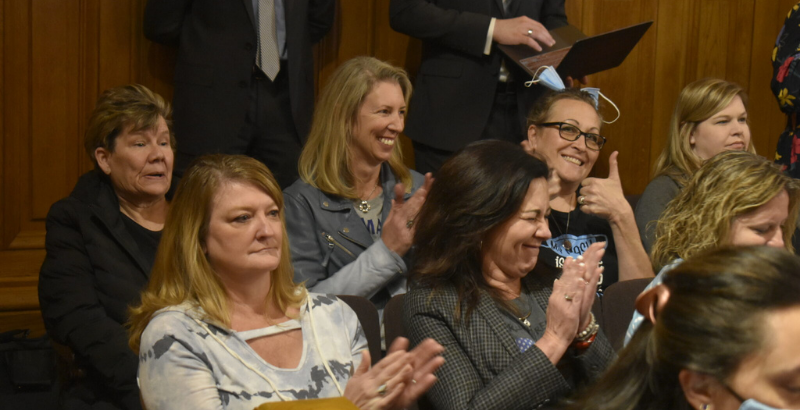 No paywall. No pop-up ads.
The Georgia Legislature could be one vote away from banning mask mandates in schools.
A Senate bill to give parents veto power over school district health measures passed the House Education Committee Monday, teeing it up for a full House vote.
Gov. Brian Kemp has personally backed the bill.
"Parents are the best decision makers when it comes to the health and education of their children," said Kemp's floor leader and author of the bill, Buford Republican Sen. Clint Dixon. "This legislation ensures that those rights are not infringed on by misguided policies."
Under the bill, districts could not require face masks unless the rules include an opt-out provision.
"It does not remove mask rules or say that students cannot wear a mask," Dixon said. "Regardless of political party, our children should not be required to wear masks that inhibit learning. Georgia and America, we're moving swiftly and safely out of the global pandemic. We need to begin to return to normal, and this is the first step in doing so."
The bill was amended in the Senate to expire June 30, 2027. Previously, it would have expired at the end of next June. And the governor could still order public schoolchildren to mask up in the case of a new COVID-19 variant or new pandemic.
"This bill would not prohibit, God forbid, if another pandemic of some other nature, from the governor implementing executive orders that would overrule this bill," he said. "So if, two years from now, if there's another pandemic, through executive order, he could require mask mandates, which would overrule this. But as far as the five years, originally, we had it at one year, but given different variants and not being certain how long this particular pandemic will last, we thought that five years would be more suitable as far as making sure that we're through this pandemic before this expires."
Democrats on the committee said the decision to require masks or not should be up to the local school districts or individual schools, not the governor, and expressed worry that the policy could cause increased spread of the disease caused by the virus.
"I'm just very concerned, because I think we all can agree we need to keep our schools open, and if there should be a variant of this pandemic, masks have been shown to help schools stay open," said Atlanta Democratic Rep. Becky Evans. "And I'm just afraid about limiting this possibility for school boards to have a mask mandate that parents can just not cooperate with."
Children generally only contract mild symptoms from COVID-19, but they can spread the virus to others. Quarantines and shut downs plagued the start of the fall semester last year.
Others questioned whether the Education Committee was the best group to weigh the bill.
"Can you tell us what your profession is?" Brookhaven Democratic Rep. Matthew Wilson asked Dixon.
"Real estate," Dixon said.
"Mr. Chairman, I am not sure how this bill improves student achievement, and since we've had some testimony about scientific innovations in regards to masks, I would like to move that we transfer this bill to the Health and Human Services Committee, where it can be properly considered."
Committee Chair Matt Dubnik declined, noting that House Speaker David Ralston decides which committees hear which bills.
"I believe that this matter is related to education, I believe in the Speaker's office and his determination that this bill reside in our committee, and therefore will not recognize you for this motion," he said.
Georgia Department of Public Health Commissioner Dr. Kathleen Toomey did not testify about the bill, but Dixon said she has given it her OK.
"She met the governor directly," he said. "Once it was explained to her that it would not prevent a child from wearing a mask, she was fine with the legislation, she was also fine with the change to the sunset as well."
Georgia Recorder is part of States Newsroom, a network of news bureaus supported by grants and a coalition of donors as a 501c(3) public charity. Georgia Recorder maintains editorial independence. Contact Editor John McCosh for questions: info@georgiarecorder.com. Follow Georgia Recorder on Facebook and Twitter.
Get stories like these delivered straight to your inbox. Sign up for The 74 Newsletter