Georgia Elementary School Students Design the Playground of Their Dreams — and Then Watch as It's Built Across the Street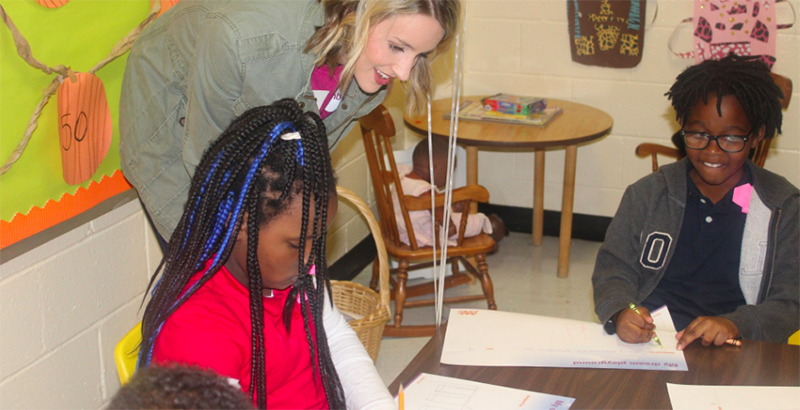 This article is one in a series at The 74 that profiles the heroes, victories, success stories, and random acts of kindness found at schools all across America. Read more of our recent inspiring profiles at The74Million.org/series/inspiring.
Sitting at their desks, students at Parklane Elementary School can look out the window and see River Park, located just across the street. The public park in East Point, Georgia, just outside Atlanta, had a grassy field but no play equipment. But the children's dreams of swings, slides, and monkey bars changed all that.
The director of East Point Parks & Recreation, Jonathon Penn, shared the children's vision for a playground in the park and decided to make it happen. He submitted a grant application to the Build It With KaBoom program — and much to his surprise, in October, KaBoom approved the grant and sent a project manager, Amy Larson, from New York City to Parklane Elementary to survey the students' ideas.
Another playground is coming to the City of East Point! @epparksandrec received a Kaboom! Grant to build a playground in River Park! Students at Parklane Elementary School drew their ideal playground for Design Day. More information on how you can get involved is to come! pic.twitter.com/ty31SEr72w

— East Point (@cityofeastpoint) October 25, 2018
Larson asked the children to design their ideal playgrounds; the students sharpened their pencils, rolled up their sleeves, and started sketching.
"I didn't know they were going to ask the students to actually draw what they wanted in the park," Principal Marissa Wilson told 11-ALIVE, an NBC-affiliated television station. "But as I sat in the meeting and they asked the kids, 'So, what do you like to play with?' and of course there was a laundry list of things, and they finally gave them paper and told them, 'Well, sketch out what a good playground would be for you.' And the kids went bananas."
Made with crayons and creativity, the students' blueprints — each bearing the heading "My Dream Playground" — were collected and used as inspiration for the project.
Proudly holding up her drawing, one student told 11-ALIVE she wanted "monkey bar[s], slides, swings, mud slide, original slide and a water slide."
On another girl's wish list: "Some swings, and a table you can eat at, and a wall that you can climb on, then jump off, and a slide."
Two months later, despite rain and mud, a couple hundred volunteers — including the students, their families, and other community members — gathered at River Park to build the playground.
Wilson told 11-ALIVE she'll always "remember the feeling of seeing so many people working together in the rain for the benefit of the children."
Support The 74's year-end campaign. Make a tax-exempt donation now.