Supreme Court Sends Transgender Case Back to Lower Court; Gavin Grimm Vows to Continue His Fight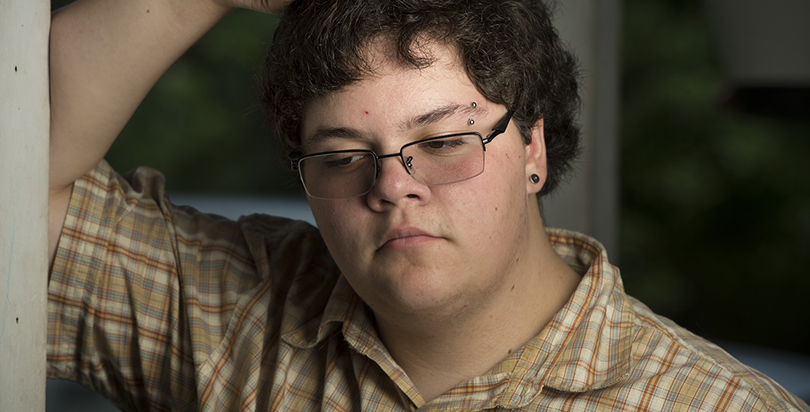 The U.S. Supreme Court announced Monday it will not hear arguments in a landmark case concerning the rights of transgender students, instead sending the decision back to a lower court. Even though the case may not reach a resolution until after Gavin Grimm, the student at its center, graduates from high school, he said Monday he doesn't plan to give up the fight.
The court issued the one-sentence ruling in light of the Trump administration's February decision to reverse Obama-era federal guidance protecting transgender students' rights to use public school bathrooms that match their gender identity. The Supreme Court vacated the 4th U.S. Circuit Court of Appeals decision, which favored Virginia student Grimm and relied primarily on that Obama administration guidance.
The highest court told judges Monday to reconsider the case now that the guidance has been revoked.
Joshua Block, senior staff attorney at the American Civil Liberty Union's LGBT Project and Grimm's lead counsel, said that the Supreme Court's decision amounts to "justice delayed, not justice denied." Federal courts from across the country have also been asked to weigh in on a handful of cases involving transgender student rights, most recently in Pennsylvania, where a federal judge ruled in February that schools must allow students to use restroom facilities that match their gender identity.
Grimm said he was in class Monday morning when he received a text message notifying him about the Supreme Court's decision.
"This is not what we wanted," Grimm said, "and it's disappointing that it's going to drag this conversation out for even longer, which is going to keep trans kids … in limbo for an extended period of time."
(The 74: Obama-Era Protections for Transgender Students to Be Revoked, Gavin Grimm Supreme Court Case at Risk)
Following the Trump administration's decision to revoke the Obama-era guidance, White House Press Secretary Sean Spicer said transgender student bathroom policies are "a states' rights issue and not one for the federal government."
Monday's Supreme Court decision ignores the requests of both Grimm and his school district. After the Trump administration's revocation, Grimm and the Gloucester County School Board asked the high court to consider whether Title IX, which bans discrimination in education based on sex, applies to gender identity. Oral arguments at the Supreme Court were scheduled for March 28.
In a handful of briefs to SCOTUS last year, opponents of the Obama guidance argued that his administration failed to follow proper rulemaking procedures before creating a new interpretation of "sex" under Title IX.
"Title IX is the same today as it was yesterday, and we're confident that the courts will agree with us on that," Block said Monday. "I think before they resolved the case on the narrowest of grounds by deferring to the guidance from the Department of Education, but Title IX itself provides all the relief that it needs to."
Grimm, who was born female, transitioned before his sophomore year of high school and used the boys' restroom without incident for several weeks. After complaints from the community, the district school board instituted a policy requiring transgender students to use single-user restrooms, a policy that Grimm says interferes with schoolwork and attendance, and is discriminatory and humiliating.
"When you are in a position where you are individually singled out and put in an environment where your school board has sent this direct message to you and your peers and community that there's something about you that deserves to be segregated from the rest of the student body, it can add an extra level of stress and duress," Grimm said.
The school board members acknowledged that they are aware of the decision to remand the case. "On remand to the lower courts, the board looks forward to explaining why its commonsense restroom and locker room policy is legal under the Constitution and federal law," the Gloucester County School Board said through its attorneys Monday.
The Obama administration in May issued guidance saying Title IX protects students based on their gender identity, so transgender students must be allowed to use the bathrooms and locker rooms appropriate for their gender, and not be forced to use single-user facilities.
In an interview with The 74 published on Sunday, John King, the former education secretary under Obama, said the Trump administration made a "profound mistake" in withdrawing the previous administration's transgender student guidance.
The new order "is inconsistent with the law," King said, "and it is ultimately going to be harmful to students."
The Trump administration revoked that guidance late last month, reportedly despite the objections of Education Secretary Betsy DeVos. She later defended the move as an appropriate end to executive overreach into decisions best left to local leaders. She has vowed to continue to protect transgender students from bullying and other harassment.
(The 74: After Reported Opposition, DeVos Defends Ending Transgender Protections to Friendly CPAC Crowd)
The National School Boards Association and School Superintendents Association, along with some Republican members of Congress and conservative and religious groups, have filed briefs siding with the school district.
LGBT groups, teachers unions, former education secretary Arne Duncan, and Democratic members of Congress have filed briefs siding with Grimm.
GLSEN, a group that advocates for LGBT students, said the high court missed an opportunity to end "painful discrimination" faced by transgender students nationwide.
"We remain confident the courts will ultimately stand with Gavin and other transgender students in seeking access to school facilities that correspond with their gender identity and determining their gender-affirming name and pronouns," GLSEN executive director Eliza Byard said in a statement. "But in the meantime, trans students are left in limbo about their protections while the case is reheard."
With a resolution in the case further beyond sight, it's possible that Grimm, who is a senior in high school this year, will graduate before the courts make a final ruling. Still, Block noted that Grimm will likely return to the school for reunion events after he goes to college, and would still need access to restroom facilities.
Grimm affirmed that he doesn't plan to give up. "I'm in it for the long haul," he said. "If it takes 10 more years, I'm happy to be a part of it."
---
---
Support The 74's year-end campaign. Make a tax-exempt donation now.