'Game of Chicken' Among Democrats Could Threaten Biden Vision for Schools as Last-Minute Budget Talks Continue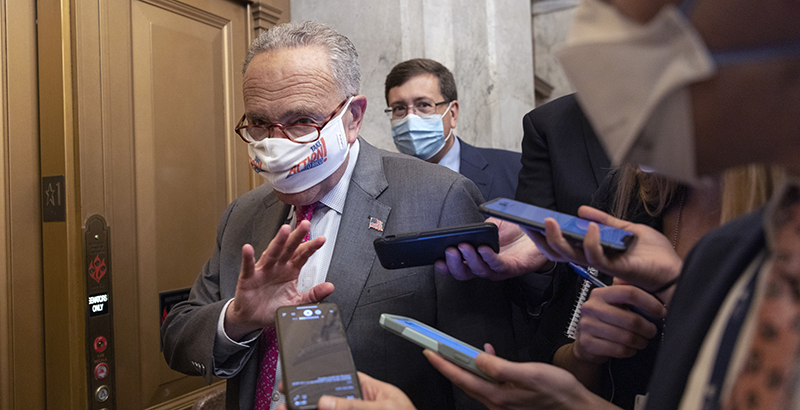 Support The 74's year-end campaign. Make a tax-exempt donation now.
Updated Sept. 26
Funding for federal programs expires on Sept. 30, but that's just one budgetary challenge facing Democrats in the coming weeks as they seek to pass President Joe Biden's massive agenda for schools and families.
The House has already passed a bill, known as a continuing resolution, to keep funding programs at the same level through early December. That would give lawmakers more time to work on the fiscal year 2022 budget.
On Thursday, House Speaker Nancy Pelosi appeared open to removing a provision to increase the debt limit, which Sen. Mitch McConnell of Kentucky, the minority leader, has threatened to block. The standoff was leading to a potential government shutdown. To pass in the Senate, the bill would need 60 votes — or 10 Republicans in addition to the 50 Democrats.
"We will keep government open by Sept. 30 …and continue the conversation about the debt ceiling," she said.
Democrats will need to find compromise as well in order to pass Biden's "Build Back Better" plan to lead the nation out of the pandemic — even though they control both houses of Congress and the White House. Majority leaders in the House and Senate are trying to balance competing priorities among progressive and more fiscally conservative wings of their parties. Those differences could impact two major pieces of the president's agenda apart from the fiscal year 2022 budget — a $1 trillion infrastructure package that is scheduled for a House vote on Thursday and a much larger $3.5 trillion proposal that includes universal preschool, school construction and free school lunches for more children.
Democrats are using what is known as a budget reconciliation process for the $3.5 trillion plan, which means they can pass the package without a single Republican vote in the House or the Senate. But experts say they still may have to scale back the size of the package in order to secure enough Democratic votes.
Biden met with leading Democrats Wednesday in an effort to to bridge some of their differences, but according to the White House, "there is more work ahead in the coming days."
'Game of chicken'
While federal law dictates timing for the annual budget, Democrats are also treating Biden's legislative agenda with a sense of urgency. Sean Worley, a senior policy associate at EducationCounsel, a consulting firm advising districts on policy and legal issues, suggested that it would get harder, politically, to pass either package if they drag into next year because of mid-term elections.
First up is the infrastructure package. That plan includes $200 million over five years to replace lead pipes in school, $5 billion for electric school buses and an increase in funding to $1 billion a year to improve safety for students biking and walking to school. Another $65 billion would go toward improving the nation's broadband access and making the internet more affordable.
Pelosi originally scheduled the vote for Monday as part of a deal with moderate Democrats who said they would withhold their support for the $3.5 trillion reconciliation bill unless the infrastructure bill made it to the president's desk first. But progressives have issued their own ultimatum, arguing they won't support the infrastructure legislation unless they simultaneously vote on the larger reconciliation package. Now a floor debate is expected Monday.
Worley predicted this "game of chicken" could lead to the infrastructure bill's failure.
"I would expect progressives to vote against the bill and an insufficient number of Republicans will vote in favor," he said. "This could deepen rifts within the party and will make intraparty negotiations on the [$3.5 trillion] bill that much more difficult."
The infrastructure deal with Republicans does not include facility improvements for the nation's schools. But the current version of the reconciliation bill — what Biden calls a "human infrastructure" proposal — would provide $82 billion for school construction and renovation projects. The plan's $3.5 trillion price tag, however, looks shaky with Sens. Joe Manchin of West Virginia and Krysten Sinema of Arizona breaking with their fellow Democrats over the cost.
Manchin, earlier this month, called for a "strategic pause" on the plan, saying it's not smart policy to pass such a large package amid rising inflation. In addition to funding for school construction, the package proposes almost $200 million each for teacher residencies and supporting new principals, more than $100 billion for two free years of community college, $35 billion to provide free meals to more children and $450 billion for child care and preschool.
So far, early-childhood education advocates aren't ready to settle for less.
"It's sizable, but it's sizable for a reason, because there is that much need," said Sarah Rittling, executive director of the First Five Years Fund, which focuses on federal early-childhood policy.
Biden's plan seeks to limit the cost of child care to no more than 7 percent of a family's income, increase wages for child care providers, and work with states to make pre-K universally available to 3- and 4-year-olds.
Rittling said she doesn't expect the early-childhood provisions in the package, which have broad support among Democrats, to get cut. "It is so incredibly popular on top of being so incredibly necessary," she said.
The reconciliation bill includes much of Biden's agenda for social and education programs.The fiscal year 2022 budget proposal, however, also features major increases for programs such as Title I, special education and Head Start.
The House passed the 2022 appropriations bills at the end of July, but Worley suggested that even without the debt limit debate, those increases "were going to be difficult to see across the finish line."
Support The 74's year-end campaign. Make a tax-exempt donation now.