Fuller: Call It 'Ed Reform' or Don't — the Fight to Make Schools Work for Our Poorest Families Must Go On. To Stop Is to Dishonor King's Memory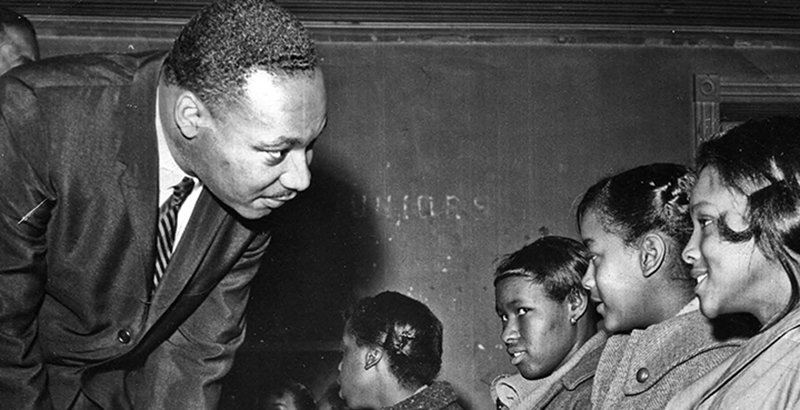 Dr. Martin Luther King Jr. said, "The central quality in [black peoples'] life is pain — pain so old and deep that it shows in every moment of [our] existence. It emerges in the cheerlessness of [our] sorrow[ful] songs, in the melancholy of [our] blues and in the pathos of [our] sermons. Black people while laughing [are shedding] invisible tears that no hand can wipe away. In a highly competitive world, [black people] know that a cloud of persistent denial stands between [us] and the sun, between [us] and life and power, between [us] and whatever we need."
When I think about the condition of so many poor black people and their children, this pain is still their reality. Today's pain is not new for black people. But sometimes the pain and the scars reach down and touch the very depths of our souls. How deep was the pain when we were told to move to the back of the bus? How jagged were the scars when they told us, "Niggers ain't allowed to eat here"? How much did the wounds ache when they told us to train a white person for the job they said we were not qualified to do? Yes, all these dehumanizing acts left scars and caused pain.
But today, there is nothing more painful than seeing so many of our children being denied the quality education they need and deserve. There is nothing more difficult than seeing the actual pain on our children's faces because of their circumstances that come from living in poverty in the richest country in the world.
The reality of these real so-called pain points haunts me as I continue to work to change the life chances of poor black children throughout this country by trying to ensure that they get a quality education. Years ago, I made a decision to focus on education as the lever to use to rescue as many of our children and young people as possible. I understood then, as I do now, that the work in education has limits. In so many ways, it is truly a rescue mission, and not the broad systemic change that is needed. Yet I am driven to stay focused on the area of education, because for so many of the children I care about it is their only chance to change the trajectory of their lives.
I understand and accept the reality that this struggle to impact their education will continue to draw opposing sides. I understand that the search for new ways to describe the efforts will change. For example, "education reform" is now out of favor with many. But whatever we call it, the fight to make the systems of education work for our poorest families must continue. I call on all my fellow warriors not to be deterred by those who believe that the only way to move forward is by returning to the "one best system" and therefore oppose giving poor families the power to choose, a power that so many who oppose it relentlessly use it for their own children. I know there will be those who would accuse people like me of trying to destroy public education because we want poor families to have choice, and in doing so, they continue to act as if the concept of public education is the same as the systems that have been set up to deliver it.
There will continue to be people who oppose charter schools because they don't "promote integration" or they create all-black or -brown schools. They level these criticisms while comfortably set up in communities that provide a quality education for their children in nonintegrated or white-dominated schools. They somehow conveniently forget that many of these all-black or -brown charter schools bring good schools into communities that have been underserved and neglected for years. These age-old battles will go on while, in the meantime, the pain that defines so many of our children's existence will continue.
So, for 2019, my intentions are to stay laser-focused on helping to create as many great schools as I can for the children of the families that Dr. Howard Thurman called the "disinherited." I will do this while continuing to assert that more of these schools must be governed and led by black and brown people. I will continue to do this while also fighting to make sure not only that these children get trauma-informed care but also that something is done to eliminate the conditions that caused the trauma in the first place. I will continue to do so while demanding that our poorest families have health care, adequate housing, jobs that pay living wages. I will be in these fights because I understand that changes in education must be coupled with changes in the life conditions of our children before they ever arrive at a school.
It is now fashionable and acceptable to quote King. For me, the challenge is not to quote him but to address the issues behind the quotes. We cannot simply ignore the pain and keep moving. No, we must fight to change the conditions that bring this pain. Working relentlessly to empower poor parents to choose the best education for their children while making sure those choices are excellent and equitable is one of the battles that must continue. Not to take up this fight is to, in fact, dishonor King's memory.
Dr. Howard Fuller is a distinguished professor of education at Marquette University.
Get stories like these delivered straight to your inbox. Sign up for The 74 Newsletter