From Troubled School to Turnaround to Texas 'Teaching Lab'
By Emily Langhorne | October 2, 2018
How the Relay Graduate School took a struggling San Antonio elementary school facing state closure and turned it around into a respected 'teaching lab'
---
San Antonio, Texas
"Good morning, scholars!" principal-in-training Jackie Navar yells, kicking off the community meeting at Ogden Elementary School, part of the 78207 zip code on San Antonio's struggling West Side.
Hundreds of children echo Navar's salutations.
"What's a college-ready word for 'good'?" Navar asks the room. Hands shoot up into the air: "Amazing." "Fantastic." "Great."
"Excellent. Here's a new one for you — 'phenomenal.' Can we all say that together?"
At Ogden, each school day begins with breakfast followed by community meetings like this one. Preschoolers eat in their classrooms, kindergartners through third-graders in the cafeteria, fourth- and fifth-graders in the gym, and sixth-graders upstairs. Ninety-eight percent of Ogden's 650 students qualify as economically disadvantaged, and every one receives a free school breakfast.
"The community meeting helps our scholars start the day with a positive mindset," says Tim Saintsing, executive director of teaching and learning labs at Relay Graduate School of Education, which was brought in to run the school after years of poor performance. "It lets students and staff reflect on our core values and our sense of self as a school. It gives us a chance to celebrate our successes and discuss our challenges."
Today, a first- and second-grade class are being honored with attendance awards. As a prize, the students get to sing their homeroom chants, and then, in what's known as a "thunder clap," the room simultaneously brings their hands together once — loudly — in their honor.
"Remember," Navar yells across the cafeteria, "If you miss school, you…"
"Miss out!" the kids shout back in unison.
It's a vastly different atmosphere from the Ogden Elementary of 2016.
Back then, the Texas Education Agency labeled Ogden Elementary as an "improvement required" school for the fourth consecutive year. Students were significantly behind grade level. Inside the school, chaos reigned, according to staff who were there. Teachers struggled with classroom management, and students often ran in and out of class, making the hallway their playground.
With a state-enforced shutdown of the campus looming, the leadership of the San Antonio Independent School District invited the Relay Graduate School of Education to help them reimagine the school. At the start of the 2017 school year, Relay began a partnership with the district and Ogden through which Relay provided supports to the school. Relay trained and coached the principal, placed 25 resident teachers in Ogden, and helped select the new curriculum.
In the spring of 2018, the San Antonio school board voted to give Relay Lab Schools Texas operational authority over Ogden, which, beginning this school year, also includes management responsibilities.
With Relay at the helm, chaos has been replaced with structure, staff members say, discipline with engaging curriculum, and teacher turnover with a teacher pipeline.
A meaningful partnership
The Relay Graduate School of Education began in New York City and became an independent accredited graduate school of education in 2011. Relay prides itself on having an approach that thoughtfully combines theory and practice. At Relay, aspiring teachers spend an entire year in K-12 classrooms, compared to a typical 10-week student teaching experience, developing effective instructional delivery, building meaningful student relationships, and honing their student engagement skills.
The graduate school has a two-year residency program — the Relay Teaching Residency — in which teacher residents spend their first year under a master teacher, who acts as a mentor, while they earn their teaching certificate. In the second year, they transition to full-time, lead teachers with the support of the master teacher, while simultaneously earning their master's degrees in teaching.
Over the last seven years, Relay has begun operating in 13 states. Having heard about the success of Relay, San Antonio ISD Superintendent Pedro Martinez decided to visit a Relay campus in Houston.
"He wanted to develop a teacher training and talent pipeline for SAISD," Saintsing, Relay's executive director of Lab Schools, explains. "We began to have discussions at length about what a meaningful partnership looks like. Ogden was the second-lowest performing school in the district, and the kids were really far behind. He wanted to work together to figure out a creative solution."
The solution? Transform Ogden into a Relay Lab School. Under this partnership model, Ogden has 21 master teachers, each with a teaching resident in their classroom. One-third of the teaching residents come from the district, one-third come from the state, and the other third come from throughout the country. The program is tuition-free upon the condition that graduates work in San Antonio ISD for three years after completing the program. All of Ogden's teachers remain school district employees.
"We are deeply embedded in the partnership with the district," Saintsing said. "We worked closely with SAISD human resources to find our master teachers; all of Ogden's previous staff members were invited to reapply for their position. Not all chose to do so, but those that did, received master teacher positions at Ogden."
Successful instruction needs strong school culture
"The first year has been all about resetting culture in the building, for both students and staff," Saintsing says.
During the summer, Ogden's staff members attend four-week training sessions. The goal is to come together and set the vision for the "weather" of the school. Ogden's teachers learn the importance of developing routines with students and families. Teachers have to teach kids "what school looks like," meaning how to greet teachers, how to organize their backpacks, how to have classroom discussions. They communicate with parents every night to let them know how their "scholar" did that day.
The school day now runs from 7:30 a.m. to 4:00 p.m., Monday through Thursday. On Fridays, students dismiss at 12:30 p.m. so teachers can have the afternoon for professional development and collaborative planning.
"I can't overstate how important the reset is," says Saintsing. "You can't do successful instruction without school culture. If you create a strong learning environment, and set the table for high quality instruction with it, you'll see academic gains."
During a tour of Ogden this spring,a kindergartener comes out of the cafeteria, struggling to carry his breakfast while wearing a cast. Saintsing carries his tray, and walks Jordan to Lauren Almand's class.
Today, Felipe Alvarez, the resident teacher working under Almand, is teaching the whole group for the first time.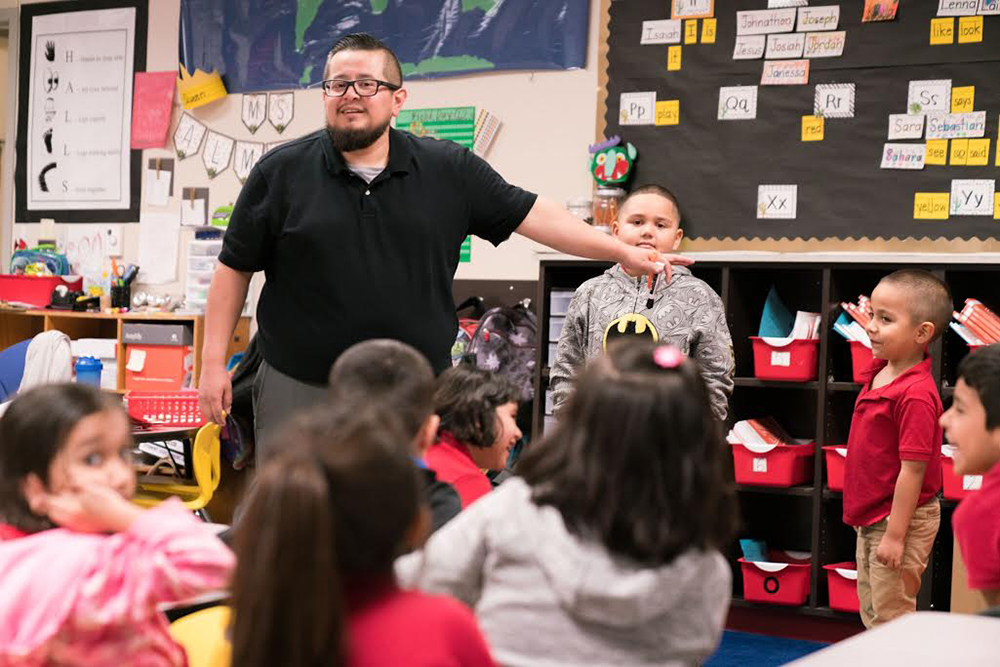 Jordan sits at table at the edge of the classroom where two other students are already eating their breakfasts. Late for school that morning, the pair likewise missed breakfast in the cafeteria and the community meeting. Neither teacher calls attention to Jordan's lateness. When the girl sitting next to him finishes her breakfast, she quietly moves from the table to her desk – an established classroom procedure for tardiness.
The class is watching a video of a science experiment. Alvarez points at the gloves and goggles that the scientists are wearing. "Goggles protect our…"
"Eyes," the class shouts.
"Glove protected our…"
"Hands," they call back.
"Tomorrow, we're going to do this experiment together. I'm going to alter it first so that it's safe for you," Alvarez says. He then holds up a beaker and explains that it has sodium bicarbonate in it, which is the scientific name for baking soda.
As he's talking, a boy sitting near the back of the classroom becomes antsy. He stands and sits and stands again. Before long, he walks away from his desk and begins to wander around the room.
"Come here," Alvarez says. "Looks like baking soda, doesn't it?" The boy looks in the beaker and nods. "Good, David T. confirms that it's baking soda. Now, go sit down so I can show you what we're going to do tomorrow."
Using his classroom management, Alvarez transforms what some would consider a classroom disruption into an opportunity for encouraging a student's curiosity, perfectly showcasing Saintsing's description of one of Relay's core beliefs: "Teachers control the weather in their classrooms."
Changing curriculum to change student outcomes
"A lot of the magic is our curricular choices," Saintsing says. "If curriculum isn't consistent schoolwide, you'll have pockets of greatness, but not greatness as a whole."
At Relay's lab schools, teachers focus more on instructional delivery rather than curriculum design, leveraging pre-made lesson plans from research-based curriculum.
Because so few students were on grade-level when Relay began its work with Ogden, the school's curriculum focuses heavily on improving fundamental reading and math skills.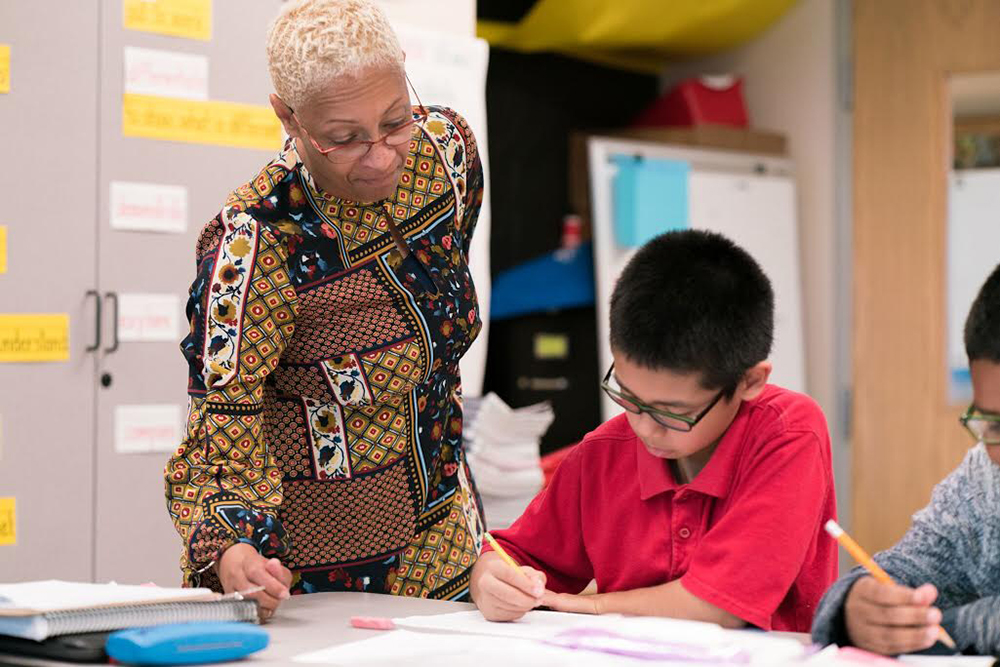 Younger elementary students have three hours of literacy learning each day — one for guided reading, one for reading skills (phonetics and all things fundamental), and one for writing. Students have 90 minutes of math. There's art and fitness daily.
Each student also has a Chromebook. Computer-based assignments are used to help students learn digital skills and self-management, not replace teacher instruction. Older students spend 80 minutes a day on reading, math, science, and writing. The first 40 minutes are spent with a teacher; the second 40 are working on a Chromebook.
Because each classroom has a master teacher and resident teacher, students receive a lot of individual attention and often learn in small groups. In one first-grade class a small group of students was reading aloud with the master teacher, while another was working on phonics with the resident teacher, and a third was working on Chromebooks.
Miles to go before we sleep
The West Side of San Antonio has historically been one of the poorest zip codes in the country. Generations of families have gone to Ogden, and it's an important part of the community. The school currently only has one school bus for special need students; most of the kids walk because they live within the surrounding blocks.
WATCH — 74 Documentary: Inside San Antonio ISD's school integration efforts:
"It was important to me that this remain a zoned, neighborhood school," Saintsing says. He believes that every child should be entitled to a quality neighborhood school, regardless of where they live.
Keeping the school a community-centered place was an integral part of Relay's vision for Ogden's future. The school's leadership seeks out unsung heroes from West San Antonio and shines a spotlight on their achievements. They invite them to be guest speakers at the community meetings.
In May, Xelena González, a children's book author who writes stories inspired by her upbringing on the West Side, talked to the fourth- and fifth- graders at a special assembly. Not only had González grown up in the neighborhood, but she had also attended Ogden as a child.
She told the students how her fifth grade teacher made her diagram sentences — and how she hated it. She thought it "so boring." But it helped her later, she told her young listeners, when she began learning to write more complex sentences.
These efforts are a part of the leadership's commitment to changing the public narrative about the West Side while simultaneously inspiring students about their futures.
The school's administration is determined to raise expectations and permanently expel the belief gap — the internalized belief that low-income students can't excel academically —both from staff and students.
"We have a focus on college and postsecondary education because that's where we believe our kids belong," Saintsing says. "We refuse to celebrate kindergarten and middle school graduations. High school graduation is the minimum bar; college graduation is the expectation."
The school is making progress. Both student test scores and school culture are moving in the right direction. Last year, the district introduced the Northwest Evaluation Association's Measure of Academic Progress exams for kindergarteners through eighth-graders. Students take the exams three times a year: at the beginning, in the middle, and at the end. In the 2017-2018 school year, 100 percent of kindergarteners made expected growth on the exams and students in first and second grade saw double-digit gains. After the first year of the partnership, teacher retention at Ogden was over 90 percent.
Because of its success so far, the Relay partnership model at Ogden is being replicated at Storm Elementary, another San Antonio ISD school labeled "improvement required" for multiple years in a row by the state.
Saintsing admits that there are still challenges ahead — and that progress will take time. Resetting culture has been more difficult with older students. Habits have become embedded; student buy-in is harder to come by. Teachers who work on the second floor, in the fourth- to sixth-grade classrooms, have jobs that look extremely different than those on the first floor.
These teachers focus intently on creating positive student-teacher relationships and demonstrating that the expectations for Ogden students have changed dramatically from years past..
"We've made progress," Saintsing says, "And we're proud of that, but we have miles to go before we sleep."
Editor's Note: This visit happened in Spring 2018, when Relay had an informal partnership with Ogden and San Antonio ISD. Since then, Relay Lab Schools Texas has signed a formal partnership with the district to operate Ogden Elementary and Storm Elementary under Senate Bill 1882, which encourages school districts to create "partnership schools" with nonprofit organizations.
Read other installments of this series, as well as other recent coverage of school segregation and district integration efforts, at The74Million.org/Integration.
Video Credits: Edited by James Fields, Produced by James Fields, Beth Hawkins & Heather Martino. Additional footage of San Antonio school interior & exteriors courtesy of SAISD YouTube channel. Additional Lionel Sosa footage courtesy of YES! OUR KIDS CAN YouTube Channel.
Get stories like these delivered straight to your inbox. Sign up for The 74 Newsletter