From Texas to Singapore, Senior Walks Are the New Tradition That's Inspiring the Next Generation of Students — and Their Teachers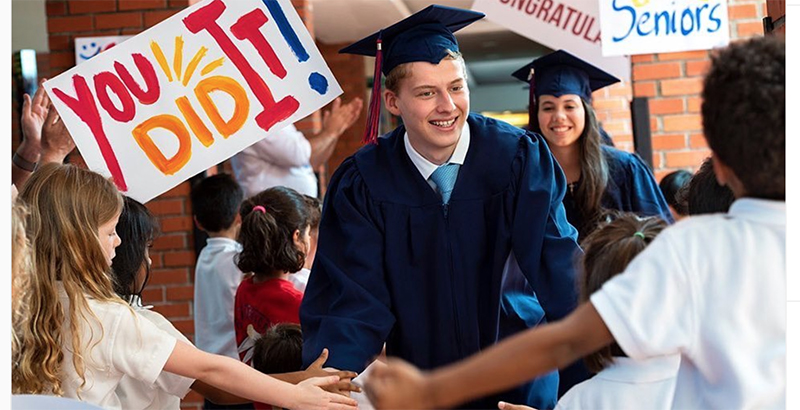 This article is one in a series at The 74 that profiles the heroes, victories, success stories and random acts of kindness found at schools all across America. Read more of our recent inspiring profiles at The74Million.org/series/inspiring.
Some traditions associated with high school graduation, like the gown and mortarboard, are hundreds of years old, dating to the Middle Ages, while "Pomp and Circumstance" was first played at commencement ceremonies in the early 1900s. In recent years, however, a new tradition has been added at many schools — the senior walk.
The senior walk is part parade, part graduation procession and part walk down memory lane.
Schools and districts around the country are adopting the practice, which gives high school seniors the opportunity to visit their elementary and middle schools, often wearing their caps and gowns, to show younger students what lies ahead.
Cheered on by the younger students, the seniors often stop to hug former teachers and high-five elementary schoolers. There's plenty of time for selfies, too.
The senior walk is meaningful for students of all ages as well as for the staff, said DeeDee Baker, a principal at Bill Hasse Elementary, a Title I, high-poverty school for pre-K through fifth grade in Alvin, Texas. Seniors from Alvin High School, which is fed by Hasse Elementary, visited the school on May 20 for the third annual senior walk.
"I think what my little kids get out of it … is really looking at a future and looking at these older kids saying, 'That could be me,'" she said. "And it's really important for especially my kids in a Title [I] school. A lot of them may or may not have family members that have made it through high school, and so it's important that they have that goal of graduating from high school and really seeing that and having those kids be the role models."
This year a graduate of Hasse was named valedictorian of the senior class, which made the moment extra special for educators who had taught her as an elementary schooler.
"It's a reminder for us to see where these kids can go and how far they can go," and it inspires educators to keep up their hard work, she said.
And for the graduating seniors, there are "a lot of tears," Baker said. It's a chance for former students to look back and remember "all the hard work that they've done and the people that have been there for them and with them," she added.
Baker said the principals in Alvin got the idea after they saw photos from a senior walk in another district shared on social media. Now, schools across the U.S. and as far as Singapore are having their own celebrations.
Zachary Moore, the salutatorian of his graduating class at McAllen Memorial High School in Texas, gave his younger counterparts much to shoot for during the district's fourth annual senior walk on May 22. He is headed to Harvard University in the fall and was definitely feeling wistful, The Monitor reported.
"It feels like it's only been a blink of an eye, when we were just in their shoes, and to be an inspiration to them is amazing," Moore said.
Get stories like these delivered straight to your inbox. Sign up for The 74 Newsletter