From Teaching Architecture Through 'Minecraft' to Giving Spanish Lessons via Taylor Swift Lyrics, Outschool Is 'the Netflix of Learning'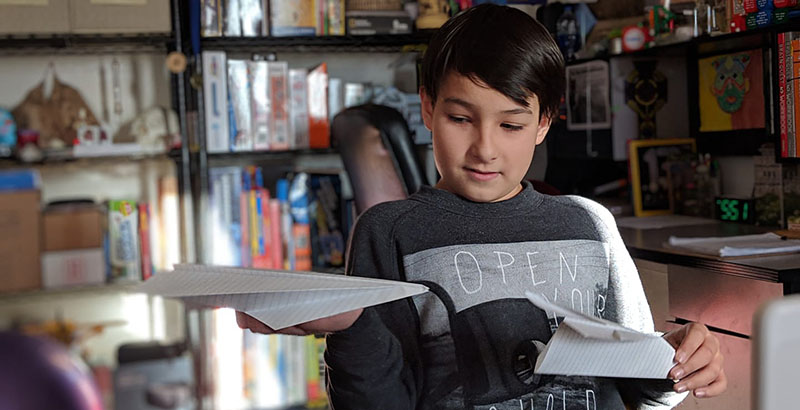 Outschool calls itself the Netflix of learning, a live online platform connecting students from around the world to other students and teachers in an array of classes that cover everything from core subjects to niche and creative interests. By building an interactive online model, Outschool gives students access both to teachers passionate about subjects and to other students with the same interests, creating an online setting with a better than 80 percent attendance rate for classes that can range from one-offs to an entire semester in length.
Amir Nathoo, Outschool's founder, says that while online education has long opened up avenues for students to explore new worlds of curriculum, his San Francisco-based startup offers diversity with the value of human interaction.
Launched in 2017, Outschool has presented more than 31,000 classes, costing an average of $10 to $15 per session. Teachers can pick and choose to create and build online curricula for classes that generally run between three and eight students who meet live via small-group video chats.
"Through our marketplace model and freedom to be creative, we let teachers discover new ways to inspire kids," Nathoo says. "It is very different from what we see in K-12 education today, where so much focus is on the end results. We believe fostering a love of learning is a key building block."
The unique course offerings range from teaching architecture through Minecraft to instruction in Spanish via Taylor Swift lyrics. Classes are capped at 18 students to retain an interactive feel.
About 85 percent of users select Outschool as a way for kids to pursue interests, although core subjects remain a part of the mix. Early on, Outschool catered to homeschool students, but as the marketplace has grown, Nathoo has seen more families choosing classes after school, on weekends and in the summer.
Currently, the marketplace has roughly 1,000 teachers offering more than 8,000 classes of several types: one-off classes to pique interest, short courses that may meet once per week for a few weeks, semester classes that have at least eight meetings and camps that meet daily for a week. Nathoo says parents often use the one-off classes, which are offered at various times throughout the year, as a test to see if Outschool is a fit. Sixty percent of customers are returning students.
Teachers seem to enjoy the freedom. "I have a strong interest in curriculum writing and design," says Tegan Bombard, a fifth-grade teacher at a Title I public school in Florida who also teaches on Outschool. "I love that I could marry this interest with the passion that I have for teaching to create learning experiences for children around the globe. Outschool has provided me with such a unique opportunity to not only design classes from scratch but implement these classes to see the impact on a wide range of learners."
Teachers — all from the United States or Canada, allowing Outschool to vet for experience and run background checks — keep 70 percent of the tuition fee, with Outschool retaining 30 percent for marketing, enrollment and administration. Some teachers, Nathoo says, earn up to $7,000 a month and have made it their full-time effort. Others use the platform as a way to teach subject areas they personally want to explore. Currently, about half the teachers are credentialed or are former classroom teachers.
Half of Outschool learners take a class with students from two or more countries, primarily from English-speaking countries such as the U.K., Canada, Australia and New Zealand. And while 20 percent of the users are based in California, students come from major urban centers and rural areas across the United States and beyond.
Bombard says Outschool gives her joy and satisfaction outside of school hours because she believes that freedom from regulations allows her to better reach learners. "Through the small class sizes on Outschool, learning can be more personalized," she says. "I am better able to modify the learning experiences of those in my classes to ensure that they are given the tools needed to grow in their own individual learning."
Bombard teaches reading, writing, math and history in a fairly straightforward style, as well as other classes she teaches, such as World History Through Film, that provide less traditional methods to encourage critical thinking.
Shawn Walk, who has a strong educational technology background both owning a company and teaching in an elementary school north of Pittsburgh, heads the Architecture Through Minecraft class and says teaching at Outschool has allowed him much more flexibility in his work-life balance.
Both Walk and Bombard say the model allows them to focus on education and curriculum while leaving the marketing to someone else. "So far, as long as I make sure I am offering high-quality classes, I have seen consistent enrollment," Walk says. "The engagement from students has been great. What has surprised me is how the majority of students are independent enough to find success in the online environment. Since the kids are taking classes they are interested in, they are focused and actively engaged."
After working for a cyberschool, where kids were disengaged because it wasn't their choice to be there, Walk appreciates the high level of engagement and, often, support from parents in helping their children pursue their interests. "Overall, that makes for a great learning environment for teachers and students," he says.
Although Outschool doesn't offer credits, it has a partnership with a charter school in the San Francisco area that gives its students credit for completing Outschool classes. "The range of subjects we have is far broader than any other vendor would be able to provide because the classes aren't restricted by what is available locally," Nathoo says. "We are able to support niche topics."
Outschool recently announced an $8.5 million investment in the company after its student enrollment increased by a factor of five over the past year, meaning continued growth and greater class choices, whether it's a veterinary technician teaching about animal anatomy or a United Nations human rights lawyer teaching about social studies and debate. And there's always that Taylor Swift class.
Get stories like these delivered straight to your inbox. Sign up for The 74 Newsletter