From South LA to the Ivy League: Two Latino H.S. Grads Tell How They Made It and What It Takes to Stay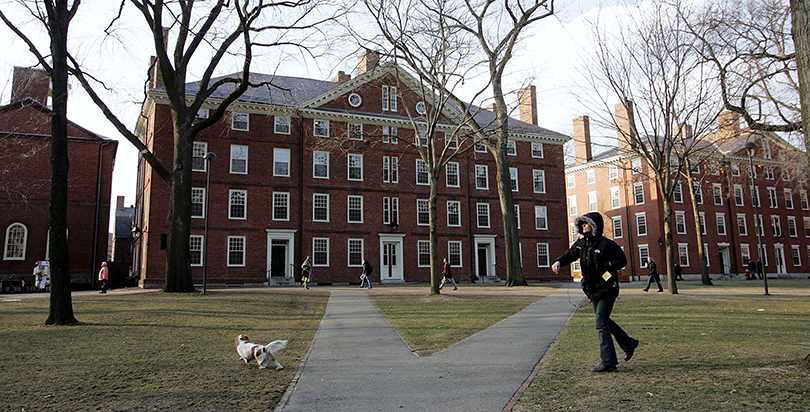 Austin, Texas
By the time Alvaro Quintero and Jose Rodriguez reached the end of their senior year, they were no longer Alvaro and Jose.
"Before we left, we got our names changed to Harvard and Yale, respectively," Rodriguez recalled. "That is how we were referred to."
At once they had lost their familiar identity in the halls of Animo Pat Brown Charter High School in Los Angeles and taken on instead the weight of becoming the first graduates in the 10-year history of the Green Dot school to reach the Ivy League.
That they won admission to two of the most elite colleges in the country coming from a heavily Latino community where 74 percent of the residents don't have a high school diploma and 72 percent of families live on less than $40,000 a year was no small feat.
"The first school I got into was Princeton. I remember getting home and being super excited," said Quintero, who ended up at Harvard. "My dad didn't know what Princeton was until I got in. I told him it was ranked the best school in the country and I was getting to go for free. 'Where is it?' 'New Jersey.' 'You can just go the community college down the street. It's the same thing, right?' "
"It's been great for the most part," Rodriguez said. "My parents are super proud of me, but even to this day I don't think they understand what it means for me to be at Yale. And they probably won't have the chance to visit me until I graduate, which is kind of a bummer."
But that was only part of the story they were in Austin, Texas, to tell Tuesday at the South By Southwest Education Festival panel From South LA to the Ivy League. What happened to them once they got to those bastions of East Coast privilege and how they were surviving their critical first year was the other.
With them on the panel was Joel Snyder, a teacher and advisor at Pat Brown who is tracking the college outcomes of 10 graduates from the class of 2015 who ended up at places ranging from community college to Cal State, to the University of California, Berkeley, to the Holy Grail of Harvard and Yale.
Some of these students have special education classifications, some were undocumented. All, including Rodriguez and Quintero, bore the statistical burden that they were not likely to graduate.
"A lot of the excitement when an alum comes back to see me is tempered by a lot of concern with what they are going to say," said Snyder, who taught for several years at Morris High School in the South Bronx before moving to the West Coast. "There are too many stories of students coming back with an explanation of why they are no longer in school or why they won't be after this current semester."
Panel moderator Ellie Herman said afterward that a recent study from high-performing charter network KIPP showed that only 33 percent of their graduates who went on to college graduated in six years. The two additional years were already tacked on to recognize the extra courses that students might need to take or that some would be forced to leave school to help support their families.
"For me, the most difficult part was the academics," Rodriguez said. "Green Dot does a wonderful job preparing kids for college, but as hard as they try, there is no way they can prepare for the vast change of what is expected of us."
Rodriguez and Quintero said they took advantage of study groups, support networks with other first-generation college kids and professors' office hours. Some of their classmates from more privileged backgrounds might need the same help, they said, but were embarrassed to seek it. They were not.
Quintero said he didn't speak to a soul for the first month he was at Harvard and can recite without hesitation that Cambridge is 2,295 miles from LA. Eventually, both he and Rodriguez were excited to encounter students so foreign to them, ones who who flew home on the weekends (they won't go home again until summer vacation), were from countries they never heard of or are majoring in obscure subjects like elliptical metallurgy.
"Meeting people from different socioeconomic backgrounds, different cultural backgrounds is a little intimidating at first, but it's fun," Rodriguez said.
"No matter how different they might be, no matter how much the gap might be in wealth, they are still very much like me," Quintero said.
Going home and fitting in with old friends has its own challenges.
"They fall into two categories. They are either super proud of us, we are like goals to them, or they fall into the category where they kind of resent us," Rodriguez said. "We have to be careful talking to them about our experience at college or they feel like we are showing off."
"It's gotten to the point where I can't tell people about my school. It's kind of like I'm ashamed," Quintero said. "I never thought I would be judged by the school I went to. They treat me like the guy that goes to Harvard, not as Alvaro. They treat me differently."
As for moving from South LA to the Ivy League, Quintero and Rodriguez credited their teachers: a chemistry teacher who stayed after school to prepare students for the AP exam, or any number of teachers who would still be in the building at 6 or 7 in the evening doing work or "sometimes just talking, trying to get to know them, and it was wonderful," Rodriguez said. Quintero recalled the guidance counselor who paid for some of his college application fees.
Snyder said these educators should be commended but the bigger issue was figuring out a system of sustainable support, to help students surrounded by family and friends without college diplomas get through to earning their own.
"It's a dirty, messy complicated question and no one really wants to get in the middle of it," he said. "We won't get by on heroes."
Get stories like these delivered straight to your inbox. Sign up for The 74 Newsletter