From Pre-K to Age 74, Charter Network Works to Keep Indy Students on Track
With multigenerational groups, postgraduate support, extracurriculars and camping trips, Christel House seeks to expand definition of student success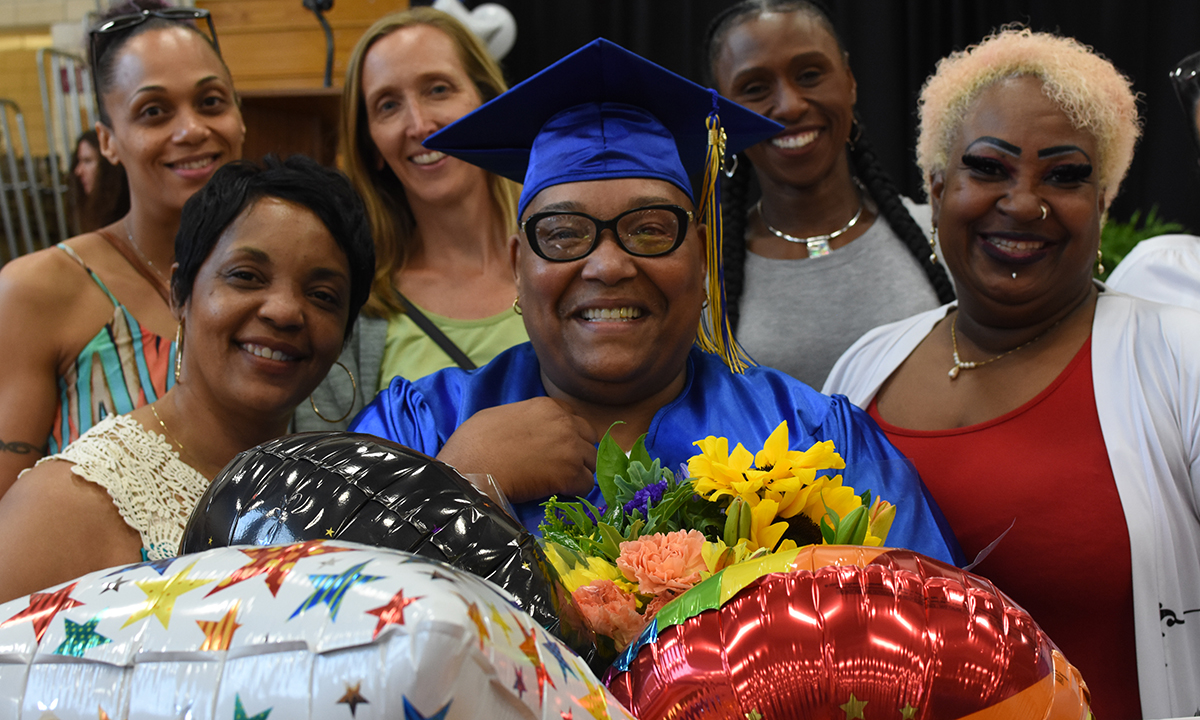 Get stories like these delivered straight to your inbox. Sign up for The 74 Newsletter
Twenty years ago, an Indianapolis businesswoman had an idea for a school that would offer the education and skills needed to not only help low-income students succeed in life, but to break the cycle of generational poverty.
Under the state's then-new charter school law, Christel DeHaan opened Christel House Academy in 2002. The school began in the city's southside with grades K-4. In the last 10 years, Christel House has grown into a network that serves the widest age range of students in the state of Indiana. This includes a day care program, two K-8 schools, a high school (a second, temporary high school program Christel is running in a district building will end after the spring semester) and an adult education program. There are also outposts in Jamaica, India, Mexico and South Africa.
Because the program follows its graduates for five years past high school, offering counseling, scholarships and other assistance, a student could be with Christel from infancy to age 23. But its reach goes far beyond that: The school's dropout recovery program, set up for those past the age of 18, had a 74-year-old graduate last year.
Christel House's four Indianapolis schools serve about 2,000 students, mostly from low-income and marginalized communities. Students apply through the city's enrollment program and are chosen by lottery. The focus is on English competency, but there's also Spanish instruction, beginning in kindergarten. Christel House has a longer academic year than district schools and provides every student with school supplies, uniforms, meals and health care.
In addition to rigorous courses, there is a wide array of extracurriculars, exposing Christel House's students to experiences typically offered to their more privileged peers. The school has guitar and violin classes and a piano lab; adjunct faculty from nearby Butler University teach music classes. There are overnight hiking and camping trips that promote team-building and self-confidence while teaching survival skills.
"We try hard to expand the definition of student success," said Sarah Weimer, CEO and executive director of Christel House Indianapolis. "We're looking at life outcomes."
One way Christel House does this is by tracking students after they earn a diploma. While nearly all finish high school in four or five years, the school also boasts that by age 23, most every graduate has found formal employment, defined as a stable position with benefits. As a measure of the network's success in breaking the cycle of poverty, its annual report also notes that more than three out of four alumni earn more money five years after graduation than the average household income of newly enrolled Christel House families.
Daniel McClure is a Christel graduate who's currently a sophomore at the University of Indianapolis, studying music theory. While he admits the transition from high school to college was challenging, he credits his 3.5 grade-point average to the preparation he received while at the charter network.
The habits he formed at Christel, including how to work hard and challenge himself, have helped him succeed at college, he said.
McClure remembers learning how to respectfully question a teacher and how to craft a resume. The school even brought in professionals to conduct mock interviews with students, he said. "These are skills I use to this day. Christel has done a good job at preparing us for college and onward."
Preparation for the next phase of life is what Christel's adult education program is all about. DORS High School, where students over the age of 18 can earn their diplomas, has an enrollment of 800 and features a wide mix of learners, all of whom attend for free. Some are immigrants whose schooling didn't mesh with the approach to education in the States. Others are mothers whose children attend Christel's K-12 schools. Still others are students who need to learn English before starting their formal studies.
Because the school is one of the only adult programs in the country without an age cap, multigenerational work groups are not unusual, said teacher Samantha Griffith.
Recently, she said, a 40-year-old mother befriended a misbehaving 18-year-old, helping to soothe the student. "Relationships are key, and our school prioritizes that," Griffith said.
"They all work together, sometimes in their home language, sometimes in English," said teacher Erika Watkins. She's seen the program grow from five students working online to a hybrid offering live classes during three time blocks during the day, mixed with self-paced online courses. While it typically takes two years for students to earn the needed 40 credits if they begin without having completed any high school courses, the teachers have learned to be flexible. Many students drop out if they're not ready to resume learning, or if a job change or family situation upends their schedule, Watkins said. Graduates often stop school once or twice before resuming the program and earning their diploma.
Teaching English learners is also a key feature of Christel's two K-8 schools. While Christel has always targeted students in low-income families and those in marginalized communities, Weimer said the changing makeup of the student body remains a challenge. When the CEO started in 2011, 16% of the charter's students were English learners, she said. Now, that proportion is over 40%, and about 90% are eligible for free and reduced-price lunch.
"We're working with families from backgrounds without education, even in their native language," she said. While Christel does have philanthropic donors, 95% of the schools' budget comes from public funds, she added.
The state's most recent iLearn assessments show a dramatic difference between Christel's two K-8 schools, Academy West and Academy South. While 31% of students from grade 3 to 8 at Academy South are proficient in English, only 16.6% of kids at Academy West reached that level. At the high school, 55% of students passed the state's latest English Language Arts iStep Grade 10 test, while just 14% of the same students passed the math portion of the test.
Weimer said the two K-8 schools run the same program, but West has fewer general education teachers certified to teach English learners. Christel is shifting resources to "ensure more equity" between the schools, she said. The network is also adding a director of K-8 to offer more support to students at West.
Teachers are offered additional compensation if they become certified to teach English learners, and Christel pays for the required courses.
"Our goal is to have every classroom teacher dually certified to teach our English language learners, since most of our classrooms are composed of a majority of ELLs," Weimar said.
The network has also started its own teacher training program, offering certification to anyone who has completed a bachelor's degree.
The program, IndyTeach, provides candidates with a full year's paid residency with a quality mentor teacher, Weimer said. The program deliberately gives candidates more robust co-teaching opportunities than a student teaching stint in the hopes this will help new teachers find success quickly.
Beyond academics, Christel offers a broad range of opportunities for its K-12 students. These run from music instruction to camping programs that culminate in a week-long trip to Cumberland Falls in Kentucky.
Camptown, a nonprofit organization that runs outdoor educational programs, has been a partner with Christel for 15 years. Executive Director Brent Freeman said fourth graders begin with a simple overnight trip; the skills taught increase with difficulty each year. By eighth grade, students have hiked through a cave at night and learned how to purify water and navigate their own path through the woods, Freeman said.
Working through difficulties as a team is a great experience for students and brings them closer to each other and school staff, he added. Some trails feature 30 creek crossings, and the students carry a 40-pound backpack.
McClure lights up as he recounts camping trips he took years ago. Noting that he was a troublemaker in seventh grade, he said the outings helped the students feel more like family. He realized there is "so much more to classmates than being in math and trying to solve a math problem." The program's effects are still felt today, he added, as his classmates stay in touch with each other.
"It builds self awareness and confidence," Freeman said. "Students know, 'I have done a hard thing. I was afraid and I did it.' There's such power in leaning into fears and overcoming them."
Get stories like these delivered straight to your inbox. Sign up for The 74 Newsletter