From Healing Children to Call Center Associate: D.C. School Nurse on the Front Lines Doing 'Whatever We Need to Do' for Coronavirus Patients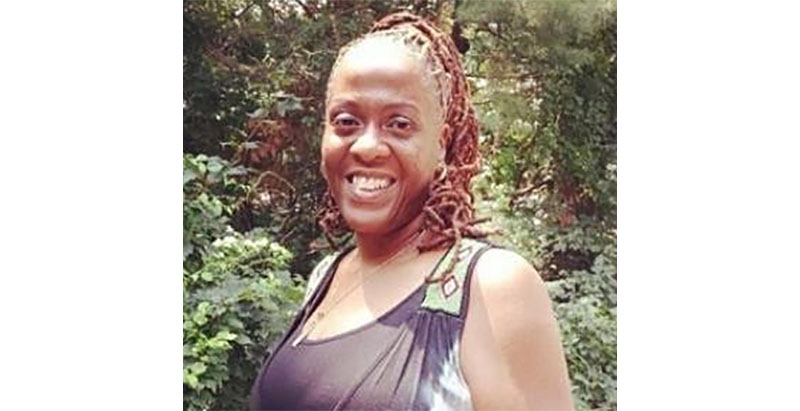 This is one of eight profiles in Displaced: The Faces of American Education, a package from The 74 following the stories of the diverse characters who are a part of the American education system, and how the COVID-19 crisis has upended their lives in a few short weeks. Meet the others, from around the country, here.
At 8 a.m. sharp every weekday, Katrina Clark sits down in front of a computer, puts on her headset, types in a username and password, and settles in for eight and a half hours of phone calls.
Ten weeks ago, 55-year-old Clark, a Washington, D.C., public school nurse for 11 years, would have driven about 15 minutes on backroads to get to school by 7:55 a.m. By 8:30 a.m., she'd have medicated about three kids, typically with anticonvulsants, inhalers, ADHD medications or Tylenol. The rest of the day would be spent attending to stomach pains, fevers and scraped knees.
"I miss my babies," she said of her pre-K to fifth-graders at Ketcham Elementary School in lower-income Ward 8, southeast of the U.S. Capitol. "I would visit each class every morning, say, 'Good morning.' … I wanted my children in my school to know me."
It's been more than two months since schools closed as the coronavirus crisis unfolded, taking Clark from her students and turning her job on its head.
To pay the bills, Clark now works for a call center from her home in nearby Anacostia, taking information from first responders who are exhibiting COVID-19 symptoms as part of the D.C. Department of Health's contact-tracing efforts. She records callers' symptoms, their underlying medical conditions and whether anyone in their home has tested positive for coronavirus.
The work becomes stressful when callers' anxieties and fear are especially palpable, Clark said. One woman she connected with had a son with disabilities who had tested positive but "had nowhere else to go but home," so the woman "was concerned about herself, her daughter and her grandbaby, they all lived in the same house," Clark recalled.
This role wasn't one Clark had voluntarily signed up for when schools shuttered on March 16. Nurses received notice in late March that they could either join the D.C. Department of Health's effort to fight coronavirus or face layoffs until schools eventually reopened.
Clark, who's also president of the DC Nurses Association, struggled with the decision along with many of the district's more than 100 school nurses. She has diabetes, which compromises her immune system, and said it was not clear early on if nurses would be expected to serve on the front lines at testing sites.
But like others, she couldn't afford to lose her paycheck or shoulder the health insurance costs that would build up without an employer contribution.
"Knowing that I am diabetic and I need my medication, and if I was to get sick I have to be taken to the hospital — I did not want to make matters worse for myself," she said. "I went on faith."
On Monday, April 6, Clark accepted the reassignment offer — which maintains her current income — three days after the deadline to respond. She was teleworking by that Wednesday.
She doesn't complain about the transition. "Whatever [nurses] need to do to help our patients out, we'll do it," as she put it. Nursing, especially now, demands a selflessness and compassion that Clark said she learned from her grandmother.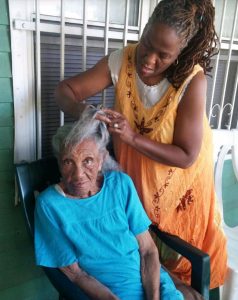 Two things about her grandmother stood out to Clark as a child: one, that the elder was beloved by "everybody, from the bank teller to the doctor to the grocery store clerk," Clark said. Second, that she always left the house in a white uniform. Clark learned later that her grandmother was a domestic maid, but she grew up thinking she was a nurse. So Clark dreamed of being one, too.
Although Clark doesn't necessarily mind the call center work, her mind is still on those days as a school nurse.
"I wish and I hope that I will be going back to work with my children," Clark said. She catches only glimpses of a few of them nowadays, out in the community or at the pharmacy.
Clark was the only nurse at Ketcham Elementary, where about 300 kids are enrolled — 100 percent of whom the district considers "economically disadvantaged."
She's still unsure when she'll be back in school — or how her job might look different moving forward. For now, she's taking things in stride.
"I live day to day now," she said. "I don't know what tomorrow will bring. None of us know."
Support The 74's year-end campaign. Make a tax-exempt donation now.