From Custodian to Principal — How a Denver Teacher Inspired a Former Student to Rise Above and Pursue His Education Dreams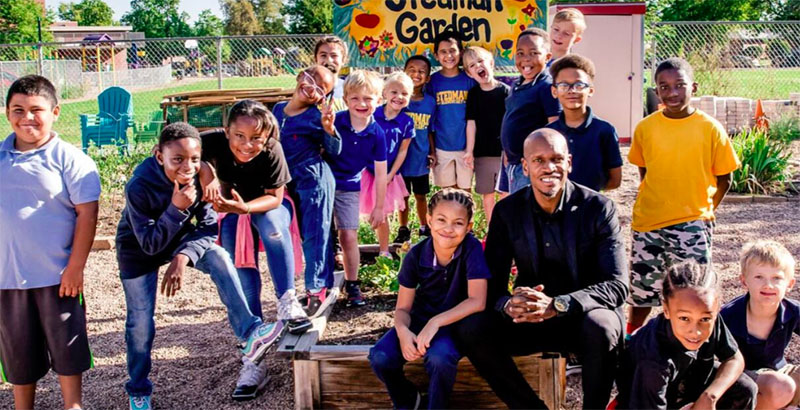 This article is one in a series at The 74 that profiles the heroes, victories, success stories and random acts of kindness found at schools all across America. Read more of our recent inspiring profiles at The74Million.org/series/inspiring.
Some teachers never stop guiding their students. And thanks to just that kind of guidance, Denver's Michael Atkins went from custodian to principal of his very own elementary school.
Atkins, who was bused from his predominantly black Denver neighborhood to a mostly white elementary school in 1986, had the good fortune to get Carolyn Riedlin as his first-grade teacher.
"I wanted to make sure that every child that left their home and got on that bus was excited to come to school, that they were excited because they knew there was something really special inside my classroom," Riedlin told Today.com.
Even at that young age, Atkins was aware of racial disparities in education, he told the BBC. But something special happened inside Riedlin's classroom: a deep and lasting bond developed between student and teacher.
"Every child that enters into any educational system needs to know that there is an adult that cares for them and about them as much as Carrie cared for me," Atkins told Today. "It was more than 'He is one of my students' — she really got to know who I was as an individual."
At 19, he became a father and tried to get a job as a teaching assistant, but no school would hire him. So he took a job as a custodian while studying for a degree in business at night.
As luck would have it, he ended up on the staff at Lowry Elementary — where Riedlin was the principal.
Former teacher and former student reconnected immediately, and Riedlin created for Atkins exactly the job he had tried and failed to get: reading and writing paraprofessional, he told BBC. He fell so in love with the work and the kids that after three weeks he changed his major to behavioral science with a minor in education.
"There were times where I got comfortable within my custodial position, and I loved the work," Atkins said to The Denver Channel. "I loved the people that I met. I was still able to be in front of youth. But I knew that was just the first chapter of my journey."
Atkins went on to teach in Denver schools for 15 years and serve as an assistant principal. And this academic year, he took his first post as a principal, at Stedman Elementary School, just six blocks from where he grew up.
From school custodian to principal. That's the trajectory for 38-year-old Michael Atkins, the new principal at Stedman Elementary School in Denver, Colorado. https://t.co/hc5GZfHsNQ

— Action News on 6abc (@6abc) August 24, 2019
The bond he shares with Riedlin is as strong as ever.
"I'm just very proud of seeing him be very successful here," she said during the Today interview. Then she reached in for a hug with Atkins, and the two educators who met decades before shared an "I love you."
Get stories like these delivered straight to your inbox. Sign up for The 74 Newsletter