From Blue Light Glasses & Noise-Canceling Earphones to Tablets & Masks for Kids, a New World of Student Technology in the Age of COVID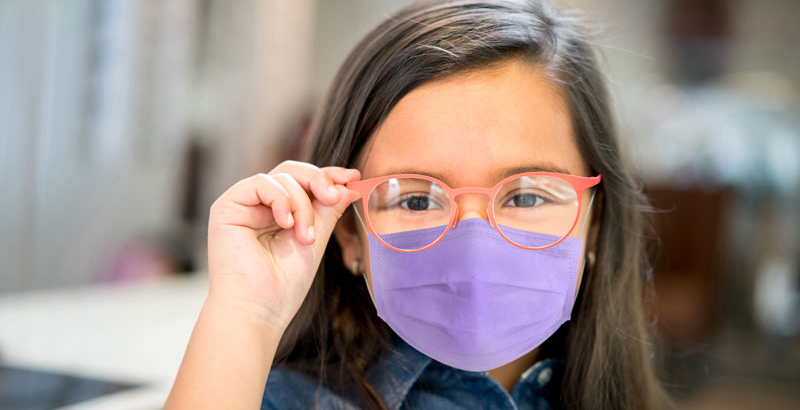 Education technology was an ever-shifting landscape even before the pandemic forced distance learning upon families who had never given it much thought. Now, with some students distanced within schools by 6 feet and others distanced at home, a fresh wave of technology comes from off the beaten path. From blue light glasses to low-latency headphones and contact tracing technology to pre-loaded educational tablets, here's some of the new technology students — and their parents — must now navigate.
Pre-Loaded Tablets
With the sudden need for internet connectivity and at-home WiFi creating accessibility issues for school districts across the country, Onebillion, the winner of Elon Musk's $15 million XPrize in 2019, partnered with education nonprofit Open Up Resources to bring the company's Onetab to the United States. The Onetab, a tablet containing math and literacy lessons for pre-K to second grade, eliminates the need for Wi-Fi by coming entirely pre-loaded with all the needed content in an effort to promote equity for distance learning.
Onetab, already active in Malawi and Uganda, is now in dozens of schools across the U.S. and allows children to work through a structured sequence of instruction with thousands of math, reading and writing activities. "The COVID-19 pandemic has exposed a deep crack in the foundation of this country," says Jessica Sliwerski, Open Up Resources CEO. "Our PK-12 education system is far from equitable. With schools around the country closed and inequitable access to high-quality instruction, we knew we had to act immediately to create a safety net for the most vulnerable children. It is absurd that the richest country in the world has so many educational inequities, and our hope is to bridge those gaps by bringing Onetab to the U.S."
The software was designed so the educational activities adapt for each student's ability, and a single tablet can be shared by multiple children in the same household without log-ins because the software allows for students to learn at their own level.
Health Screening Devices
While parents and children don't need to have a health screening device with them at all times, families should be aware of what their schools are doing to check students entering the building.
Many schools are taking students' temperature in hopes of identifying early symptoms of sickness. The two most popular methods are non-contact infrared thermometers and thermal imaging systems.
In addition, many schools are requiring families to complete health attestation screenings at home before their child gets on a school bus or enters a school building. While most parents won't opt to add a thermal imaging system to their home medicine cabinet, a non-contact infrared thermometer may offer a quick, easy way — especially for younger children — to complete the needed steps.
Blue Light Glasses
With students staring at screens at home for hours of classwork as a time, sales of blue light-blocking glasses have seen an uptick. These feature lenses designed to shut out or filter the blue light emitted from digital screens, and the makers of these products claim benefits aplenty, focusing mostly on a reduction in eye fatigue as a key selling point.
Not every doctor agrees, even as students gobble up these stylish additions to their at-home wardrobe. The American Academy of Ophthalmology does not recommend blue light-blocking glasses and instead suggests taking regular breaks from screens and turning devices to night mode. The academy says there is no evidence the blue light from screens causes eye damage.
The Vision Council, though, says the glasses may help as part of a plan to reduce eye strain. "While there is no one solution, the symptoms of digital eye strain, including headaches, neck and shoulder pain, dry eyes and blurred vision, may be alleviated by incorporating better digital usage habits like limiting screen time and taking breaks every 20 minutes to look at something 20 feet away for 20 seconds," says Ashley Mills, the council's CEO. "While many digital eye strain symptoms can be prevented by practicing healthy digital habits, wearing glasses with blue light protection may also help relieve the symptoms of digital eye strain."
Companies and consumers have gotten on board with the glasses. The firm 360 Market Updates says the 2020 blue light glasses market has a $22 million value, expected to grow 8 percent a year through 2026, with more than a dozen companies leading the way. And with anecdotal evidence and eye doctors supporting the glasses, even companies that didn't previously sell these trendy accessories for students in the online age have started to take notice. In September, Oakley released its first blue light glasses, aimed both at the esports gaming industry and at students and businesspeople who are stuck looking at screens now more than ever before.
Headphones/Earbuds
You finally figured out how to keep that connected device online for an entire school day. But that doesn't mean the device is performing as well as it could to help a child learn. Some students will have a lag so the audio does not match the video. For in-tune students with means, there are pricey headphones and earbuds that borrow from the esports gaming industry. But now, as more and more students have moved online, headphones and earbuds with low latency — a minimal delay in the sound — are expanding in both product offerings and range of prices. Not only do these low-latency devices make it easier for students to follow a livestream or recorded teacher session, but because they use active noise-canceling technology, they block out distractions as well.
As headphone and earbud makers across the industry continue to create additional low-latency products, the September launch of JLab Audio's Epic ANC smart active noise cancellation wireless earbuds hit a sub-$100 price point in a product category that can stretch into the hundreds of dollars. The Epic eliminates the eardrum suction some headphones create and allows users to customize the active noise control level via an app.
"Unclear and lagging audio in video meetings are some of the most common distractions when you're distance-learning," says Terra Teat, JLab Audio CMO and mother of two. "As a parent, I can tell you that a distraction-free environment, not easy to find in most homes, is key to helping maintain focus during remote learning situations."
Masks
For months, families have made masks a natural part of their day. That's the same for students returning to in-person learning. The federal Centers for Disease Control and Prevention recommends masks with at least two layers of fabric, saying those are most likely to reduce the spread of COVID-19. To increase comfort, parents should look for a quality mask that comes in youth sizes. Of course, there's a design to match nearly every hobby or interest. Some of the most popular come from Disney, Cubcoats, Old Navy and Nordstrom. Outdoor brands have started lending their materials expertise to masks, with Keen leading the way on multiple sizing options. Outdoor Research, which includes a proprietary integrated and replaceable filter in a fully customizable fit, is one of the more technically advanced cloth mask options at a reasonable price (a three-pack costs $20) and launched a youth version in October.
Contact Tracing
As students return to school, districts need plans in place to limit the spread of COVID-19 if a positive test does come in. Michael Bettua, CEO of Volan Technology, says that instead of using overwhelmed human contact tracers or privacy-infiltrating smartphone tracking, Bluetooth mesh networks offer the best of both approaches without the drawbacks.
"The technology can report individual movements within a building or campus, down to a room level," he says. "So it's more accurate than human contact tracing, and because it's Bluetooth-based, it doesn't stay on a student's or teacher's phone when they leave school grounds, like an app."
This technology, worn as an ID badge, allows school leaders to identify within seconds everyone whom a person has been in close contact with on a school campus for 30 days. Bettua says using Bluetooth creates an encrypted network for privacy while improving accuracy over Bluetooth not connected via a network. Volan has pilot sites underway at school districts in New Jersey and Ohio.
"Virus mitigation is unfortunately part of the new normal in a post-COVID-19 world where pandemics are now a reality," he says. "It will become as central to security planning as passing through metal detectors at sporting events and concerts or taking shoes off at an airport security line. Wearing an ID-sized sensor while entering a school would be second nature, like showing your ID when walking into an office building."

Get stories like these delivered straight to your inbox. Sign up for The 74 Newsletter