Free Clothes, Backpacks, Supplies & Books Come to Needy LA Kids Courtesy of Operation School Bell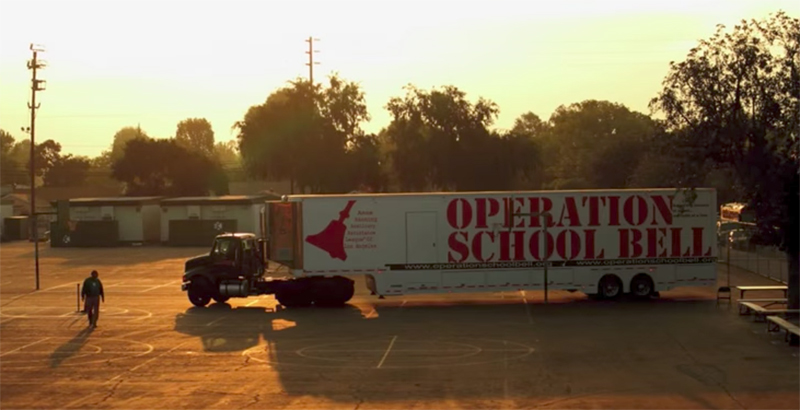 This article is one in a series at The 74 that profiles the heroes, victories, success stories, and random acts of kindness to be found at schools all across America. Read more of our recent inspiring profiles at The74million.org/series/inspiring.
The students came to Langdon Elementary School in Los Angeles's North Hills unsure of what the 53-foot-long trailer had in store for them. What they found were free clothes, shoes, backpacks, books, and more, all meant to enhance their ability to proudly attend school — a continuation of a tradition dating back more than 50 years.
Since 1965, Operation School Bell has outfitted some 5,000 Los Angeles kids with everything they need to get ready for the school year. There is a huge facility in Hollywood where students can do their back-to-school "shopping." But for those who can't make it, there is OSB on Wheels — like the brand-new 18-wheeler that pulled up in front of Langdon Elementary.
The Assistance League of Los Angeles, the parent organization for Operation School Bell, sends the trailer all over L.A. 12 times a year, each time visiting a different school. The trailer is fully stocked with pants, skorts, polo shirts, shoes, socks, jackets, backpacks, school supplies, and books, and it has dressing rooms so students can find just the right fit.

Volunteers donate their time to make the students feel welcome and help them pick out their new gear.
"Most of the children who attend the schools live in poverty, and it is really tough for the kids to have clothes to wear to school," says Andy Goodman, past Assistance League LA board president. "The goal is to give them a week's worth of clothes so they can attend school."
As captured by the Los Angeles Daily News, volunteers helped nearly 250 students choose everything from shoes to books and then stuff their new backpacks full.
Get stories like these delivered straight to your inbox. Sign up for The 74 Newsletter