For the Win: 14 Inspiring Champs Who Made a Difference in Our Schools During the Month of March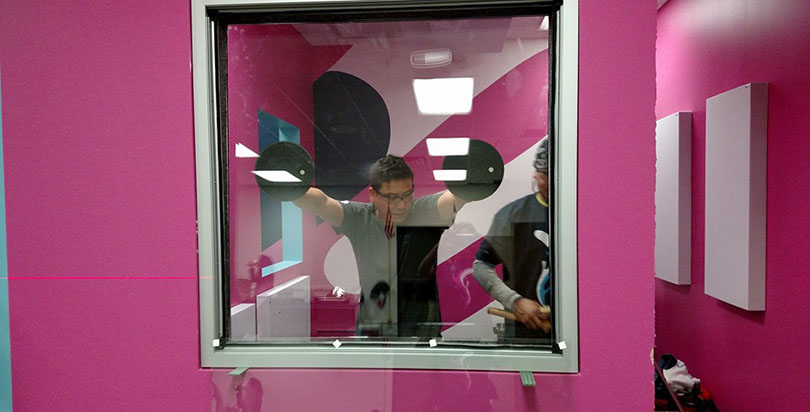 During the month of March, millions of people are glued to their televisions watching the best college teams compete in the NCAA basketball tournament. While slick shots and daring dribbles capture our collective attention, awesome feats of kindness are being performed around our nation's schools.
But we have many open slots in our kindness bracket this month, and tons of stories with which to fill them. Here are 14 more inspiring events that are a slam dunk in our book.
March 24: Alaska high school basketball team rescues tenants from apartment blaze —
The
Sitka High School
basketball team was on their way to breakfast when a player noticed a fire at an Anchorage apartment complex. They banged on doors and windows to alert people, helping nearly a dozen residents to safety. The team was in the capital for a state tournament. (Read more:
CBS
)
---
---
March 24: Spotify builds recording studio for Texas middle school with donated SXSW equipment —
Every year, thousands descend upon Austin for the popular music, film, technology and education festival South by Southwest. After this year's festival, the streaming music provider Spotify donated equipment and furniture from the live music venue it runs during the event to Kealing Middle School. A new three-suite recording studio was built at the school, with volunteers completing work on the space during spring break. (Read more:
FOX 7
)
---
Work on @Spotify studio at @KTXHornets is underway. Sweet sound of construction! #MakeMusicChange #AISDSXSW@aisdsupt pic.twitter.com/QWTrMwj36y

— Office of Facilities (@facilitiesAISD) March 18, 2016
Who knows, Spotify's next No. 1 streaming hit could come out of here!Donations from the SXSW Spotify House have revamped Kealing Middle School's music production program. Noelle Newton on FOX 7 learned firsthand how it's helping students. Her story here: http://bit.ly/1LKQb4q

Posted by FOX 7 Austin on Thursday, March 24, 2016
---
March 27: Virginia after-school social skills program yields positive results in academic performance —
After the traditional school day is over at Dublin Elementary School, a small town comes to life. It's all part of "Micro City," an after-school program where students are in charge of a make-believe community, pretending to run a restaurant or patrol as sheriff. The program is designed to teach social skills but has made an impact in the classroom. Seventy-nine percent of parents are reporting improvements in their child's reading, writing or math skills. (Read more:
WSLS
)
March 24: Virginia LEGO contest introduces students to shipyard careers —
The 10th annual Ship Repair Lego Competition took place in Newport News this month, but instead of using physical, tactile toys, students used virtual bricks to attempt the challenge. This year, the goal was to improve waste management on the Navy's 1,000-bed hospital ship, the Comfort. The contest mimics real-world career opportunities in shipyards, including computer skills used in a maritime environment. (Read more:
The Virginian-Pilot
)
---
---
March 23: Florida middle schoolers teach manners to solve social problems —
Stone Magnet Middle School
students Abigail Perez, Alexis Williams, and Cierra Graham are participants in The Florida Future Problem Solving Program, an affiliate of a worldwide nonprofit dedicated to developing critical thinking skills. The girls are researching the history of etiquette and sharing their knowledge with elementary school kids in the hopes that Old World manners will help solve some of the social problems kids face today. (Read more:
Florida Today
)
March 27: Maine elementary students learn boat building skills for free from local museum —
For two decades, the Maine Maritime Museum has been hosting students from South Bristol Elementary School for a free boat building class. The cost of the class is $25,000, which is covered by public and private donations. Students build two wooden rowboats during the course of nine months. This year's boats will be christened June 10. (Read more:
Portland Press Herald
)
---
Boatbuilding class at Maine Maritime Museum has providing valauble experience.https://t.co/fIMLGhfjgx pic.twitter.com/tJanC0mGIE

— PressHerald (@PressHerald) March 27, 2016
---
March 19: Sacramento Public Library gives away formal wear ahead of prom —
Going to the prom is an expensive affair, but teens in California's capital city are getting some assistance with the cost. The library system is holding nine events to conduct giveaways, including prom dresses, tuxedos, and other attire donated by the public. The giveaways started in 2013, the brainchild of the library's teen advisory board. (Read more:
The Sacramento Bee
)
---
Prom essentials for free?! Head to Sacramento Public Library https://t.co/tH6wyEKRSw pic.twitter.com/crLOUNBMO2

— kcranews (@kcranews) March 26, 2016
Sacramento Public Library Helps Teens Dress For Prom https://t.co/vM794ZSyLf pic.twitter.com/Ld5e3tUilX

— CapRadio News (@CapRadioNews) March 22, 2016
---
March 18: California high school senior wins $150,000 Intel Prize for medical invention —
Maya Varma is senior at Presentation High in San Jose but during her busy year of studying and preparing for college somehow found the time to win a national science contest. Her invention, a lung analyzer for use in developing nations, costs just $35 worth of parts. That economical idea has now won her a $150,000 college scholarship from Intel. Varma plans to attend Stanford or Harvard University in the fall. (Read more:
KCBS
)
March 21: Wisconsin language program pairs elementary students with high school Spanish speakers —
Dubbed the "Bilingual Buddy Exchange," the program has more than 100 Spanish 5 Advanced Placement students from
West High School
in Madison visiting dual-language immersion students at
Midvale Elementary School
. During the meetings, which occur three times a year, students speak only in Spanish while playing games, reading, and hanging out. (Read more:
State Journal
)
March 18: Colorado high school creates matching leg braces for 5-year-old girl's doll using 3d printer —
Mesa Ridge High School fired up the 3d printer for a good cause this month. They used the tech to create leg braces for a doll named Rosie to match the ones that 5-year-old Marley wears. Students said Marley's smile was worth the effort. (Read more:
KKTV 11's Facebook page
)
---
Thanks to students at Mesa Ridge High School, 5-year-old Marley and her doll Rosie have matching leg braces! They used a…

Posted by KKTV 11 News on Friday, March 18, 2016
---
March 21: Kentucky teacher raises more than $150,000 of educational materials through crowdfunding —
Lisa Roark of Carr Creek Elementary school has been using
Donorschoose.org
to raise money for a variety of teaching supplies. Thought the donations, she's been able to purchase a set of computers for her classroom, upgraded lockers, and
hokki stools
. (Read more:
WYMT
)
March 9: Ohio woman, 93, gets high school diploma after being denied one due to being married —
In 1942, North High School student Dorothy Louise Liggett was just weeks from graduation when she was expelled from school for being married. Her boyfriend at the time had joined the U.S. Army Air Corps when she learned she was pregnant. The two married, planning for her to finish high school and then join him after graduation. After Akron Public Schools Superintendent David W. James learned of the story, he hand-delivered a high school diploma to Liggett at her home. (Read more:
The Akron Beacon Journal
)
---
Our latest old lady crush: Dorothy Liggett, who just graduated 74 years late. https://t.co/l6EaJlqB0a pic.twitter.com/z2qYmVgHW6

— The Pool (@thepooluk) March 15, 2016
---
March 7: Colorado high school makes its campus more LGBTQ-friendly —
High school is a
difficult time for transgender teens
, but one school in Colorado Springs aims to make one crucial part of daily life just a bit easier.
Palmer High School
has added a gender-inclusive bathroom to its campus. The effort was spearheaded by senior Doe Schall, who worked with the administration for a year to make it happen. (Read more:
KRDO
)
---
---
March 10: Washington elementary school students address loneliness with new 'buddy spot' on the playground —
The
movement to end social isolation
is sweeping across the nation's schools and this latest iteration is happening during recess in Federal Way. A 'buddy spot' has been created on the playground at
Sherwood Forest Elementary School
. It's a place for students to go when they're feeling lonely. A rotating roster of student leaders are assigned to greet the students at the spot. They're trained with questions to ask the student to foster communication. The goal is to help find the student a playmate during recess. (Read more:
KING 5
)
Support The 74's year-end campaign. Make a tax-exempt donation now.