For Teacher Appreciation Week, Here Are 7 Educators Who Amaze and Inspire Their Students Every Day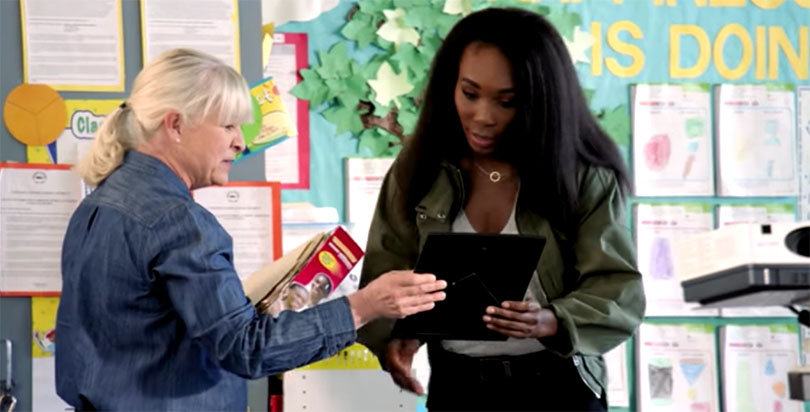 This article is one in a series at The 74 that profiles the heroes, victories, success stories, and random acts of kindness to be found at schools all across America. Read more of our recent inspiring profiles at The74million.org/series/inspiring.
As students and parents shower local educators with gratitude during Teacher Appreciation Week, here are profiles of seven teachers around the country who provide their students with unique experiences that could well help improve their educational outcomes. Their warmth, dedication, and creativity are truly inspiring.
Sarah Elliott, Washington
There are nearly 750 students at Forest View Elementary School in Everett, Washington, and music teacher Sarah Elliott knows each of them by name. When Elliott came to the school five years ago, it didn't even have a music curriculum, so she built one from scratch. She has since created an extracurricular choir club and a before-school ukulele club to teach students how to play (a recent concert was a big hit among parents). Recently honored as one of the school's outstanding educators, she is one of the few teachers in the entire district with extended resource/life skills students in her class. Elliott's music instruction truly touches every student in the school.
---
---
Sonya Romero, New Mexico
Lew Wallace Elementary School kindergarten teacher Sonya Romero sees educators as sort of first responders. With many of the kids in her class living in poverty, she spends the first hour of every day tending to the basics to get them ready to learn. Did they eat today? Do they need anything to wear? Have they brushed their teeth? When Child Protective Services showed up at her school about two former students, Romero stepped up to act as a foster parent — and what started as a 48-hour emergency turned into a six-month stint. Two years ago, this hero teacher appeared on The Ellen DeGeneres Show and was stunned when the TV host presented her with two $10,000 checks — one for the school and one for herself. Now, thanks to those donations — and thousands of dollars more in individual contributions — the school's gym becomes a free grocery store once a month, serving more than 200 families in the downtown Albuquerque area.
---
---
Jessica Pachak, Missouri
Fifth-graders in St. Louis don't always have much in common with police officers, and they often don't have many positive experiences with them, either. KIPP Inspire Academy teacher Jessica Pachak wanted to change that by bridging the gap through a new pen pal program called Blue Pals. For 10 weeks, her students wrote letters to local police officers — and the officers wrote back. Despite some initial skepticism, the back-and-forth helped the students overcome some hurdles and assisted both groups in relating to each other as human beings — all while getting a bit better at writing letters.
---
---
Walt Mahoski, New York
Never did Oneida Middle School art teacher Walt Mahoski think that his interest in comic books would become a full-fledged learning opportunity. But he has turned his hobby — one that inspired him to read when he was younger — into a full-blown library at the school, open to all students. The 30-year veteran teacher searches for new titles, accepting donations from collectors unable to sell, and now has about 6,000 comic books that he makes available to students. "The whole idea is simple here," he told The Daily Gazette. "Provide something they want to read, and they'll read without being told to."
https://dailygazette.com/node/229695
Students in Jared Hall's science class at Coleman Middle School in Wichita, Kansas, learn to cultivate their own green thumbs in the school's vegetable garden. But now, he has added something even sweeter to his lessons: about 30,000 bees. The insects will live in a glass enclosure so students can study the hive, learning about pollination, life cycles, and nutrition. Hall will mix in some business sense, too — Whole Foods and Churn and Burn have agreed to sell the honey produced by the classroom bees.
http://www.kwch.com/content/news/Coleman-Middle-School-getting-bee-colony-420999264.html
---
Vincent Saporito, California
From one-on-one interactions to group reading lessons, Vincent Saporito unites communities. Deaf since he was a toddler, Saporito has created a learning environment at College View Elementary School in Huntington Beach that connects deaf students to the overall population, such as teaching all 440 students to sign both the Pledge of Allegiance and The Star-Spangled Banner. Saporito, a nine-year veteran of the district, was named one of the Orange County Department of Education teachers of the year and serves as an example of achievement for all students.
http://www.ocregister.com/2017/05/01/deaf-huntington-beach-elementary-teacher-among-the-best-in-orange-county/
---
Judy Vellegas, California
Judy Vellegas had a feeling the little girl in her first-grade class would grow up to be someone special, so she kept a folder with all her work, just in case. Right she was — earlier this month, tennis superstar Venus Williams made a surprise visit to Mark Twain Elementary School in Lynwood to thank Vellegas for inspiring and nourishing her. Said the 34-year veteran teacher, "My purpose has been to be here. I can't think of anything else I would rather have done in my life. These kids are our future. We have to prepare them for that."
---
---
Support The 74's year-end campaign. Make a tax-exempt donation now.