For National School Choice Week, Watch Families Tell Their Stories of Educational Opportunity and Success for Their Children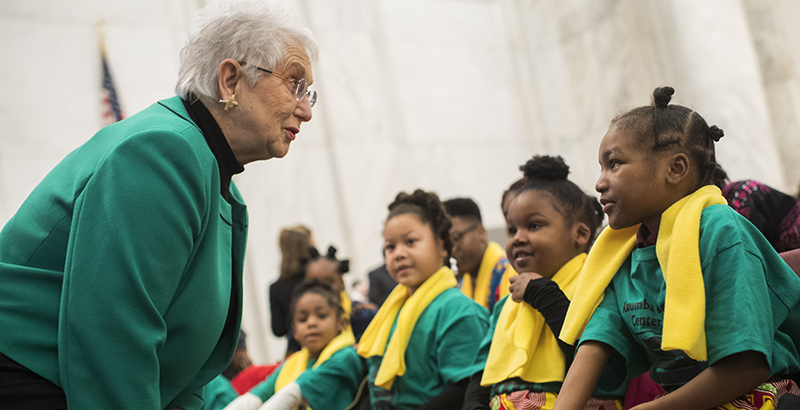 National School Choice Week is a vibrant celebration of the support of millions of families around the country for educational opportunity. Each year, at events of every size, it's impossible to see children dancing and singing with their yellow scarves and not feel their pride and optimism.
From my perspective, every week of the year should celebrate these families' stories of empowerment and choice. All too easily, we can lose sight of where the focus should be throughout the year: on the children and on ensuring that every family has the opportunity to find the right educational fit to prepare their children for success in school, in careers, and in life.
Last year, we joined dozens of state and national educational groups to draw more attention to the daily success stories of families across the country. Members represented all forms of choice, including magnet programs, homeschooling, virtual schools, public charter schools, and scholarship programs.
Together, we asked families, students, and adults to tell us how having a choice in education changed — or could change — their life while lifting their dreams for the future.
From Alaska to New York City and everywhere in between, we heard tales of educational frustration, hope, and success.
One example is the story of an Indiana man whose mother lied about their address when he was a boy so he could attend a public school that would better serve him. Today, David McGuire is giving back as the dedicated principal of a successful public charter school in Indianapolis.
For Ashley Cote's family in Southern California, homeschooling was the right fit. She took classes that catered to her needs, got a head start on college credits, and served others in her community with a homeless ministry she started.
A Florida man shared his story of growing up poor with a single mother. Despite being tested as gifted, he had no access to the higher-quality options that were available to other students because of their address and income. As an adult, Christopher Collot wanted more for his own child, and his son is now thriving in a gifted program at a high-performing public charter school in Miami.
The Fife family in northern Ohio is blessed with a child with autism. Like parents everywhere, the Fifes were focused on finding the best opportunities for their son. With the Ohio Autism Scholarship, they were able to find a school that is successfully providing for his special needs.
These powerful stories, viewable at www.choicesined.org, show the rich collage of educational freedom and its positive impact on children. While their families come from dramatically different backgrounds, they are united by the common thread of seeing their children succeed when given the opportunity to find the right educational environment for them.
Similar personal tales of joy and excitement for learning can be found each and every day in your state, your town, and your neighborhood. There is no partisanship or political divide in hoping every student can thrive.
As we celebrate these students and more during National School Choice Week, let's honor them by working throughout the year to make sure that one day every family has a story of success they can share.
Patricia Levesque is chief executive officer of the Foundation for Excellence in Education.
Get stories like these delivered straight to your inbox. Sign up for The 74 Newsletter