Focusing on the Right Fit Makes the College Search Easier — and More Fun
Weinberg: Brochures and online materials can build up an image, but students can tell when they set foot on campus if it's the right place for them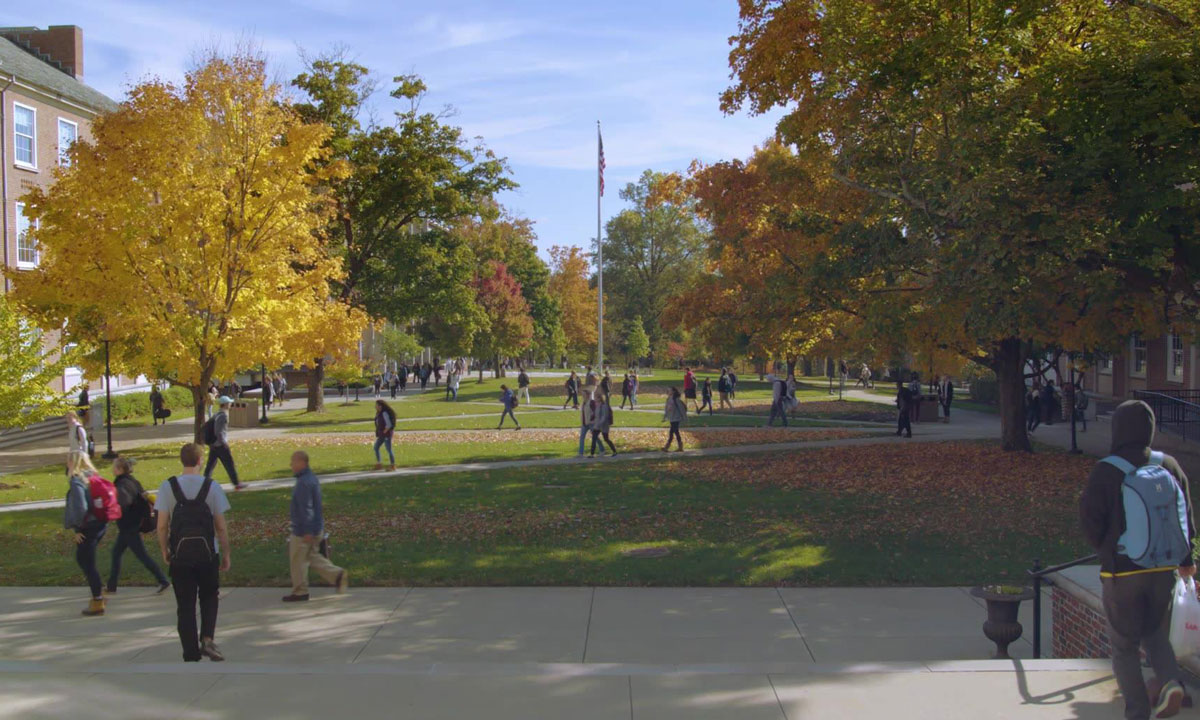 Support The 74's year-end campaign. Make a tax-exempt donation now.
It's that time of year when young people are consumed with stress about getting into college. High school seniors are ready to make final decisions, and juniors are getting started. As students and their parents decide where to apply and, ultimately, where to enroll, there are a few crucial things they can do to make this process less stressful and, in the end, deliver better results.
The first step is to take a deep breath and exhale. In recent years, a lot of unnecessary pressure has built up around the college application process, and it's primarily driven by declining acceptance rates at a small group of elite schools. There's a sense that if you don't get into one of these schools, the college search process has been a failure. This is not true.
Lots of colleges provide a high-quality education. Many of these accept most of their applicants. All decent high school students will have good college options, regardless of whether they get into their top choice. The few dozen or so schools at the top of the U.S. News and World Report rankings do not have a monopoly on providing a quality education.
How do parents and students maximize the outcome? Start by asking the right question: How do we find a college where our child will flourish and be ready to launch quickly and successfully when they graduate?
For college to be life-shaping, three things have to happen. First, students need to develop at least one meaningful relationship with a faculty member. Second, they must be engaged in academics and at least one activity such as student government, sports, drama, clubs or competitions. And third, they need to be surrounded by peers who will bring out the best in them.
Prestige tells very little about the likelihood of these three things happening for any prospective applicant. Fit is a much better indicator.
How to assess fit? Start by focusing on your child. Have a series of honest conversations about their high school experience. What did they like and dislike? How do they best learn? Are there things they didn't have a chance to do in high school that they might want to pursue in college? What kinds of people bring out the best in them? What subjects did they enjoy? Where are they in their own personal development? What kind of environment is likely to be the best for them?
Then, check out universities within driving distance. They don't have to be schools your child is applying to; just pick a small school, a large school, a rural school and an urban school to get a sense of what type of school might be a match. These quick road trips will be time well spent.
Once a sense of geography and college size become clearer, the decision on where to focus should be a lot easier. The next important step for parents and students is to narrow down a list of top choices and then register for a visit. From my perspective, this is the most important part of the college search process. Brochures and online materials can build up an image, but only after seeing a college in person do students get a real sense of the place and whether it's for them or not. In my experience, prospective students just know when they set foot on campus if the fit is right.
If possible, do the visit when school is in session. More importantly, go beyond the campus tour by approaching students and asking a few questions about what it's like there. If you can get a current student to talk for five minutes about their college, you will get a better sense of the place and experience.
Most students and families focus on areas of interest that range from a particular academic program to a sport. Of course, these matter. A student with a particular interest should go to a college where it is possible to pursue it.
But fit also is determined by the following:
How does the orientation process make it easy for students to hit the ground running?

How do faculty advising and mentorship happen?

Can students change majors easily?

How does the university support students in exploring careers and getting a first job?

What does campus social life look like?
There are no right or wrong answers, and universities have different approaches — which is good, because students have different needs and interests. But the answers will help determine the fit.
My youngest child is going through the process right now. Early on, we took her to a fantastic university that checks all of her boxes and admits most of its applicants. We did it to make a point — getting into a great university is not the challenge; finding the right fit is, and it deserves all of our attention.
Focus on fit can make the college search process fun. It's a great opportunity for bonding and to visit the wide range of excellent universities that make up our higher education system.
Support The 74's year-end campaign. Make a tax-exempt donation now.