Florida Teacher's Kindness Squad Spreads Joy, Prevents Bullying & Teaches Social-Emotional Learning in the Classroom, in School and Beyond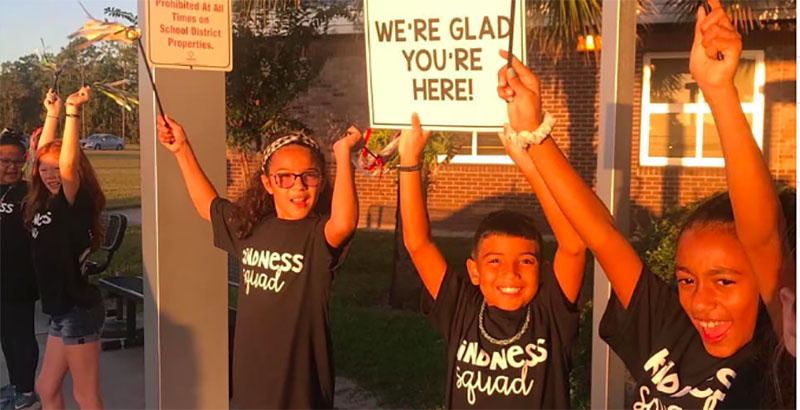 This article is one in a series at The 74 that profiles the heroes, victories, success stories and random acts of kindness found at schools all across America. Read more of our recent inspiring profiles at The74Million.org/series/inspiring.
Want to know the best thing about being kind? It's contagious. And Joanne Miller, a fourth-grade teacher in Deltona, Florida, is out to spread the kindness virus.
Every Friday, about 20 students from Miller's Kindness Squad line up to spread good cheer and welcome the students at Pride Elementary School.
But the good works don't stop at the front door. The squad spreads happiness before school, after school, during lunch and at recess, Miller says in a video made by Volusia County Schools.
"We want to start small here in our classroom, and then to the school and then to the community," she says. "One of my biggest goals is to teach kindness in the classroom, and then we will spread it."
"If you're having a bad day, this class will make you feel better," Elizabeth Johnson, principal of Pride Elementary School, says in the video. "It's a focus on academics and behavior and how do we make other people feel better."
It's also a way to prevent bullying before it starts, part of an emphasis on social-emotional learning. Students in Miller's class learn to regularly give props to one another, complimenting classmates on everything from good grades to a nice smile. They pull "positivity pranks," like anonymously dropping off a bag of candy in a nearby classroom. Later in the year, the class will go on a road trip, bringing their joy to a nursing home, and one student plans to ask for items for her birthday that she can donate to a homeless shelter.
While she's gotten recognition in her school district, Miller has global goals.
She is out to start a kindness revolution, and she knows how to wield social media to create a movement. Her Instagram account @headoverheelsforteaching has 170,000 followers, while her Facebook page has nearly 30,000 fans. Not bad for a mother of three who has been teaching for 24 years.
Recently, Miller's Kindness Squad caught the eye of an editor at Time for Kids, who put them on the magazine's cover.
"The small things we do for our class and our school make everyone happy," 9-year-old Deliana Black told Time for Kids.
"It's pretty easy to be kind," Luis Toro, 9, told the Daytona Beach News Journal. "Just a small thing that's kind could spread all around the world."
It may be easy, but that doesn't mean teachers should take for granted that kindness will always come naturally, Miller told the paper.
"Kids aren't born with kindness," she said. "You have to teach it."
Get stories like these delivered straight to your inbox. Sign up for The 74 Newsletter