Florida Officials Launch Investigation After Viral Video Shows Campus Cop Bodyslam Student, Reigniting Calls for Police-Free Schools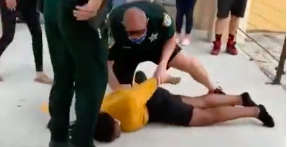 Updated, Feb. 2
State law enforcement officials have opened an investigation after a video went viral this week of a campus police officer bodyslamming a student to the ground in a Florida school hallway, reviving a fierce national debate over the role cops play in America's classrooms.
The video shows a white school resource officer, identified as a sheriff's deputy with the Osceola County Sheriff's Office, slam a Black teenage girl to the pavement in an outdoor breezeway at Liberty High School just south of Orlando. The young woman's head appears to strike the ground, knocking her unconscious as the deputy moves to handcuff her.
Osceola County Sheriff Marco López said during a press conference on Wednesday that the deputy, Ethan Fournier, has been placed on administrative leave and that an investigation by the Florida Department of Law Enforcement would provide "complete community transparency" and prevent criticism that his agency is "looking out for our own." The sheriff's office said the officer was trying to break up a fight between the victim and another student.
Florida Department of Law Enforcement spokeswoman Jessica Cary confirmed that the agency is "investigating the use of force" at the high school. While the circumstances of each case are unique, she said the department's role is to "determine the facts of what happened and a state attorney or prosecutor determines if there are law violations." It's unclear when their investigation will be completed, she said.
Warning — The following video contains violence against a teenager:
The mother of 16-year-old Taylor Bracey held a press briefing Saturday, ABC News reported, saying her daughter is suffering from memory loss, headaches, blurry vision and sleep deprivation. Jamesha Bracey said the entire family is depressed and traumatized. They have hired high-profile civil rights attorney Ben Crump and want the investigation of the incident to be handled by a community task force, not law enforcement. They are also calling for Deputy Fournier to be fired.
Judith Browne Dianis, executive director of the Advancement Project, a national racial justice group, described the incident as "a call to action." Her group is a prominent force in the police-free schools movement, which seeks to remove officers from campuses and saw significant traction last year after George Floyd's death at the hands of a Minneapolis police officer spurred national Black Lives Matter protests. School districts in Minneapolis and Denver were among those that terminated their contracts with local police departments in the wake of Floyd's death. But she said the Osceola County incident highlights a reality that "there is still much work to be done and accountability to be taken."
"The same police who assault, harass and kill Black and Brown people in the streets are now being employed by schools and assaulting our young people in their classrooms and on their campuses," she said in a statement.
In an email, school district spokeswoman Dana Schafer said they're "fully cooperating" with the state investigation, and that the officer has been removed from his post at the campus "until the outcome of their investigation" has been released.
"We have had school psychologists and social workers on campus this week to support the school's guidance department," she said, and have "reassured students that adults on campus are here to listen, and that the school and the district will continue to provide support for any students and staff members who are struggling."
The police presence in schools has grown exponentially over the last several decades. About 43 percent of public K-12 schools — and 71 percent of high schools — had armed law enforcement officers stationed on campus in the 2015-16 school year, according to federal data. However, there's little evidence to suggest that school-based police make schools safer, according to a research review by the WestEd Justice and Prevention Research Center. Students of color and those with disabilities are disproportionately referred to and arrested by police in schools, a reality that's led to allegations of discrimination. The racial disparity in school police referrals is even greater between Black and white girls than it is between Black and white boys.
The Council of Parent Attorneys and Advocates, a national nonprofit that works to protect the civil rights of children with disabilities, noted in a statement that policymakers have spent hundreds of millions of dollars in recent years to bolster the ranks of police in schools — all while some 90 percent of students attend schools that lack an adequate number of counselors, social workers and nurses.
"For at least the past 50 years, students — especially those who are Black, Native American, have a disability or are otherwise marginalized — have had their education taken from them because of exclusionary discipline and criminalization," the group said. "COPAA urges for policies and actions that help schools become safe havens," including an end to the use of police in schools.
But Timothy Enos, executive director of the Florida Association of School Resource Officers, cautioned against using the incident to criticize all campus police, adding that the investigation is necessary to understand the complete context surrounding the incident. However, he acknowledged that the video — and similar ones that have emerged online in recent years — does not put school-based policing "in a positive light."
Though his agency provides training to school-based police, Florida law doesn't require campus cops to receive instruction in how to interact with youth — a reality that he urged lawmakers to confront. In fact, a majority of states lack youth-specific training requirements for school police.
"It would be really tragic to take one incident and have that basically condemn every other school police officer," many of whom serve as positive role models for students and are "God-fearing people that have pledged their life in order to make people better and treating people with respect," he said. The video, he said, isn't a representation of the positive work that campus police do in schools. "We're not there to hurt students."
School-based police maintain support from a majority of public school educators, according to a recent national survey from the Education Week Research Center. Just 23 percent of teachers supported removing armed officers from schools, the survey found, and 54 percent said the police were needed in their districts. A majority of educators said officers treat students of color fairly, and just a quarters said they contribute to a "school-to-prison pipeline." And while there's a lack of research showing that officers are able to mitigate mass school shootings, the survey found that such incidents are a key driver of educators' support for the officers.
It remains unclear how President Joe Biden will confront the issue, but racial-justice groups have long been critical of his embrace of campus-based police. Last year, Browne Dianis accused Biden of getting "the ball rolling" on school "militarization" in the 1990s for writing the 1994 Crime Bill, the most expansive law enforcement legislation in U.S. history. That measure created the Justice Department's Office of Community Oriented Policing Services, which has spent about $1 billion on campus safety efforts — primarily on school resource officers.
After the 2012 school shooting at Sandy Hook Elementary School in Newtown, Connecticut, which left 26 people dead, Biden led a White House task force that created a heightened federal investment in school-based police.
But in the wake of several violent interactions between school-based police and students, the Obama administration released guidance that sought to protect students' civil rights and reduce negative interactions with officers. The guidance urged districts to establish training requirements for campus police and clarify that their role is not intended to include discipline for breaking school rules.
The announcement was part of a broader effort by the Obama administration to combat harsh zero-tolerance discipline policies in schools, including guidance that said racial disparities in student suspensions and arrests could be the result of bias in violation of federal civil rights laws.
School policing also found an ally in the Trump administration. In a final report by the Federal Commission on School Safety, led by then-Education Secretary Betsy DeVos and created in response to the 2018 school shooting in Parkland, Florida, officials said campus police were "best positioned to respond to acts of violence." Later that year, DeVos rescinded the Obama-era discipline guidance, accusing it of leading to "school environments where discipline decisions were based on a student's race and where statistics became more important than the safety of students and teachers."
After the Parkland shooting, which resulted in 17 fatalities, Florida officials passed a law requiring school districts to station at least one armed official, such as a police officer, on every K-12 campus. In several cases, districts opted to create their own internal police departments.
In August, the Justice Department released a report that said school officers' ability to create trusting relationships with students "has been demonstrated to prevent school shootings," citing "numerous documented instances" in which campus police intervened to "prevent or quickly mitigate active school shootings." However, a recent study published by the University of Texas at Austin found that federal grants for school police came with unintended consequences, including a dip in high school graduation and college enrollment rates.
Among those who condemned the viral Florida incident was Chris Stewart, CEO of brightbeam, a national network of education activists, who called on the U.S. Department of Education to collect data on violent interactions between school police and students and to research if officers "are members of white nationalist organizations."
"Sadly, many of the police interacting with our community hate our community," he said in a press release. "Only a person who hates Black children could relate to Black children so recklessly."
Get stories like these delivered straight to your inbox. Sign up for The 74 Newsletter