Florida Judge Reinstates Teacher Who Was Fired for Verbally Abusing Students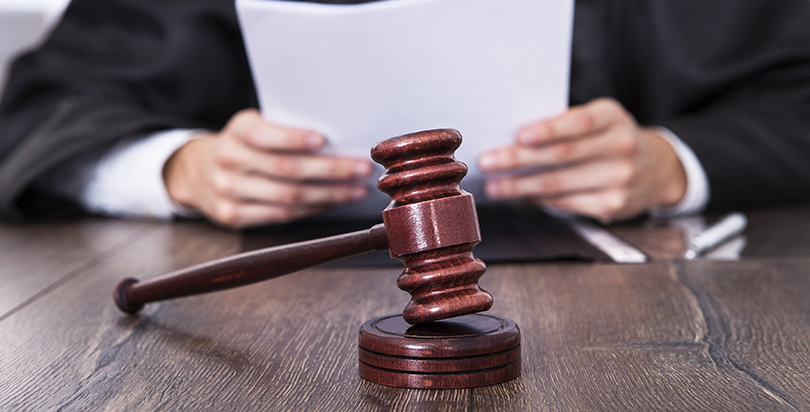 Like a cat with nine lives or perhaps like some foul-mouthed zombie who is good at algebra, Jacksonville, Florida high school math teacher Joyce Quiller just keeps coming back from certain employment termination.
You can only tip your hat to her — and her attorneys — at this point, really.
As reported by the
Florida Times-Union
, Jacksonville's biggest paper, Quiller was fired back in February 2014 over allegations that she constantly cursed out her students with the kind of language that would make a drunken sailor blush.
Last week, however, a Florida appeals court ruled that, all racial epithets aside, the Duval County school district must give the 51-year-old teacher her job back.
In other words: Regardless of the crime or offense, labor contract procedures rule supreme.
Let's review the specifics: Quiller was terminated when she was teaching math to 10th- and 11th-graders in The Bridge to Success program at Ribault High School. (The program is designed for students who are two or more years older than they should be for their grade level.)
School district officials launched an investigation into Quiller's behavior in January 2014 after parents and at least seven students complained to administrators. The Florida Times-Union later published a redacted version of the resulting report. The full report has
been uploaded here
.
The complaints against Quiller were that she used profanity like a hardened, enraged convict. For example, the investigation found that Quiller asked one student who failed to bring a pencil to class: "What is the point in coming to the mother****ing class if you do not bring materials?"
The math teacher allegedly told another student to "shut the f*** up."
Still another student charged that Quiller, who is black, "criticizes him and calls him" the n-word. "You all are some lazy n*****s for coming to class late," she allegedly said.
Students have said the profane language wasn't screamed but rather typically mumbled softly. Quiller denied using the n-word in the January 2014 report.
---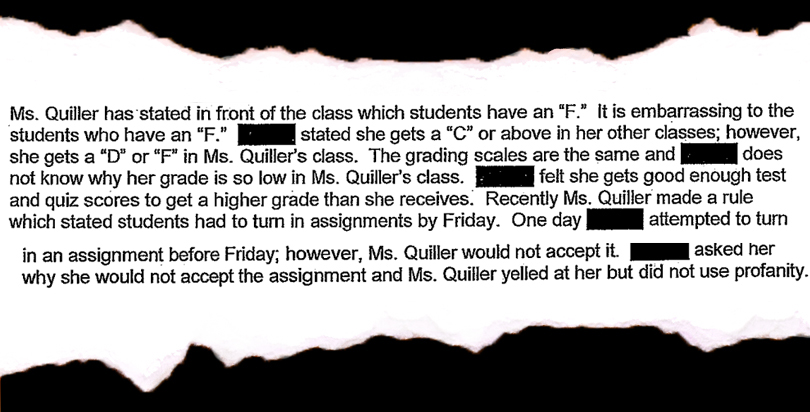 Quiller was also allegedly in the habit of sometimes refusing to accept students' completed assignments or even answer questions about math, the report found.
Investigators said Quiller proclaimed which students were getting 'F' grades in front of the entire class. She gave grades of 'F' to just over 77 percent of her students. The rest of the students didn't fare much better. Overall, 90.7 percent of Quiller's recent students received a grade of either 'D' or 'F.'
Not every student in Quiller's classes felt offended. Some students described her as a strict teacher who doesn't tolerate students who aren't putting forth enough effort.
Also, Quiller submitted a written statement in her own defense saying that she was "appalled and disturbed" at the allegations that students and parents leveled against her. She said she believes students have a vendetta against her.
In 2001 and again in 2013, she received verbal reprimands for allegedly using the phrase "your mammy" and, in a separate incident, telling a student to "get out of my f***ing class." In a third instance, she was charged with telling a student: "Pull your damn pants up."
Quiller was still undergoing counseling because of prior allegations when the current investigation began.
Like the administrative judge's 21-page ruling before it, the July 15 appeals court ruling held that the school district should have first suspended the teacher without pay based on an extensive set of stipulations in her union contract.
Specifically, the appeals court held, the collective bargaining agreement in Duval County dictates that the school board must hew to a complicated bureaucratic dance when reprimanding or firing teachers. Except in the most severe cases, the agreement's "Progressive Discipline Policy" requires the following punishments, in this exact order:
a. Verbal Reprimand
b. Written Reprimand
c. Suspension without Pay
d. Termination
The school board did not suspend Quiller without pay, both courts found. Thus they could not yet fire her. Regardless of how much she was traumatizing her students.
Get stories like these delivered straight to your inbox. Sign up for The 74 Newsletter