First Amendment Is Strong at Nation's High Schools: 91% of Students, 95% of Teachers Back Free Speech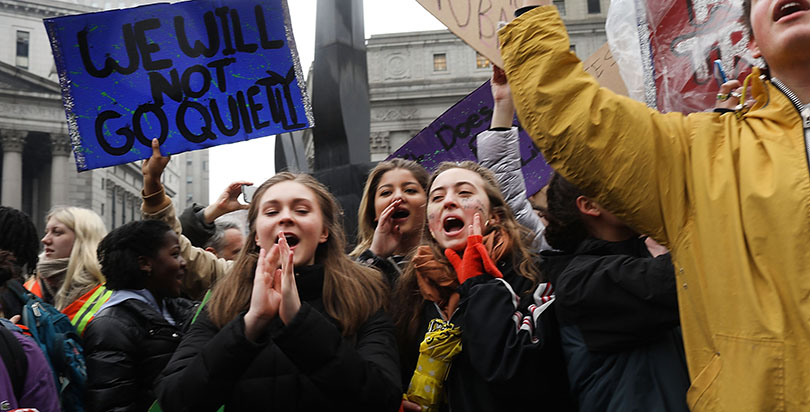 These days, it seems like the First Amendment is under assault from all sides. President Trump has waged war with news outlets, called to strip citizenship from anyone who sets the American flag on fire, and vowed to broaden libel laws to thwart adversaries.
On college campuses, there has been a sharp rise in the use of trigger warnings, safe spaces and "disinvitation" protests — which are, in turn, portrayed as attempts to suppress opposing viewpoints. Just last week, violence broke out at the University of California, Berkeley, in response to a scheduled speech by right-wing commentator Milo Yiannopoulos.
But a different narrative is playing out in American high schools, where student support for First Amendment protections is the strongest it's been in a decade, according to a survey released this week by the John S. and James L. Knight Foundation, a nonprofit that promotes First Amendment protections and press freedom.
(More from The 74: School Bullying, Civic Engagement and the First Amendment in Donald Trump's America)
Of 11,998 students from 31 public and private high schools nationwide who participated in the survey, 91 percent agreed that "people should be allowed to express unpopular opinions," an increase from 83 percent in 2004.
High school teachers are even more likely to support the First Amendment than their students. Of 726 high school teachers surveyed, 95 percent supported the right to express unpopular opinions, a slight decrease from 97 percent in 2004.
But as with any survey of this nature, language matters. Changing the word "unpopular" to "offensive" decreased support for free speech from 91 percent to 45 percent among students and from 95 percent to 53 percent among teachers.
---
---
"It's important to understand the attitudes and perceptions of future generations, because they're the ones who will ultimately be shaping norms, and norms often have sway on policy and the way the First Amendment is protected," said Jon Sotsky, the Knight Foundation's director for strategy and assessment. "It's very important to understand how these attitudes are shifting."
---
---
Despite the rise in student acceptance for free speech protections, Richard Garnett, a law professor at the University of Notre Dame who focuses on First Amendment issues, found the survey's results to be more "glass half empty." He said he was troubled by a disconnect between young adults and an American tradition in which the remedy for offensive speech is more speech rather than censorship.
"The irony, I'd imagine all these high school kids in the survey, if you asked them, 'Are you for or against diversity,' they'd be like, 'Oh, we love diversity,' " Garnett said. "Well, if you're for diversity, you can't be for censoring stuff that offends you. That's a 'two plus two equals five' kind of thing."
Beyond perceptions of free speech protections, the Knight Foundation report offered a glimpse into student media consumption. While it's no surprise that young adults receive most of their news on mobile devices through social media platforms like Twitter, the report found that students who actively engage with news on social media have stronger support for First Amendment freedoms. And while Americans' trust in news is at all-time lows, students were far more likely than their teachers to consider information posted by everyday individuals more trustworthy than content from professional journalists.
---
---
High school students are also far less likely than adults to be concerned about privacy. While Sotsky noted that most kids don't have financial privacy concerns, such as credit card numbers, he observed that students, who have grown up in the digital age, are more likely to share personal information.
---
---
The surveys were conducted from March to June 2016. They have a margin of error of plus or minus 1 percentage point for students and plus or minus 4 points for teachers.
Get stories like these delivered straight to your inbox. Sign up for The 74 Newsletter