Filling the Gap: Internship Pays Texas Teens to Learn Sex Ed
Just over 58% of schools in the state offer abstinence-only sex education classes and about 25% do not offer it at all, according to a study.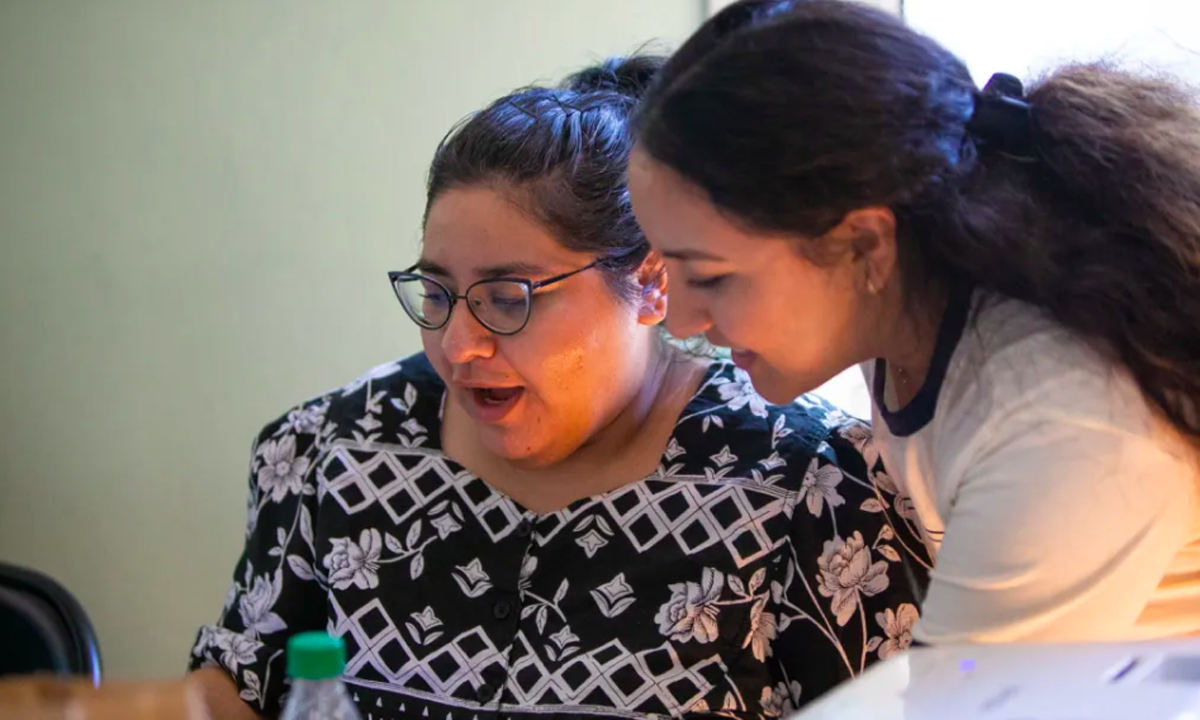 No paywall. No pop-up ads.
Angelique Estrada, who uses they/them pronouns, remembered the single health class she took in middle school that only briefly mentioned sex education.
"It wasn't really about sex ed, it was just about getting your period," the 18-year-old recalled. "That's really all I had in school."
Paola Duran, 19, shared a similar experience during her freshman year in high school.
"I took a health class, and that was basically all the sex ed that I really knew," Duran said. "Growing up in a Hispanic household you don't really hear much about sex, except don't do it."
Tales of limited sex education are nothing new for Texas as one of 18 states that do not require it to graduate high school. Instead, students in Texas take a health class in middle school, which includes lessons on puberty, abuse prevention and sexually transmitted diseases.
Though some school districts, including the Socorro Independent School District, work with local health organizations to expand their sex ed curriculum, the majority of Texas students learn from a single state-approved health textbook.
That changed for Estrada and Duran when the teens became interns with the Fronterizx Community Project, or FCP, where they learned about sex education and participated in projects to share their knowledge with their peers.
Interns are paid $15 an hour to attend workshops, create online content and give presentations on sex education throughout the borderland. The organization also pays students a $50 "self care" and travel stipends.
"There is just so clearly a gap in the school system and students crave the information and want to talk about it," said FCP program coordinator Corinthia Fraire. "Our goal is to fill in that gap in a way that is welcoming to young people and to create a space for them to be able to have different discussions."
Data shows that gap exists throughout Texas.
It is estimated that just under 17% of schools in the state offer abstinence-plus sex education — also known as comprehensive sex education — which focuses on teaching medically accurate information about contraception, according to a 2017 study conducted by the Texas Freedom Network Education Fund. Just over 58% of schools in the state offer abstinence-only sex education classes and about 25% do not offer it at all, according to the study.
Schools that do offer sex education must stress abstinence as the preferred birth control method for unmarried young people. Schools are also required to provide parents with access to their health and sex ed curriculum and can also opt their child out of any part of the lesson.
FCP coordinator and former intern, Angelica Bustos said that many schools that do offer sex education still fail to address the needs of LGBTQ students and those who are already sexually active.
"They don't have anybody to ask questions to because their teachers don't always have the opportunity to answer those questions freely without getting in trouble," Bustos said. "Then they go home and they can't ask those questions because they don't quite feel comfortable asking their parents."
As part of FCP, interns learn about topics you would expect to find in any comprehensive sex ed class, like contraception and teen pregnancy, but also get to have discussions that may be considered taboo at home or in school, like gender identity, masturbation and pleasure. Other times they talk about social issues like birth control accessibility and teen mental health.
Duran, who took part in the program in 2021, said she learned about the stigma minority women and non-binary people face when talking about sex.
"I just learned that it's important to have conversations and it's important to destigmatize a lot of these topics," she said.
Estrada, who was an intern in 2022, said students also learned about condoms, consent and the importance of communication.
FCP is funded by the West Fund, a non-profit that offers financial assistance to patients seeking abortion care in El Paso, Juarez and Southern New Mexico. The fund paused its services in June 2022 after the Supreme Court ruling overturning Roe V. Wade.
Since FCP was founded in 2018, dozens of high school students have taken part in the various iterations of the program.
Initially, the organization aimed to address unwanted teen pregnancies by trying to change local school policies and improving access to sex education.
"If we were to update any policies, we would need to directly hear from the people who are being impacted, which is young people," Fraire said.
The first cohort of interns was hired to give presentations on teen birth rates and the impacts of teen pregnancy at local School Health Advisory Council — or SHAC — meetings. These councils are made of members from the community and are meant to give school districts guidance on their health education and sex ed curriculum.
In 2020, when the COVID-19 pandemic hit and FCP interns were no longer able to attend SHAC meetings, they began giving virtual presentations to school boards, holding townhalls and gathering signatures for a petition to try to improve access to sex education in El Paso schools.
Though their efforts failed, Fraire said the group was able to learn from the experience and began changing their goals.
"Some of the feedback we got from the youth was that they would receive their sex education as pamphlets or like notebooks without any type of lecture and was more self guided and optional," Fraire said. "Knowing the long journey it would take to change school policies, we decided to take matters into our own hands and focus on curating a curriculum and teaching different topics ourselves."
To take part in the internship students must get their parent's permission and sign an agreement ensuring they understand what type of conversations their kids will be having. Fraire said parents are also invited to attend and listen in on discussions and activities.
For now, Fraire said FCP is limited to hiring six to eight interns a year but hopes to grow the organization to be able to offer in-depth sex education internships to more El Paso teens.
This article first appeared on El Paso Matters and is republished here under a Creative Commons license.
Get stories like these delivered straight to your inbox. Sign up for The 74 Newsletter