Bernie Sanders has been entirely consistent in saying that he supports "public" charter schools but opposes "private" ones. He's said so
repeatedly
during the campaign, most recently during Sunday's Democratic Town Hall in Columbus.
The problem is that nobody knows
what he means
, since there is no agreed-upon distinction between public and private charter schools.
As a reminder to readers — and perhaps Bernie Sanders himself — charter schools are publicly funded, independently run schools that are legally required to be tuition free and open to all students. They are usually non-unionized and free from certain regulations. Depending on the state, charters are subject to varying degrees of public oversight.
The Sanders campaign did not immediately respond to a request for comment.
There have been many attempts to make sense of Sanders' comments on charters schools; here are four working theories:
1
Sanders is distinguishing between for-profit and non-profit charter operators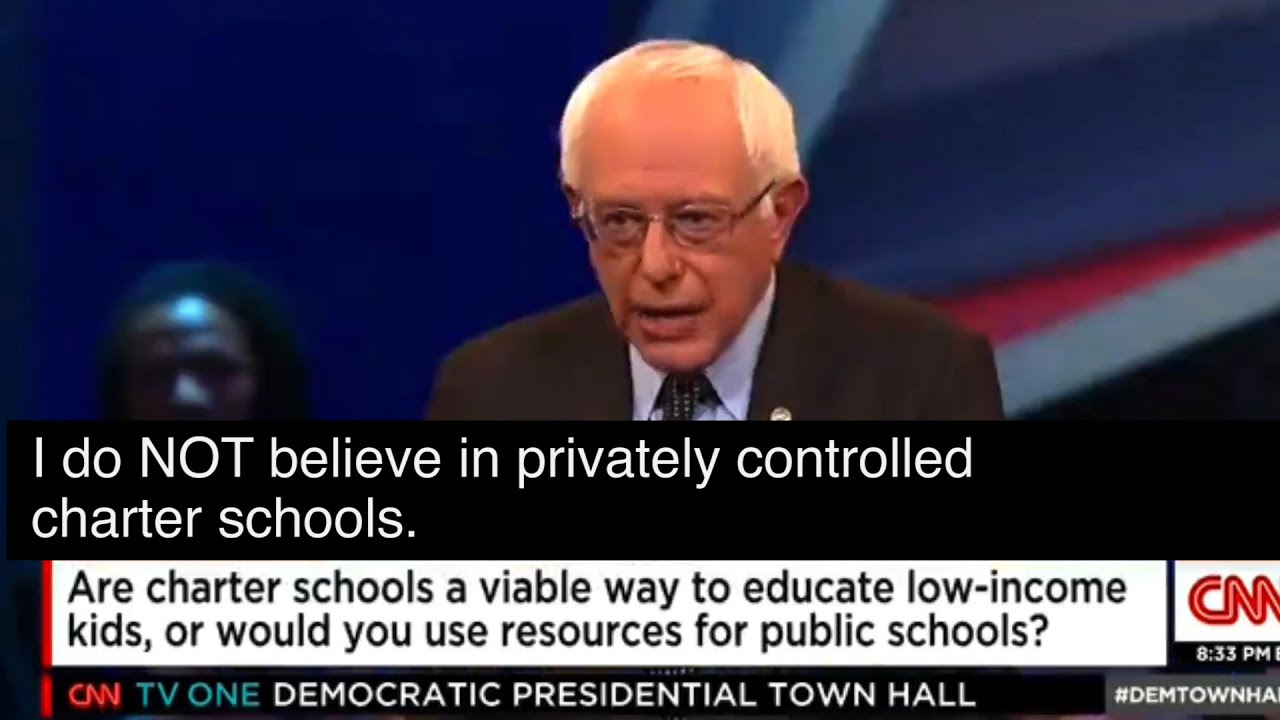 Nina Rees, president of National Alliance for Public Charter Schools, said she thinks this is the most likely explanation. "There is a bit of confusion and this is not the first time an elected official has been confused about charters," she said in an interview.
Rees points out that formally speaking, no charter school is set up as a for-profit; however her group
reports
that 15 percent of charters have deals with for-profit companies to operate the school in its entirety
1
.
Rees says that her organization hasn't had a direct discussion with the Sanders campaign, but that she's hoping to.
There's no specific evidence that this is what Sanders was referring to, but it's a common distinction, with even many charter supporters questioning the role of for-profit companies operating charter schools.
However, his
comments
in an American Federation of Teachers questionnaire suggest this interpretation might not be right: "I believe charter schools should be held to the same standards of transparency as public schools, and that these standards should also apply to the non-profit and for-profit entities that organize charter schools." If Sanders were opposed to for-profit charter operators across the board, this comment doesn't really make sense because he wouldn't be worried about what standards they followed. It also shows the campaign at least acknowledges the difference between for- and non-profit charter operators.
2
Sanders is making a distinction based on how charters are authorized and overseen
Charter schools are authorized by an external body, called an authorizer or sponsor, which is supposed to hold the schools accountable for their performance. Sometimes that authorizer is a local school district or the state Board of Education; sometimes it's a state or private university, a nonprofit entity, or a district from another part of the state. (Laws on who can authorize charter schools vary from state to state.)
Some states allow or require charter schools to have a much closer relationship with the local school district. For instance, in Massachusetts "Horace Mann" charters must be approved by the local school board and staffed by unionized teachers who are generally covered by that district's collective bargaining agreement. ("Commonwealth" charters are much more common in Massachusetts and are not subject to those requirements.)
Sanders said Sunday that he opposes "privately controlled" charters, which may suggest that the authorizing body or relationship with the local school board is an important distinction. But even if that's what he was referring to, it's not clear what he means. Perhaps Sanders only backs charters overseen by the local district; maybe he supports charters overseen by any public entity. We just don't know.
3
Sanders simply doesn't know what charter schools are
Nothing about Sanders' statements on the campaign trail has suggested a deep knowledge of charter schools. When asked about them, he often quickly pivots to other issues. Sunday night was no exception:
within moments
of being asked about charters, Sanders was talking broadly about education and childcare. The fact that Sanders is making a distinction — public versus private charters — that no one in education clearly understands, also suggests that instead of making a nuanced point, he may just be unclear about what charter schools are. Relatedly, when Sanders wanted to laud school innovation happening in Burlington, Vermont, his hometown, during Sunday's Town Hall he struggled to come up with the term magnet schools — public schools with specialized curriculum — until prompted by moderator Roland Martin.
4
Sanders is remaining intentionally ambiguous about his position on charters to appease both sides of the education debate
A more cynical explanation of Sanders' position on charters is that he is trying to avoid taking a clear side in the education debate, which has at times fractured the Democratic Party — with some members, such as President Obama, supporting charter schools, while labor unions and some others generally opposing them. Sanders' campaign site's issues page
says nothing
about charter schools or K–12 education generally. The ambiguity allows both charter supporters and opponents to fill in the blanks on his position. And, in fact, since charter backers see the schools as public and skeptics see them as "privatized," Sanders' language gives ammunition to each side.
---
Footnote:
1. About 20 percent of all charter students attend schools operated by for-profits, according to Rees. This is because for-profit operated schools are on average slightly larger in size (students per schools) than other charter schools. (return to story)