Feds: Book Removal in Ga. School District May Have Caused 'Hostile Environment'
In its first look into book challenges, the U.S. Department of Ed criticized Forsyth County's withdrawal of titles with LGBTQ and Black characters.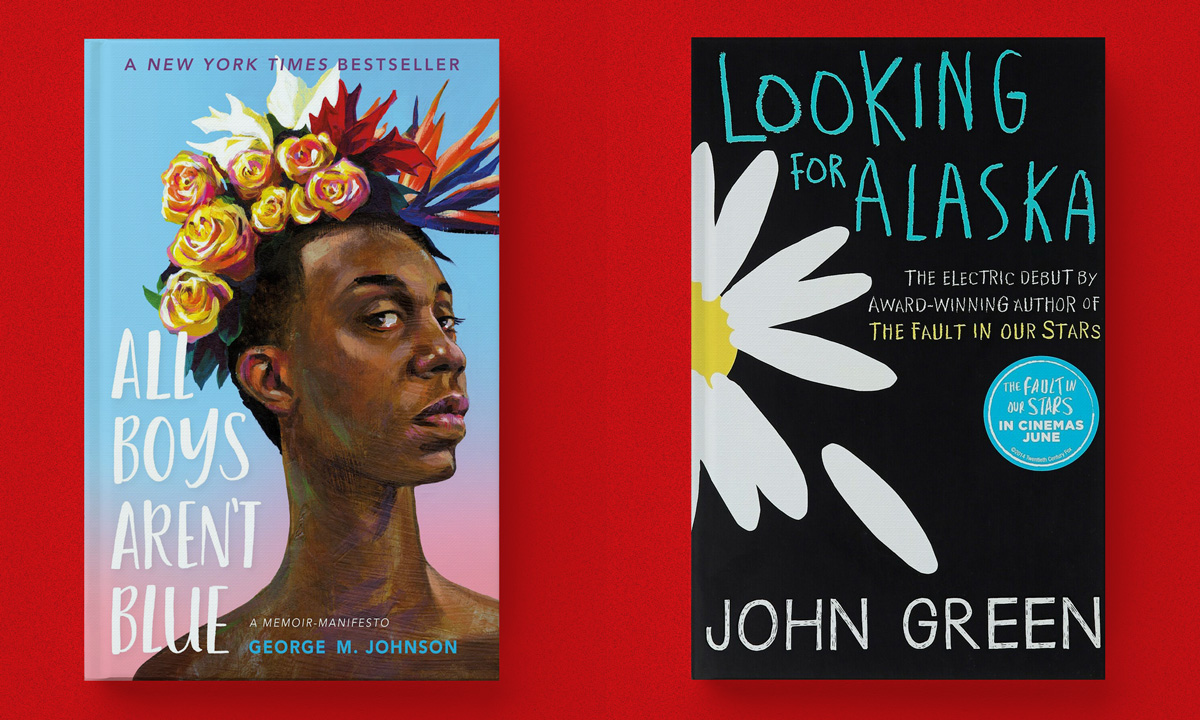 Get stories like these delivered straight to your inbox. Sign up for The 74 Newsletter
Weighing in for the first time on the removal of books from school libraries, civil rights investigators from the U.S. Department of Education found that a Georgia district may have created a "hostile environment" when it withdrew several books with LGBTQ and Black characters.
Some parents' public comments against diversity and inclusion initiatives likely led to "increased fears and possibly harassment" of students, and the district's efforts to reduce any harm were insufficient, according to findings from the department's Office for Civil Rights.
The resolution required the Atlanta-area Forsyth County Schools to notify students of its library book review process, but concluded it did not violate federal discrimination and harassment laws when Superintendent Jeff Bearden directed staff to remove eight books last year for material it deemed sexually explicit.
Some anti-censorship advocates welcomed the department's involvement.
"This is the most volatile time in history of book censorship," said Pat Scales, a retired school librarian and former chair of the American Library Association's Intellectual Freedom Committee. "I hope that the [Office for Civil Rights] will look into more cases."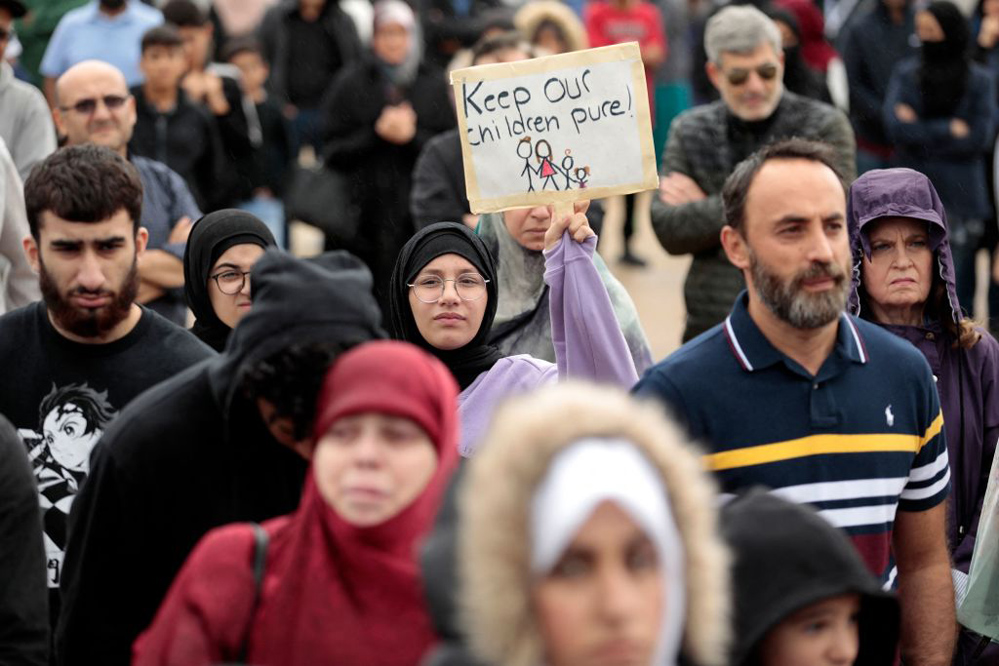 That's what Democrats in the House requested earlier this year when they asked the department to investigate whether restrictions on books and curriculum violate the law. The Georgia action — which a department spokesperson confirmed was the first time its civil rights division issued findings on book removals — could inform how other districts handle future challenges. But the spokesperson added that "neither the investigation nor the resolution agreement directs, supervises or controls curriculum."
Democrats recently criticized the GOP-led Parents Bill of Rights, which they say will lead to more book bans. Republicans intend the measure to increase transparency into curriculum and reading materials.
The department's resolution comes as Republicans continue to push restrictions on students' access to library materials. The Louisiana Senate last week passed a bill that would allow parents to block their children from checking out books they considered inappropriate. And under a law that takes effect Aug. 1, librarians and educators in Arkansas could face criminal charges if they distribute texts labeled "obscene."
Last week in Florida, nonprofit PEN America, publisher Random House, five authors whose books have been removed and two parents sued the Escambia County School District and board for withdrawing controversial books even when experts in the district advised against it.
The district is "depriving students of access to a wide range of viewpoints, and depriving the authors … of the opportunity to engage with readers and disseminate their ideas to their intended audiences," according to the complaint.
Beyond its investigation into the 54,000-student Forsyth district, the department began looking into the Granbury Independent School District in Texas last December. The American Civil Liberties Union filed a complaint calling the district's removal of books with LGBTQ themes sex discrimination under Title IX. That investigation is ongoing.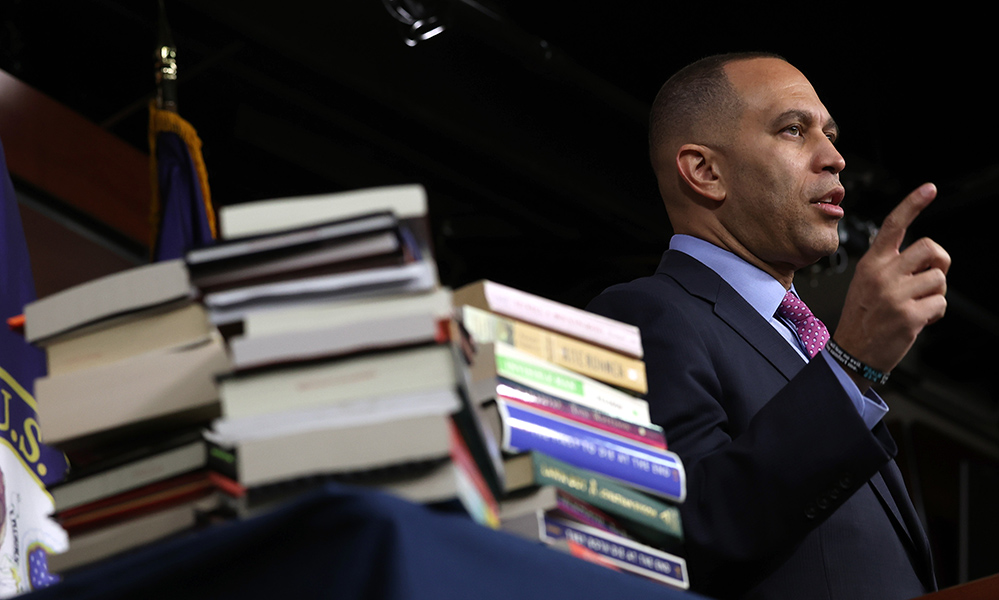 In Forsyth, parents complained about books that included John Green's "Looking for Alaska," a story of a boy at an Alabama boarding school that has a sex scene, and "All Boys Aren't Blue," a memoir about growing up gay and Black by journalist George Johnson, one of the plaintiffs in the Florida lawsuit. The books, which were not required reading for any class, are young adult titles considered suitable for teens 14 and up.
The district removed eight books. In early August last year, the district's media committee decided to return seven of them after reviewers considered a series of questions such as whether the books had a "high degree of potential user appeal and interest" and "promoted diversity." Johnson's book was the only one not returned to the shelves.
But leaders did not take "steps to address with students the impact of the book removals," according to the department's investigation. As part of the resolution, the district must survey middle and high school students next fall to ask about harassment based on race or sex and whether they feel comfortable reporting it.
Forsyth spokeswoman Jennifer Caracciolo said the district would implement the resolution and was "committed to providing a safe, connected, and thriving community" for students and families.
One Forsyth County student said a book ban focusing on LGBTQ and non-white characters "contradicts the idea of democracy."
"Despite the claims that these bans are not based [on] discrimination, they have a ripple effect," said Isabella Rappaccioli, who will be a sophomore at Forsyth's Alliance Academy for Innovation this fall. She's also a member of the Georgia Youth Justice Coalition, which campaigned against Georgia's law restricting classroom discussions of divisive concepts. s.
"Challenges like these … vicariously send a message to our young people that they are different from their peers," she said. "No child deserves to feel that way."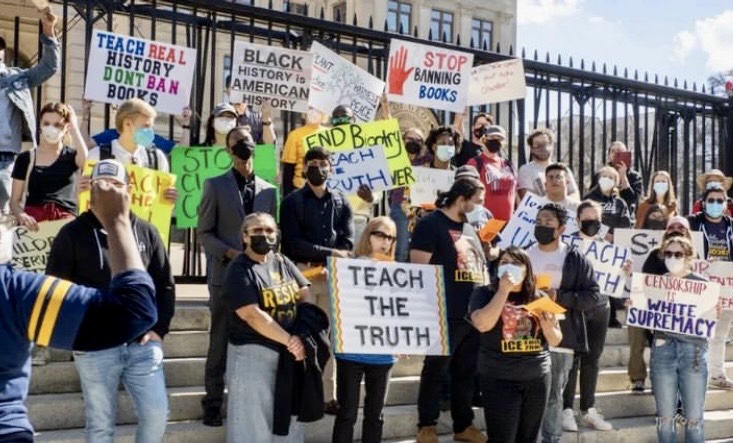 But Neal McCluskey, director of the Center for Educational Freedom at the libertarian Cato Institute, called the resolution "federal overreach."
"The agency's analysis seems to have come down to this: Some students reported feeling that the school climate was hostile to their group, therefore it was," he said. "But issues like this are much more complicated, including whether others felt keeping the books in libraries was hostile to them."
The department's investigation is not the first time the district became embroiled in controversy over a decision to remove books some parents find inappropriate. Under a federal court settlement in January with parents who complained about several books, the district must allow the reading of explicit excerpts at school board meetings.
Mama Bears, a conservative parents group that advocates for book restrictions, sued the district last year when the board refused to allow parents to recite passages with profanity or sexually explicit language during public comments. U.S. District Court Judge Richard Story sided with the parents. In a settlement, the district paid $107,500 in legal fees and agreed not to prohibit parents from quoting from any book in the district's school libraries or classrooms.
"It's their First Amendment right to be able to give their opinions like anybody else," said David Keating, president of the Institute for Free Speech, which defended the parents.
The nonprofit didn't take a position on whether the books removed were unsuitable for students, and he said he would defend liberal parents if they were silenced for arguing in favor of such books. But he added that if districts are removing books because of political pressure, "that raises First Amendment red flags all over the place."
Legal precedent on the issue dates back to 1982. The U.S Supreme Court ruled in a 5-4 decision that the Island Trees Union Free School District in New York violated the Constitution when it removed books that some parents deemed to be "anti-American, anti-Christian, anti-Semitic and just plain filthy."
'True education'
In Granbury, Superintendent Jeremy Glenn's comments — such as there being "no place" for books with transgender characters in school libraries and that "there are two genders" — sparked the district's review of books. Ultimately two of the three titles removed contained LGBTQ topics, including "This Book is Gay," a nonfiction bestseller for youth coming out as gay, lesbian or transgender.
The American Civil Liberties Union of Texas filed a complaint arguing that removing books with LGBTQ themes amounts to sex discrimination under Title IX.
Scales, the retired librarian, said schools discriminate against students when they remove such books.
"Books help readers develop empathy," she said. "Let's give them the books and hope that this younger generation will see things differently than the folks who are trying to shut down true education."
Get stories like these delivered straight to your inbox. Sign up for The 74 Newsletter