Court Reminds GOP: 'Obamacore' Owes More to Reagan and Bush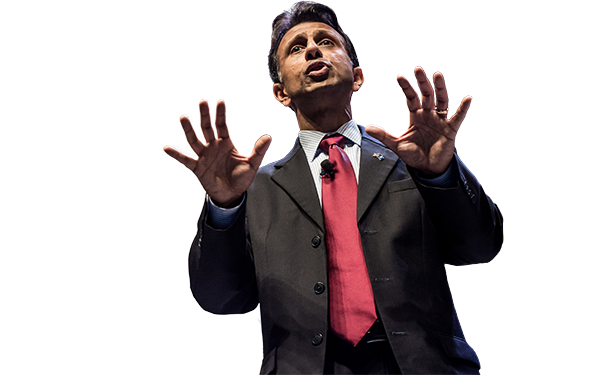 In June, conservative radio talk show host Hugh Hewitt made
a bold prediction:
Implementation of the controversial Common Core learning standards might soon be upended by a federal judge.
Hewitt, in the words of bumbling secret agent Maxwell Smart, turns out to have "missed it by that much."
Last week, a federal judge in Louisiana rejected not only Gov. Bobby Jindal's anti-Common Core lawsuit against the federal government but the entire fake storefront holding up Tea Party doctrine on the Common Core.
That particular script depicts the Obama administration as coercing states to adopt the Common Core standards, enabling the Obama administration to create a national curriculum or "Obamacore" to take over what is taught in schools.
Hewitt, who was one of the journalists who questioned Republican candidates at last week's presidential debate, didn't mention the new federal court ruling during the debate. But over the last year, Hewitt has made something of a specialty of interviewing GOP candidates on the Common Core.
Among other broadcasts, he devoted his 2015 New Year's radio show to, in his words, reviewing "the issue that will drive much of the campaign agenda in 2015, and which will
define many of the candidates
as contenders or pretenders: Common Core, or 'Obamacore' as it is increasingly known."
Hewitt stepped up his anti-Common Core advocacy in June, co-authoring a column for the Orange County Register in which he applauded Jindal's lawsuit against Secretary Arne Duncan and the U.S. Department of Education because Duncan forced "States down a path toward a national curriculum."
Hewitt, who teaches constitutional law,
predicted that
the looming federal court decision in Jindal's case "could be as significant as the federal court decision in Texas that halted the president's unconstitutional suspension of the nation's immigration laws."
Not quite.
In a decision largely overlooked by the national press corps, U.S. District Judge Shelly Dick rejected Jindal's request for a preliminary injunction to bar the federal government from encouraging Louisiana to adopt or implement the Common Core State Standards.
In so doing, she rejected every claim advanced by Jindal that the Obama administration had both violated the Tenth Amendment, infringing on Louisiana's authority over education when it provided incentives for states to voluntarily adopt the Common Core, and federal statutes that prohibit the federal government from prescribing curriculum.
Her
33-page opinion
is well worth reading. No less than 10 times in her opinion, Dick writes that Jindal produced "no evidence" to support his claims that the Obama administration's Race to the Top program violated laws that bar the federal government from mandating or requiring specific elements of academic standards, directed states to use specific tests or assessments, or required federal approval of state learning standards.
She found, for example, that there was "no evidence to support Jindal's claim that the RTT (Race to the Top) program unlawfully coerced the State into adopting the CCSS (Common Core State Standards) or joining PARCC [a federally-funded state consortia that developed new, voluntary assessments aligned to the CCSS]." And she concluded that "Jindal failed to introduce any reliable evidence that the CCSS go beyond establishing standards and assessments and encroach upon the area of curriculum."
After reading the ruling, education reporter Blake Neff at The Daily Caller, a conservative news website, reported that Dick had found that "Jindal's lawsuit lacks any real basis in reality."
If the federal court's ruling did everything but call Jindal's lawsuit frivolous, the newspapers in Louisiana, who had followed Jindal's flip-flop from Common Core friend to foe, were not so kind.
"We shall be less polite than the judge: This was legalistic gibberish from Jindal from the get-go," The Baton Rouge Advocate editorialized.
The New Orleans Times Picayune said that Jindal's contention the Obama administration had entrapped Louisiana in a federal scheme to nationalize curriculum was "kooky," urging Jindal to forego appealing Dick's ruling to avoid wasting "more taxpayer money for this fruitless effort."
As I report in a new
Brookings paper
on the little-known conservative roots of the Common Core, Jindal, and a flock of GOP presidential candidates have promoted — and continue to promote — the phony storyline that the Common Core standards constitute a national curriculum and federal takeover of what is taught in school.
Yet as last week's court ruling shows, the fictions perpetrated by GOP presidential candidates about the Common Core by Jindal, Donald Trump, Marco Rubio, and Mike Huckabee are not the rhetorical equivalent of rounding errors or modest fibs and exaggerations used to drive home a point.
Instead, as Sol Stern, a conservative at the Manhattan Institute has written, Republican opponents of the Common Core have resorted to what Stern calls the "big lie technique." They are peddling fabrications so inflammatory and audacious that they can only appear to obtain legitimacy if they are repeated over and over, amid widespread public confusion and uncertainty over the actual facts of what the Common Core standards are, do, and don't do.
Facts, it is said, are stubborn things. Yet as the Common Core debate has illustrated, myths and disinformation may be even more stubborn than facts once they take hold. With the exception of Jeb Bush and John Kasich, and possibly Carly Fiorina, GOP presidential candidates today appear to have no idea that the Common Core has deep conservative roots that reach back to the Reagan administration.
As I document at length in my Brookings paper, the conventional wisdom among conservatives today about the liberal Obama administration's "federal overreach" on the Common Core is exactly backwards.
Compared to his Republican predecessors in the Ronald Reagan and George H.W. Bush administrations, Education Secretary Duncan has substantially shrunk the federal role in advocating for anything resembling a model national curriculum, national standards, and national assessments.
The Obama administration has not created, prescribed, or mandated any curriculum for teaching the Common Core State Standards—not a single reading assignment, essay, math problem, lesson plan, or homework task.
By contrast, William Bennett, Reagan's secretary of education, wrote two comprehensive model curriculum guides for what should be taught to elementary and secondary school students. Bennett's model curriculum guides, which totaled more than 100 pages, were published, paid for, and distributed by the U.S. Department of Education.
Unlike the Common Core standards, which establish goals for what students should know and be able to do in mathematics and English Language Arts, Bennett's 47-page model curriculum guide for secondary school students detailed his personal idea of a sound model curriculum in English, math, science, history, foreign languages, geography, civics, the fine arts, and physical education.
No conservatives then (or now) deplored Bennett's advocacy for a model curriculum as putting the nation on a path to "Reagancore." This even though Bennett advocated for a "broad, deep, and effective core curriculum" for all students, and recommended that they master "a common core of worthwhile knowledge, important skills, and sound ideas."
President Reagan himself urged the nation's governors and "educators and citizens to take a look" at Bill Bennett's model curriculum. And earlier this month,
Bennett laid claim
to actually inventing the "common core" phrase while in the Reagan administration.
If Bennett first touted the importance of a common core curriculum that didn't disappear at the state line, it was George H.W. Bush's secretary of education, Lamar Alexander, who was the original political godfather of the voluntary national standards movement that produced the Common Core.
Thanks to lessons learned from Alexander, who now chairs the Senate Education Committee, the development and drafting of the Common Core standards took place without any federal involvement or federal funding.
When Alexander served as secretary of education, he oversaw the drafting of Bush's America 2000 plan, which called for the federal government to fund the development of national standards in seven subjects (English, science, history, geography, the arts, civics, and foreign languages) and to create 15 new voluntary national tests for fourth-, eighth-, and 12th-graders, with students in each grade tested in five core subjects.
In 1991, at the unveiling of the America 2000 plan, Secretary Alexander declared he was launching a "nine-year crusade" to improve education and said America 2000 "included a series of truly radical initiatives." He candidly called the federally funded development of national standards in seven subjects "the most comprehensive rethinking ever of what we teach."
Just imagine the conservative fury today if Duncan declared that he was launching a "crusade" to get states to adopt the Common Core State Standards and was funding "the most comprehensive rethinking ever" of what is taught in the classroom. Or if Duncan announced that he would have the Department of Education publish his "considered judgment" of what schools should teach, as Bill Bennett did.
Once conservatives stop the phantom sightings and false narrative of the "Obamacore" curriculum, GOP presidential candidates and Tea Party leaders can raise plenty of legitimate questions and conservative concerns about how the Common Core standards are being implemented and actually affecting students, teachers, and student learning.
As Jennifer Rubin, the conservative who writes the "Right Turn" blog for The Washington Post has put it, "The sooner the discussion moves from 'Is this a left-wing plot?' to "Does it work?' the better for the students, schools and states."
Still, if Jindal is any guide, don't expect Ground Control or GOP campaign managers to intervene anytime soon with Republican candidates who warn of the Obamacore curriculum Death Star taking over the nation's public schools. No sooner last week had the federal court flatly rejected Jindal's lawsuit over the Common Core than the governor's attorney announced he would appeal.
Thanks to the far right's disinformation campaign on the Common Core, it is now politically safer for GOP candidates to pander to unfounded fears about the Common Core than to dare — in Hugh Hewitt's words — to be a "pretender" conservative with the courage to affirm conservatives' longstanding commitment to setting higher, shared expectations for all students.
In 2015, that political equation is an unnecessary self-inflicted wound for the Republican Party. But the continuing efforts of GOP candidates to turn back the clock to the days when states such as Louisiana set
pathetically low-performance standards
for student learning would be tragic for parents, teachers, and students alike.
Thankfully, those efforts are failing.
Photo by Getty Images
Get stories like these delivered straight to your inbox. Sign up for The 74 Newsletter