Fake News Isn't Just an Internet Problem, It's a Classroom Crisis. A New Push for Media Literacy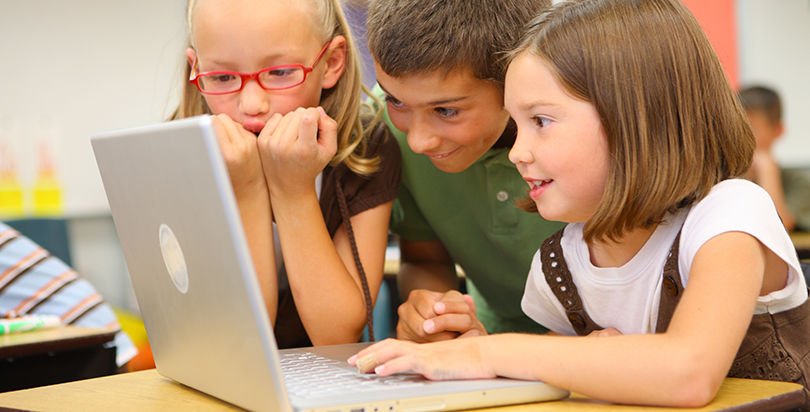 Alarm over the ease with which Americans are duped by fake news continues to grow. With propaganda-filled stories and hoax articles crowding social media feeds — where more than 60 percent of people in the United States now get their news — during the recent election cycle, lack of media literacy among adults has turned into a topic of grave concern.
But what about media literacy among kids? Researchers say children's ability to distinguish real news from fake as they surf today's internet may be even worse.
A Stanford Graduate School of Education study launched in January 2015 — well ahead of the recent interest in the subject — and released last week found that 80 percent of middle school students surveyed believed that an article with the words "sponsored content" was a real news story.
"In every case and at every level, we were taken aback by students' lack of preparation," the study's authors wrote. The researchers found that students couldn't distinguish verified content on social media and didn't factor in an author's obvious bias — for example, a bank executive writing a story about financial planning that was sponsored by a bank — when rating an article's trustworthiness.
"This finding indicates that students may focus more on the content of social media posts than on their sources," the authors wrote. "Despite their fluency with social media, many students are unaware of basic conventions for indicating verified digital information."
William Ferriter, a sixth-grade science teacher in North Carolina, takes the issue seriously. "The struggle for today's age is, just because we can access information doesn't mean the information is reliable," he told The 74. "We are not doing a good job teaching students this kind of stuff at all."
In a recent post on his blog, Ferriter pointed out the growing business of promoting fake news to push agendas and capture dollars — an issue that has scarred Facebook. Facebook founder Mark Zuckerberg admitted several weeks ago in a blog post on identifying fake news that "there is more work to be done," though he initially called it "a pretty crazy idea."
Ferriter offered up three questions for students to ask whenever they see any content: How believable is this story to me? What do I know about this news source? Can I spot any loaded words in the piece I am reading?
Tessa Jolls, president and CEO of the Center for Media Literacy, takes it a step further and has five key questions she wishes teachers would ask students to review when they see digital information.
"Learners are at the center of a network world, and media-literacy education is how you access, analyze, evaluate, create and participate with media in your life," she told The 74. "We all know that media is a lifelong relationship. Children need to learn and be supported in how to navigate their media relationship."
Her five questions start with analyzing content, authors, style and purpose, leading to the creation of a quality filtering system that builds discernment. "We need to learn how to process information and do it consistently and reliably," Jolls said.
Few state-mandated curriculum guides, however, include media literacy. "Classroom teachers are not addressing it, and it becomes one of those fringe topics," Merve Lapus, an education director for Common Sense Media, told The 74. "A lot of kids aren't getting it."
But media literacy can easily be incorporated into traditional content areas, experts say.
"More and more schools bring in technology and leverage tech to meet core needs," Lapus said. "Digital citizenship is the most important thing to focus on first — not just reasonable and ethical use, but in the way you find and review content. It is getting kids to think about where they are going, and you can do that in any core class."
A unit on the carbon cycle, for example, can serve as a natural way to teach media literacy. As it is a topic with plenty of biased sources, part of Ferriter's regular instruction is to show how to find those biases and have students figure out why and how bias comes out.
"The kids love it," he said. "When kids realize that people are intentionally creating biased content, they see it as a scavenger hunt and a gotcha moment. They really dig it. Anytime they realize someone might be lying to them, they want to catch the person who is not telling the truth. It is fun to watch them run with it and never look at a website the same way."
And it all starts in the schools.
"I think if by middle school kids don't realize the content they are exploring online may be biased or inaccurate, we are in a lot of trouble, simply because of the amount of time students spend researching and learning online," Ferriter said. "The minute we turn students toward the internet as a source for kids, we need to realize that those sources may be biased. If kids don't recognize that, we are setting them up for failure."
Support The 74's year-end campaign. Make a tax-exempt donation now.