Facing Pressure From Conservatives, Texas Again Looks to Ban Transgender Bathroom Use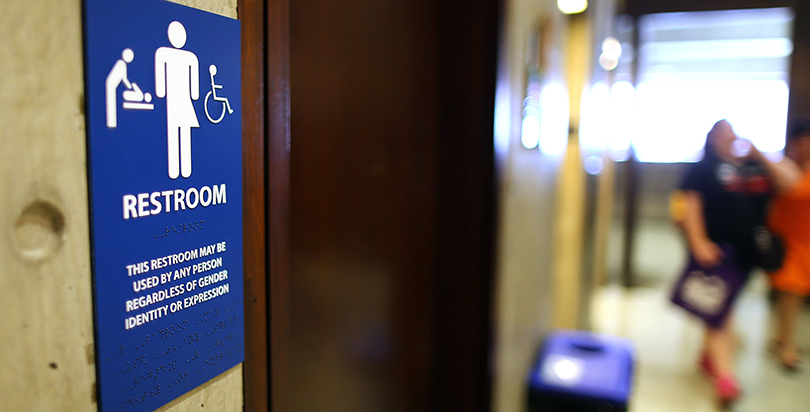 With a few days remaining before the end of the legislative session, Texas could become the first and only state thus far to enact a version of North Carolina's "bathroom bill," barring transgender students from using school restrooms that match their gender identity.
House lawmakers tacked the school-specific measure to an unrelated bill dealing with school emergency response plans, and they passed it Sunday 91–50,
The Texas Tribune reported
. It awaits a final vote in the Senate this week, the last in the state legislative session.
The Texas Tribune's Alexa Ura outlined what the proposal means and detailed the tense negotiations leading up to Sunday's vote.
"Under the proposal, a transgender student who 'does not wish' to use a facility based on 'biological sex' would instead use single-stall restrooms, locker rooms and changing facilities at their school," the Tribune reported.
Earlier in the spring, lawmakers debated a similar bill. House leaders indicated it wasn't high on their priority list, though, and it never got a hearing.
As The 74 reported in April,
several similar policies
that proposed to specifically limit where and how students can use restrooms and changing facilities in public schools based on their sex at birth were introduced by state legislators in 2017.
Some proposals include restrictions that would supersede existing anti-discrimination policies. In Kentucky, for example, a measure would allow students to sue the school district if they encounter people "of the opposite biological sex" in traditional male or female bathrooms.
The earlier Texas Senate bill would have required universities and government buildings in addition to school districts to restrict multi-user restrooms and changing facilities to individuals based on the sex listed on their birth certificate.
While that bill seemed doomed, pressure from supporters including social conservatives and religious leaders apparently pushed Texas House representatives to consider an alternative option, hence the narrower version raised in the weekend amendment.
Both measures have received furious opposition from civil rights groups and local officials concerned about discrimination toward transgender Texans,
the Tribune reported
.
As was the case in response to North Carolina's House Bill 2 last year, Texas business groups, investors, sports leagues, and tourism groups campaigned against the measures, saying they were discriminatory and risked hurting the state's economy, the Tribune reported.
---
---
Get stories like these delivered straight to your inbox. Sign up for The 74 Newsletter