Exclusive Video: Rubio Says Clinton 'Owned' By Unions, Decries System Where Only Rich Choose Schools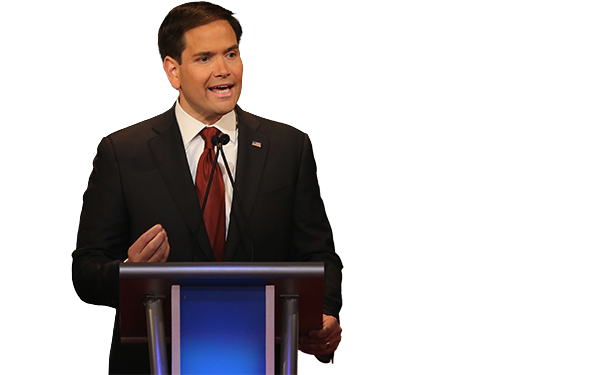 Corrected Nov. 24.
Milwaukee, Wisconsin
Florida Sen. Marco Rubio, fresh off a strong performance
at the latest GOP debate
, called for more K-12 school choice even as he was adamant there is no place for the federal government in the country's elementary, middle and high schools.
"Allowing parents to become the ultimate and final arbiter on where their kids are getting an education is, for me, deeply empowering," he told The Seventy Four's Editor-in-Chief Campbell Brown during an in-depth conversation Wednesday morning.
Most Americans either have the means to send their children to private schools or can move to a neighborhood with better public options, but low-income people do not, and that's wrong, he said. "It's immoral that the only people in America who have no control over where their kids go to school are low-income parents."
---
Watch the Full Marco Rubio Interview: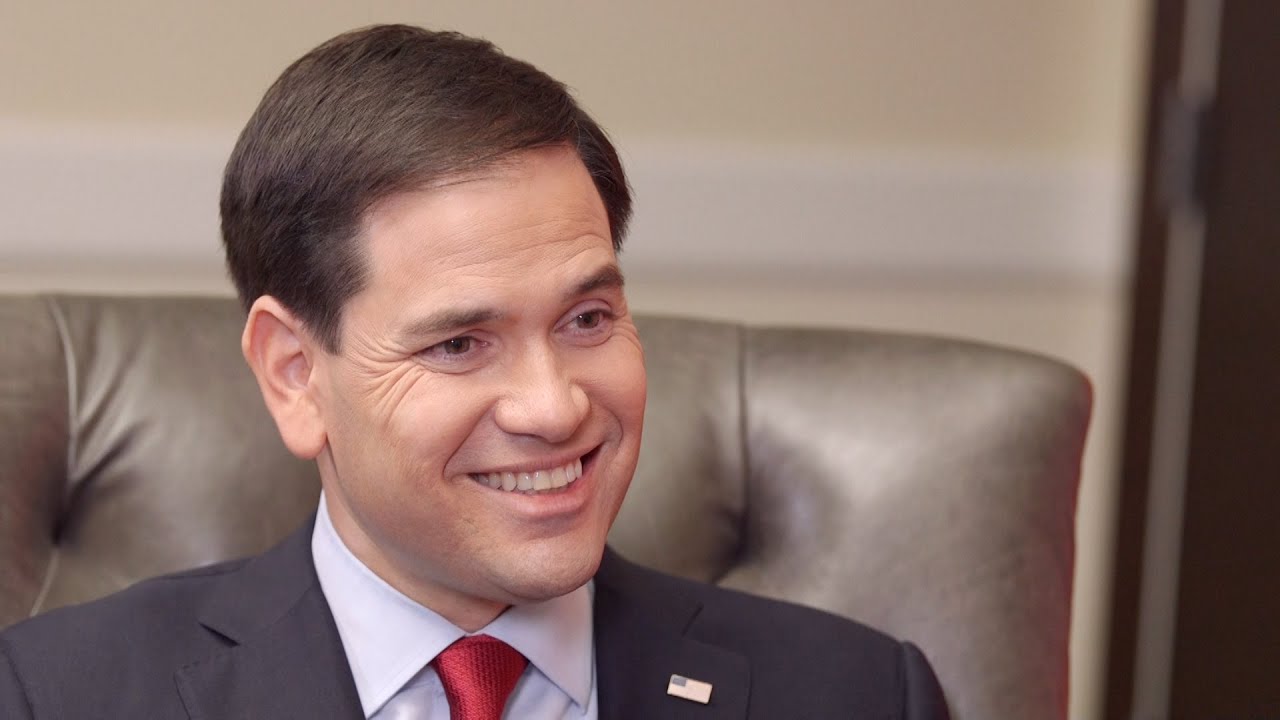 ---
Rubio proposed setting up a national program where corporations could donate a portion of what they would pay in federal taxes to a local non-profit that would then give out scholarships to low-income students to use at private schools.
Legislators in Florida set up a similar program in the state in 2001. (The state Supreme Court in 2006 ruled that a state-funded voucher program for students in failing schools violated a provision in the state constitution requiring a uniform system of schools.)
Rubio wouldn't, however, generally use the power of the presidency to push change on states and schools: "I think one of the best things that a president can do to move forward on K-12 is to not involve the federal government in its details," he said.
Rubio thinks the U.S. Education Department should be abolished, arguing that the federal government was never intended to be involved in K-12 education.
Parents will always have more influence at school boards or state legislatures than they will in Congress or with "unelected bureaucrats sitting in a massive building in Washington, D.C.," Rubio said. "This is not about ideology, this is about the practical reality that why do we have a Department of Education when the federal government really has no role to play in K-12 education."
Federal K-12 money could be sent to states and schools through block grants, and higher education programs like Pell grants and student loans could be handled through the U.S. Treasury Department or other agencies, he said.
Rubio is serious about keeping the feds out of local school boards: he wouldn't even use federal dollars to incentivize changes he supports, either.
"The federal government has a long tendency and a long history of sending dollars down as a suggestion and then ultimately becoming a mandate with — not strings attached — chains attached," he said.
That opposition to a national presence in schools extends to the Common Core. Rubio explained that he's in favor of "curriculum reform," which the Florida legislature did while he served there before coming to the U.S. Senate, but only at the state and local level.
"My problem with that of course is that if you create it as a national standard, the next step is going to be the federal government uses it as a mandate mechanism. They're going to tell states we want you to specifically do this if you want our money, and that's what I want to avoid," he said. "I don't think we need national standards. I think that the competition between individual states and school districts is what's going to drive excellence."
---
The 74's Marco Rubio Education Card (
see the other candidates
):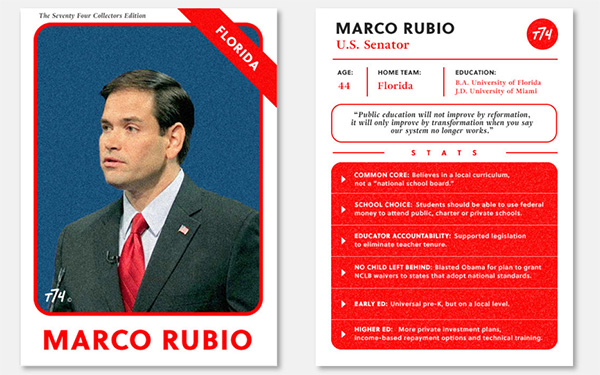 ---
The one area where Rubio did propose changing the use of federal dollars reflected his comments at the Tuesday debate urging more support of vocational education for high school students. Specifically, he said high school students should be permitted to use Pell grant money to attend high school and job training programs simultaneously.
The Education Department currently spends about $1 billion a year on career and technical education at both the high school and postsecondary level. The department in late October also
announced
they would consider applications for experimental sites that pair institutions of higher education – including, presumably, community colleges and other vocational training programs – with high schools to allow students to dual enroll.
Rubio, thought to be among the most likely to take the GOP nomination, wasn't afraid to go after Democrats for their backing by teachers unions, particularly when asked about front-runner Hillary Clinton's recent
comments on charter schools
.
Teachers unions have "taken over the Democratic Party's educational agenda, and Hillary Clinton, who's probably going to be the Democratic nominee, is not going to be able to be an innovator on K-12 because she's fully owned by the teachers union," Rubio said.
Rubio, meanwhile, proposes innovations both in the broad sense, like school vouchers, and in the use of technology.
The instant availability of information online was a "huge dynamic-shifting development" that should be making its way to classrooms more and more, he said. "What we're teaching, the skills we emphasize, the practical skills we emphasize, have to keep pace with an economy that is not just changing but will change faster than economies and markets have ever changed before."
Photo by Getty Images
Correction: An earlier version of this story incorrectly stated that the Florida tax credit scholarship program for low-income children followed a 2006 voucher ruling from the state Supreme Court. The scholarship program actually began in 2001.
Support The 74's year-end campaign. Make a tax-exempt donation now.