Exclusive: Middle Schoolers Without Broadband Access Feel Set Up for Failure, New Survey Finds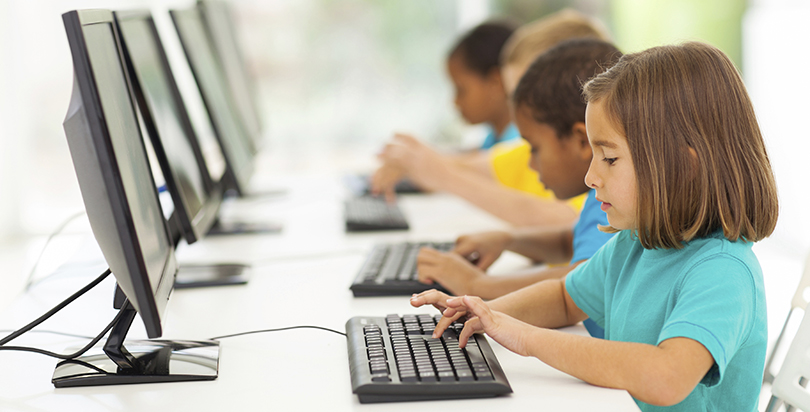 As educators nationwide grapple with a digital divide that leaves millions of children who don't have high-speed home internet access behind at school, a new survey suggests middle school students with limited tech exposure worry about their ability to compete in the future.
More than half of surveyed middle school students who say their schools lack new technology reported feeling stressed or even depressed about their ability to be successful, according to results of a new nationwide survey conducted on behalf of the Verizon Foundation, the philanthropic arm of telecommunications giant Verizon Communications.
"What the research tells us is a lot of kids lack confidence in their ability to be successful in a tech-driven economy," said Justina Nixon-Saintil, Verizon's director for corporate social responsibility. "You have middle school students aged 11 to 13 who already understand that they're in a situation where their school may not be providing everything they need. They know their schools are underresourced, and that actually causes them anxiety."
Overall, the survey results painted a stark picture for children who attend low-income schools, suggesting that kids as young as 11 feel they're being left behind as more-affluent peers are set up for success. While 90 percent of surveyed middle schoolers agreed that "providing students with technology creates a more even playing field," 32 percent said their schools lag behind in getting new technology, and 79 percent believed their peers "will be more successful as adults just because of where they go to school now."
The results were released just days before the Federal Communications Commission is set to vote on whether to repeal landmark net neutrality rules, adopted in 2015, that prevent broadband providers — like Verizon — from blocking or establishing "paid prioritization" of online content.
Opponents of the rollback say it could harm schools that serve low-income students while benefiting large internet service providers like AT&T, Comcast, and Verizon. Education leaders say the move could hurt schools that rely on free online content, which could slow to a crawl as costly services receive a boost. They also worry that new education technology companies could be gutted as better-resourced content providers reap the benefits.
FCC Chairman Ajit Pai, a former Verizon attorney, maintains that a rollback would increase access to broadband services, dismissing claims by critics as "fearmongering." Kathy Grillo, Verizon's senior vice president and deputy general counsel of public and government affairs, backs Pai's efforts to roll back net neutrality. In a news release, Grillo said the internet has flourished for decades under a regulatory approach "that allowed it to operate, grow, and succeed free of unnecessary government controls."
In a statement, American Library Association President Jim Neal called the existing net neutrality rules essential. "Now that the internet has become the primary mechanism for delivering information, services, and applications to the general public, it is especially important that commercial internet service providers are not able to control or manipulate the content of these communications," he said.
Nixon-Saintil said her division at Verizon has not engaged in the net neutrality conversation. The new report, she said, is designed to help inform the Verizon Innovative Learning initiative, an effort that equips middle school students and teachers in low-income schools with tablets and data plans to facilitate internet access both at home and at school. The initiative also trains teachers to incorporate technology in their classrooms and hosts student learning opportunities that promote careers in science, technology, engineering, and mathematics.
Since 2012, Verizon has committed $160 million to provide computer access to 300,000 students in 74 high-poverty schools across the country, Nixon-Saintil said, and they're aiming to add 26 more by the end of fall 2018. "Our motivation is really around leveling the playing field," she said. "We know that a lot of students, especially those in low-income schools and neighborhoods and those who are just underrepresented in the tech fields — girls, minority males — they don't always have access to the tools they need to be successful."
About a quarter of the initiative's students go home to unreliable broadband service, she said. Nationally, about 5 million households with school-age children do not have access to high-speed internet at home, according to a recent Pew Research Center analysis. Low-income households and black and Hispanic families, in particular, are overrepresented in this "homework gap." Nearly a third of families who make less than $50,000 a year lack high-speed internet access at home — a rate four times as high as for those with incomes greater than $50,000.
The Verizon survey was conducted by the market research institute GfK and was provided exclusively to The 74 before it was publicly released. The online survey of middle school students, their parents, and teachers was conducted Aug. 10–28 and included a statistically representative nationwide sample, including 507 parents and their middle school children, and 201 middle school teachers. The survey has a margin of error of plus or minus 4.99 percentage points.
Get stories like these delivered straight to your inbox. Sign up for The 74 Newsletter