Exclusive: Homer Learning to Make Its Award-Winning Early Reading App Free for All Teachers in America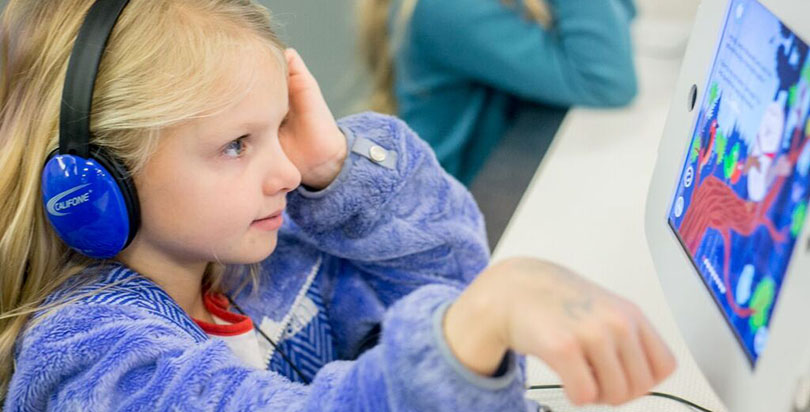 A scan of the iTunes store turns up dozens of cute and colorful early literacy apps. It's much harder for a parent to know how to choose among them.
Stephanie Dua believed she could help.
Her company, Homer Learning, created an award-winning reading app that, according to researchers, significantly improves reading skills in children who use it for 15 minutes a day.
It has now made its way into more than 10,000 classrooms across the country.
"My observation was that there were a lot of [literacy games] that were faux-learning," Dua told The 74. "It's not a bad thing but it's not instruction. So we wanted to deliver something that is a teaching tool. To make a product for the advanced learner but also for someone who…is an English Language Learner." (She says 25 percent of the app's users are working to learn English through the app; 15 percent are based in Asia)
Tuesday, at the ASU GSV Summit, a large education technology conference in San Diego, Dua will announce that the app — called Homer Learn-to-Read — will be offered free to all teachers and librarians in the United States. (It's normally $7.99 per month.)
The new educator version will also include a unique interface and set of features that empowers teachers to monitor students' progress. For those kids looking to continue with the app at home, teachers will be given access codes that they can then distribute.
Dua said she hopes it will be used in classrooms to help put children on a level playing field — despite differences in how they were taught to read and how much value was placed on reading during their early years. She also wants to reduce the academically debilitating effects of word gaps between higher and lower-income youngsters and to help young students learn more at home.
"We want to be wherever the child is," Dua said, "whether it be in the classroom or at home, because a child isn't going to differentiate where the learning is coming from."
The Homer Learn-to-Read program builds on phonemic awareness in developing letter and word recognition while also aiming to increase general knowledge, even for young ages.
Educators who have used Homer Learn-to-Read say it has made a difference.
"Having to listen and read the words and follow along is powerful," she said. It allows her to provide more individual attention because he other students continue using the app. That's especially valuable in her class given that "most of the time at home the parents aren't reading in English."
The progression of Homer Learn-to-Read's curriculum — from learning a sound, to a letter, and then plugging the letter into words and stories and books — resonates with Abrahams' students, she said. The use of texts lets them "explore and look at things they want to look at. It gets them excited about learning."
Engagement with texts is as vital to literacy as learning the letters, Dua said.
"When a child is learning to read the word 'lion' he is also learning about mammals and the Sahara," she explained. "Then you might read the Aesop fable 'The Lion and the Mouse.'"
The ultimate goal in literacy comprehension is to move from memorizing vocabulary words to internalizing the information they carry. "You really understand something because you've seen it from a different perspective," Dua said.
Support The 74's year-end campaign. Make a tax-exempt donation now.